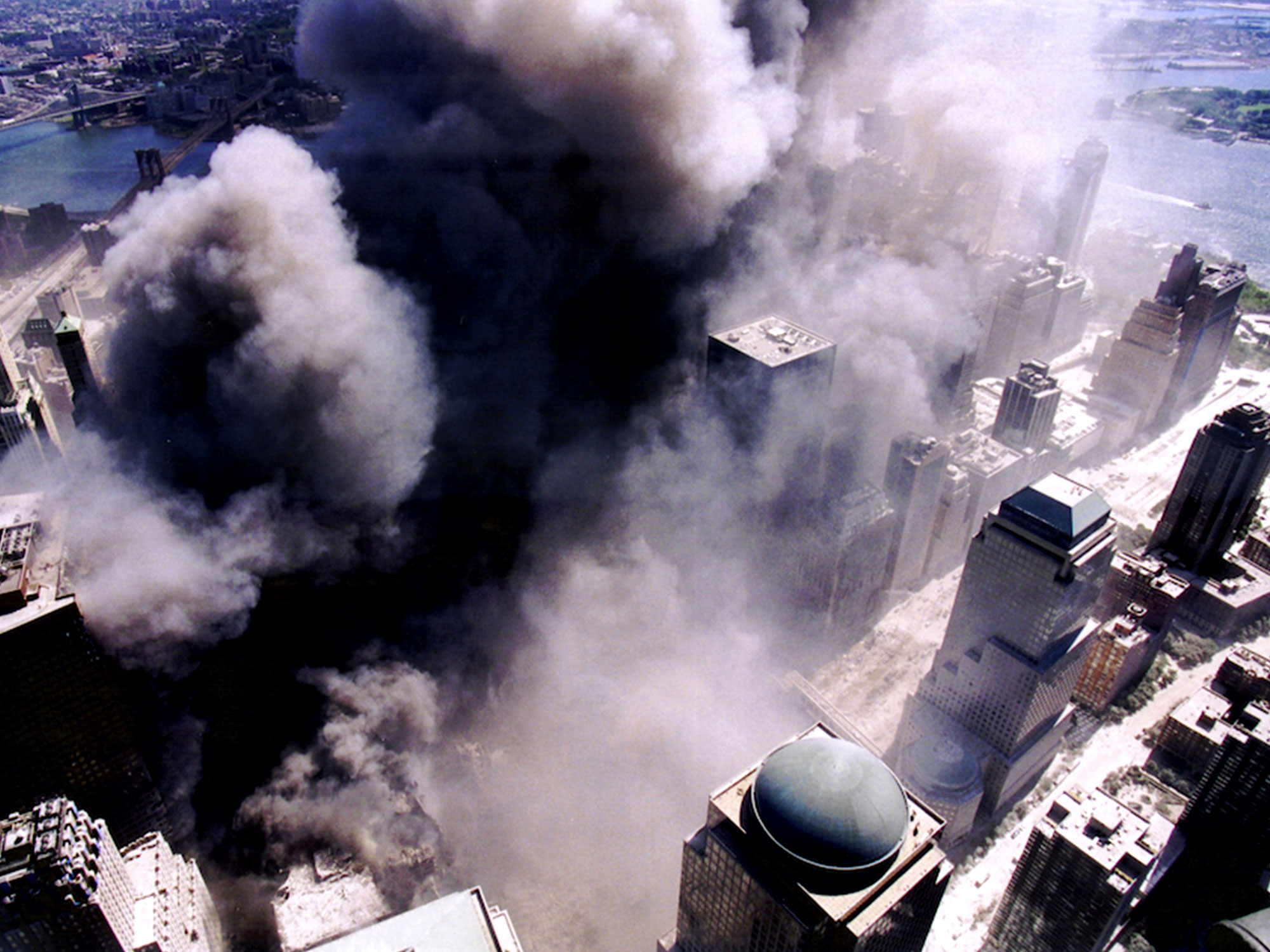 At this year's Sheffield Doc/Fest, a trio of documentaries revisited the events of that fateful September day.
September 11, 2001, 8:46am: a hijacked passenger flight collides with the North Tower of the World Trade Center in New York. 9:03am: a second plane hits the South Tower. 9:59am: the South Tower collapses. 10:28am: the North Tower collapses.
For anyone who lived through the 9/11 attacks, this timeline will be imprinted in their mind. And for anyone watching from outside of the immediate vicinity, the events and images of that day will have been filtered through the lens of TV news. 9/11 was a truly televisual event; this was, of course, the terrorists' intention, a successful method of spreading terror and paranoia across the world.
Attempts to dramatise 9/11 began almost immediately. By September 2002, 11 directors from across the world, including Alejandro González Iñárritu, Mira Nair and Ken Loach, had created shorts for the wildly varying anthology film 11'09"01 September 11. Five years after the attacks, Oliver Stone directed World Trade Center, focusing on police officers trapped in the collapsed towers' rubble, while Paul Greengrass made United 93, about the titular hijacked flight and the fightback by airline crew and passengers.
Like these dramas, many documentaries have homed in on small details in the day's narrative, from the stories and survivors' guilt of passengers who missed their hijacked flights, to volunteer firefighters who answered the call for help at Ground Zero. Others – most famously Michael Moore's Fahrenheit 9/11, still the highest-grossing documentary of all time – have focused on the political fallout, including the War on Terror declared by President George W Bush and the supposedly anti-terrorist Patriot Act passed by the US Congress in October 2001.
With the events of 9/11 so frequently replaced in both fiction and documentary cinema, can anything new be revealed 20 years on? Three documentaries shown at Sheffield Doc/Fest, each due to air on TV later this year, provide three very different answers.
"9/11 wasn't just a day for these people, it was a rupture in their lives, and the intervening years are as important to their story as the initial 24 hours after the attacks."
9/11: One Day in America is a six-part series made for National Geographic in collaboration with the 9/11 Memorial & Museum. Its opening feature-length episode documents – with astounding footage, some never-before-seen – the morning of 9/11, from the foreboding, eerie calm-before-the-storm feeling of an 'ordinary' Tuesday, through to both planes hitting the Twin Towers, right up to just before the collapse of the first tower. It is documentary as document, an attempt to recount definitively, in painstaking detail and for posterity, one of the most significant days in US history.
Part of the success of One Day in America lies in its exploitation of the audience's preexisting knowledge. When we see people idly filming the fire in the first tower, we know that a second strike is imminent. When we see people slowly walking away from the scene, visibly shellshocked, we know that they will soon be enveloped in dust and may not survive. The episode even ends on a cliffhanger of sorts: a huge rumble is heard and firefighters and camera operators run for cover. They have no idea what is happening, but we do.
Witnessing and remembrance are equally key to Surviving 9/11 (a working title), produced for the BBC. Whereas One Day in America primarily functions as a historical record, Surviving 9/11 explores the two decades since 9/11, and how individual wounds have healed – or, indeed, festered. A grieving brother has fallen down the rabbit hole of 9/11 conspiracy theories, convinced that the official narrative isn't the whole truth. A woman who suffered severe burns during the attacks speaks about her recovery, while her son deals with bouts of extreme anger and PTSD. A British woman who was an artist-in-residence at the Twin Towers found living in New York too traumatic and so returned to the UK, where she has been meticulously (and therapeutically) recreating a painting of the view from her window on the 91st floor of the North Tower.
9/11 wasn't just a day for these people, it was a rupture in their lives, and the intervening years are as important to their story as the initial 24 hours after the attacks. In the Shadow of 9/11 sits on the fringes of this documentary subgenre, given that the attacks are only obliquely referred to on a couple of occasions. (A cynical observer may question whether its title is an attempt to cash-in on 9/11, given the wide scope of events that could be said to fall under its shadow.) That being said, it holds common ground with Surviving 9/11 in telling a story influenced by changes in post-9/11 US society and politics.
In 2006, an FBI sting operation resulted in the arrest of seven men subsequently known as the 'Liberty City Seven', who were purportedly planning a "full ground war" against the US. The group's leader, Narseal 'Naz' Batiste, told an FBI informant that he had plans to blow up Chicago's Sears Tower, killing more than a million people in an event that would be "even greater than 9/11". It was clear to the FBI, however, that the group had no weapons, no money and no ability to carry out such an attack. This story, which formed the basis of Chris Morris' 2019 film The Day Shall Come, is imbued with the post-9/11 paranoia of government agencies who were too scared to ignore even the most unlikely terrorist threat, again demonstrating that 9/11's fallout had a vast spread both geographically and temporally.
The immediate TV coverage of 9/11 was essentially a documentary in itself. With the events so widely-viewed, a crucial task for contemporary documentarians is to find a new angle, either through untold stories or by looking at the facts in a different way. Whether new documentaries about 9/11 are strictly necessary depends on your stance on documentaries in general. As an exercise in preservation and recollection, it appears very little new information is out there to be discovered. But for those who see documentary first and foremost as a storytelling medium, the possibilities are endless. As long as people vow to never forget 9/11 and its aftermath, there will always be new stories to tell.
Published 15 Jun 2021