"I never draw fauns, centaurs or mythical creatures anywhere else," said Picasso of the French Riviera. "They only seem to live in these parts." Indeed it is a place where sublime visions are realised – the Cannes Film Festival is 75 in 2022 and remains an example of the continuous prominence of this Cote d'Azur locus of international cinema.
Of course, the festival has a rich history of glamour and artistic innovation over the years, but there have also been scandals and controversies a-plenty. Inspired by the number of steps on the famous red carpet leading to the Salle Lumiere, where dreams are made and broken, here are some intriguing facts about the world's most beloved film festival.
1. The Cannes Film Festival was set up in 1939, in opposition to the increasing fascist influence over the Venice Film Festival. Though not the unanimous favourites, Olympia by Leni Riefenstahl and Luciano Serra, and Pilota by Goffredo Alessandrini were given the main award – the Mussolini Cup – in 1938. Representing the French delegation was the diplomat Philippe Erlanger who, outraged, decided to set up a rival international film festival, with no political pressures, censorship or restrictions.
2. This International Film Festival, as it was then called, was initially going to be held in Biarritz, but various groups campaigned for it to be situated in Cannes, and so the decision was overturned in favour of the so-called 'Pearl of the Riviera'. So yes: Christina Aguilera's much-mocked question "So, where is the Cannes film festival being held this year?" would once have been pertinent.
3. The Festival was supposed to go ahead in September 1939. However, war was declared and proceedings ground to a halt. The USSR contribution to that year's line-up, If War Comes Tomorrow, directed by Lazar Antsi-Polovsky, was unfortunately apt. It was not until 1946 that the International Film Festival was able to be inaugurated. There was not yet a dedicated building – screenings were held in a casino. Retrospective awards were given out in a tribute ceremony in 2002 to the films that were never shown in 1939.
4. The first few festivals were more a celebration than competition – most films that were entered won something. Eleven films received the Grand Prix in 1946. During the 1950s when the festival really took off and gained the glitz it now known for – helped no end by the presence of stars like Cary Grant, Sophia Loren and Brigitte Bardot – it became more competitive.
5. In 1949, there were a series of sartorial incidents which came to be known as the Affair of the Ties. Given the gorgeous weather, many attendees went to bathe in between screenings. Consequently, the organising committee decided that some screenings would require a tie to be worn and some would not, leading to confusion and offence, as some directors thought their film was given less merit if it was screened sans tie-requirements.
6. Despite the festival's founding principles, during the Cold War an article was added to the Festival's constitution that allowed for a form of diplomatic censorship. Between 1950 and 1956, provocative films were allowed to be removed from the competition despite their cinematic quality. Ciel sans étoiles, directed by Helmut Käutner, was pulled from the competition in 1952 so as not to elicit a negative Soviet response, and the West Germany embassy requested that Night and Fog, a documentary by Alain Resnais, be withdrawn from the Festival in 1956 – a compromise was reached whereby it was screened out of competition.
7. In 1953, Picasso obtained a special dispensation to break the notoriously stiff festival dress code and enter the Palais wearing a sheepskin coat for a screening of The Wages of Fear by Henri-Georges Clouzot. Clouzot later made a documentary about the artist, The Mystery of Picasso, which received a Special Jury Prize in 1956.
8. Around 4500 journalists attend the festival on average – Cannes has the second-largest media coverage of any event after the Olympics. This makes it a prime location for staging and snapping iconic images. In 1954, multiple paparazzi were injured as they scrambled to photograph the British actor Simone Silva topless on the beach. She was unofficially named 'Miss Festival 1954' but was asked to leave as her antics were considered vulgar, publicity-hungry and a distraction from the Festival proper.
9. The Palme d'Or was created in 1955 – the festival organisers invited several jewellers to compete to design the trophy. The original winner was Parisian jeweller Lucienne Lazon. The trophy has since undergone several design revisions. Each year, two reserve Palme d'Ors are made in case there is more than one winner – or in case one trophy gets broken.
10. In 1968 a group of directors brought the festival to a standstill in solidarity with the student protests being held all over France. Among others, Jean-Luc Godard, Louis Malle and François Truffaut refused to let the curtain go up on Carlos Saura's film Peppermint Frappé, and screenings were subsequently stopped.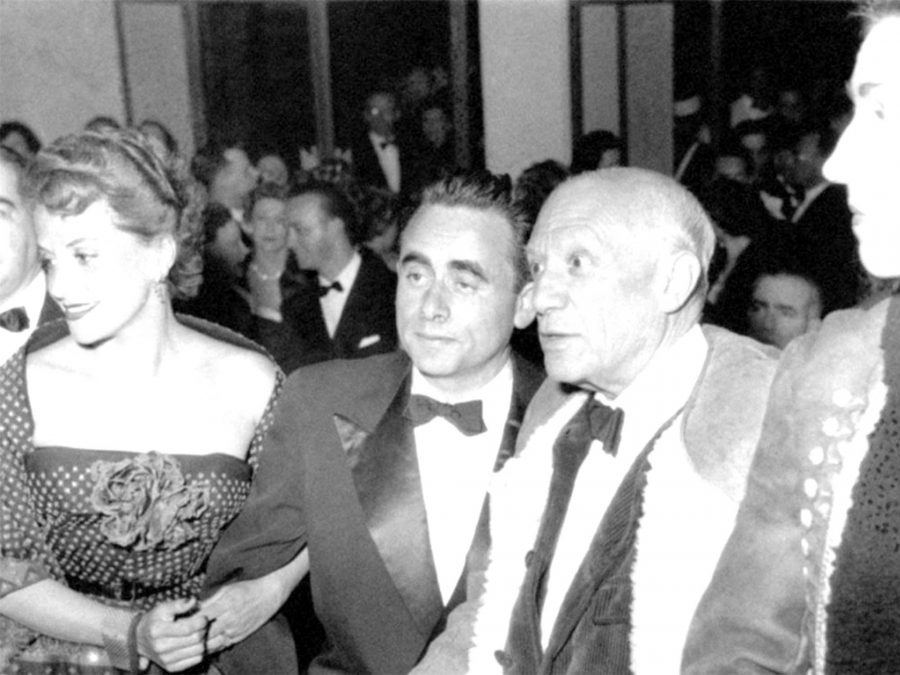 11. In 1971, The Married Couple of the Year Two, a romantic comedy starring Jean-Paul Belmondo, closed the festival. Couples who could prove that they had been married that year (1902) were invited to the screening, and a special box was reserved for newlyweds married on the day the film was shown.
12. In 1975, Paul Newman set off a photographers' strike – tired from his journey, he refused to pose on arrival. When he performed the ritual climbing of the steps in the evening, photographers placed their cameras at their feet in protest. Isabelle Adjani was greeted with the same response in 1983.
13. In 1987, Maurice Pialat was mightily booed as he went to collect his award for Under the Sun of Satan. His legendary response, delivered with a raised fist which amusingly contrasted Pialat's grandfatherly cardigan, was that it didn't matter if the audience didn't like him, because "I can tell you I don't like you either."
14. In 2001, a group of actors promoting 24 Hour Party People – about the Manchester music scene in the '80s and '90s – threw fake dead pigeons at each other outside a restaurant, imitating The Happy Mondays, who they play in the film. Diners, believing the birds to be real, were mostly unamused, except for Joel and Ethan Coen, who were that year jointly awarded Best Director for The Man Who Wasn't There. They reportedly appreciated the entertainment factor that the stunt lent their lunch.
15. Publicity stunts are a frequent feature at the Festival – fights are staged, planes are rented, mankinis are unleashed. In 2009, to promote the Belgian black comedy The Misfortunates, the cast decided to recreate a scene from the film by cycling naked through the centre of Cannes. The director, Felix van Groeningen, claimed that a motorbike followed behind them with their underwear in case they got arrested.
16. Many films prompt audience outcry – the booing, as well as the applause, at Cannes is legendary. But in 2002, Gaspar Noé's Irreversible proved so shocking that it prompted one of the biggest walkouts in festival history. 250 people left the screening, and fire wardens administered oxygen to the 20 people who fainted.
17. Lars Von Trier's controversial Antichrist was given an unofficial anti-prize in 2009 by the Ecumenical Jury, who have sat at various international film festivals since 1973 and each year give an award to a film which has special spiritual merit. They decided that Antichrist was 'most sexist'.
18. In 2013, around the time of the Festival, there was a wave of jewel heists in hotels where many of the rich and famous stayed while attending Cannes – the last of which was noticeably inspired by 1955's To Catch A Thief. 103 million euros worth of jewels were stolen from an exhibition at the Carlton Hotel entitled Extraordinary Diamonds. The thief was never caught.
19. Also in 2013, a three-way Palm d'Or was awarded for the first time to Blue Is the Warmest Colour – director Abdellatif Kechiche and stars Adèle Exarchopoulos and Léa Seydoux all received the award, as the judges thought that given a slight change of cast the film would not have worked as well. Kechiche considered this something of an insult and auctioned his trophy to fund his next film.
20. Security at Cannes is famously tight – everyone in attendance must have a specific badge. But there are exceptions. 2013 was a great year for festival gossip, as a man posing as Psy, the South Korean rapper of Gangnam Style infamy, was revealed to be an imposter after having blagged his way into multiple parties and posed for photos with fans. He was only caught after being spotted by the real Psy's manager.
21. Though there is no specific Festival rule specifying shoe height or style, a number of women were denied access to the festival based on their flat footwear in 2015, in what came to be dubbed 'heelgate.' In response, Denis Villeneuve and the male cast of Sicario vowed to wear heels to climb the steps, but disappointingly never delivered. A number of high-profile protests followed the scandal, with actors such as Julia Roberts and Kristen Stewart shucking their stilettos and walking the red carpet barefoot.
22. In 2018, Thierry Frémaux, Executive Director of the Festival since 2007, attempted to discourage selfies on the red carpet. He admitted he didn't have the power to ban them outright but explained that the festival did want to reduce the disorder and traffic caused by people taking selfies on the steps. He called selfies "ridiculous and grotesque," and warned: "You never look as ugly as you do in a selfie."
23. Each year, a Palm Dog award is given out to the best on-screen hound. Previous winners include Bruno from Belleville Rendezvous, Mops from Marie Antoinette and Brandy from Once Upon a Time in Hollywood. As of 2018, there is also an Underdog category as part of the Palm Dog awards, which will go to 'a dog, human or conspicuously deserving creature for facing adversity as the underdog'.
24. Surprise, surprise – there are 24 steps up to the Palais des Festivals, covered by 60 metres of carpet. The carpet is changed three times a day so that it looks fresh under famous feet as the steps are climbed and photos are taken. As a result of media pressure for the Festival to address its environmental impact, the carpet has been fully recyclable since 2016.
Little White Lies is committed to championing great movies and the talented people who make them.
By becoming a member you can support our independent journalism and receive exclusive essays, prints, monthly film recommendations and more.
Published 29 Apr 2022