During the opening credits of the classic 1982 high-school movie Fast Times at Ridgemont High, a bustling scene unfolds at a onetime landmark shopping mall (Sherman Oaks Galleria) in the San Fernando Valley, Hollywood's next-door neighbour. The Go-Gos' fast-paced '80s hit 'We Got the Beat' punctuates the mood: a mostly young crowd hanging out and working in various retailers and restaurants.
In the background, there's a blink-and-you'll-miss-it shot of Licorice Pizza, the music store referenced by Paul Thomas Anderson in the title of his latest film. The memory of this now defunct SoCal icon occupies literal and figurative space for anyone who bought records there long ago, and it's no accident that Anderson pays homage to it.
Before Anderson came along, Hollywood tended to portray the Valley in a particular light: a mostly safe – somewhat peaceful, maybe boring – homogenous haven where palm trees line eternally sunny skies, and non-conformity and outsiders are invariably punished. Young people speak with distinct accents and intermittent vocal fry; the homes feature plush green front lawns and often a pool in the backyard.
The highways and freeways form a seemingly endless maze, while the streets are grid-like and flat, with strip malls occupying every other corner. It is vast and sprawling, the East San Fernando Valley reaching all the way to Hollywood. It's easy to see why Burbank is home to many film and TV studios. Yet the Valley has a mixed reputation – and image – within movieland.
In 1995's Clueless, Cher (Alicia Silverstone) laments going to a Val party as she's based in Beverly Hills: "Ugh, it's in the Valley. The cops break them up in less than an hour, and it takes as long to get there." An overstatement to say the least: the party turns out to be a rager.
Similarly, in 1983's Valley Girl, Randy (Nicolas Cage) complains, "I don't want to go to the Valley," when his friend, Fred (Cameron Dye), urges him to come along to a party there. Both Randy and Fred are punks from Hollywood – or "Hollyweird," as another character jokes – and stick out among the clean-cut, preppy Valley crowd. But when Julie, the titular Valley Girl (Deborah Foreman), locks eyes with Randy, chaos ensues.
A familiar narrative plays out in the original 1984 Karate Kid: A working-class outsider from New Jersey, Daniel Larusso (Ralph Macchio), finds himself falling for Ali (Elisabeth Shue), an effervescent teen from Encino, who lives in a stately home with her uptight parents. Meanwhile, Daniel and his mother reside in Reseda in a modest apartment complex that needs some repairs – the communal pool looks unkempt and almost empty.
Ali's jealous ex-boyfriend, Johnny (William Zabka), and his friends bully Daniel to the extent that he admits to his mother, "I hate this place. I just wanna go home." That is, until he masters karate from his best friend and teacher, Mr Miyagi (Pat Morita). Apparently, Daniel is still thriving in the Valley as a successful businessman and father, as seen in Netflix's Cobra Kai.
And then there's the otherworldly and off-beat depictions, juxtaposed with touches of warmth and coziness: E.T. found a welcoming home with Elliott (Henry Thomas) and his family in the suburban foothills of Tujunga.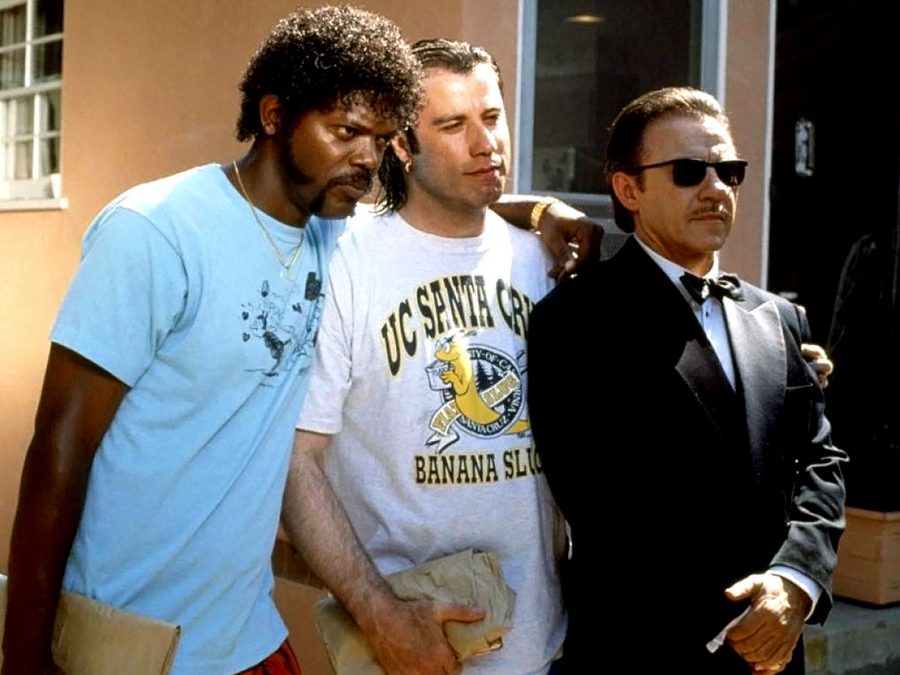 Over a decade later, Quentin Tarantino wrote about characters navigating the underbelly of LA's crime world in Pulp Fiction, and the Valley took part: Butch's (Bruce Willis) apartment – where he retrieves a family heirloom – still remains in North Hollywood, and the pink home where Jimmie (Quentin Tarantino) and his wife live was actually a location suggestion linked to Anderson.
The director had personal connections through his father, Ernie Anderson, and knew the place well since he was born and raised in Studio City, where the house (in a different colour palette) stands today. This ideal setting demonstrated how safe and suburban the Valley can be amidst the drama that "blows up" between Vincent (John Travolta) and Jules (Samuel L Jackson) in their blood-soaked car.
When Boogie Nights came along in 1997, the Valley finally had someone – a local – who showed it unconditional love. Anderson wrote in The New York Times, "The San Fernando Valley has always been epic to me. I would watch Lawrence of Arabia, and think of my equivalent: Ventura Boulevard. As a kid, I would take my camcorder and recreate shots from other films. You do with what you have, and my goal was to make the valley cinematic. It seemed rather easy, because of my frustration with how others had tried to do it."
Now, with the release of Anderson's Licorice Pizza, there's yet more to love – and possibly criticise – about the Valley. As the locals might say: Like, totally.
Published 8 Jan 2022