The filmmaker behind the remarkable Saint Omer explains how her own experience informed the creation of her intimate legal drama.
The Saint Omer press tour has been intense for Alice Diop. "My first interview was a Black journalist who asked me just one question, then she started crying, and we fell apart together." The writer/director nods toward my typed-out questions and smiles, "You are very, very dangerous for me." But while she may have to endure the weight of festival audiences weeping and journalists' raw emotions, she feels this has ultimately achieved her goal.
"I had a conviction, and I put faith in the story's political statement. I wrote with the intention of moving people, but I couldn't anticipate such intensity." Her elegant but harrowing tale is of Rama (Kayije Kagame), an academic sitting in on the trial of a woman accused of infanticde. Diop's film placed her in a vulnerable position as it is deeply personal and her protagonist's life and story resembles her own. But it has received love letters from critics, won the Silver Lion and Lion of The Future award at the Venice Film Festival and was selected as France's entry to the Academy Awards.
That political statement was clear at Venice where Diop ended her acceptance speech with the words, "Our silence will not protect us". She was quoting the African-American poet and civil rights activist Audre Lorde who, like Diop, saw her creative talent as a tool to confront injustice. But a few eyebrows were raised as Diop received the Lion of The Future award, as this seemed to ignore the fact she had directed seven documentaries prior to Saint Omer. Diop herself sees "no hierarchy between fiction and documentary" and, given the festival's top prize was awarded to Laura Poitras' All The Beauty And The Bloodshed, labelling Saint Omer Diop's debut was all the more puzzling.
Diop's actual filmmaking debut came in 2005 with La Tour Du Monde which saw her return to the working-class neighbourhood of her youth which she had left behind in order to confront the guilt that came from that decision while also shining a light on the disenfranchised and the destitute. It's atheme that becomes a throughline in her work, and there's a sense that Diop is fascinated by things that mainstream thinkers studiously neglect. In 2011's Danton's Death Diop's subject is the budding young actor Steve Tientcheu.
Like Diop, Tientcheu is from The City of 3000, a poor Parisian suburb. He is accepted into the prestigious acting school Le Cours Simon with dreams of stardom on stage and screen. But together, Diop and Tientcheu discover the agonising cultural barriers that lie ahead, where the theatre world wishes only to see him play broad stereotypes. (It's worth noting that, in the decade since he said it on camera, Tientcheu's dream of starring in films that premiere at "Cannes and Venice" has come true.) 2016's Cesarwinning Towards Tenderness saw her tackle the fragile façades of young men, exposing the tender core encased in masculine bravado.
That same year Diop filmed in a Parisian refugee medical centre and captured the struggle of communicating care across a cultural divide. The penultimate film before her "debut" was 2021's We which follows the communities along the RER B commuter train line and is composed as a rich tapestry of the city's most unrepresented and dispossessed people. Her lyrical composition and studied approach to her subjects' lives amounts to a sumptuous act of defiance of the status quo.
So it is no wonder that when Diop saw an image of Fabienne Kabou in a newspaper, she felt she could see what others could not. "It was a still the police put out," she explains. "A security camera had captured the woman they were looking for pushing a pushchair at the station. I immediately understood that she was Senegalese, and then, as her trial approached, my interest kept increasing. I had a strange intuition about her, almost recognising myself in this woman."
Kabou was accused of killing her baby Adelaide by leaving her on the beach as the tide came in. Beyond the horrifying act itself, Diop became increasingly troubled by how Kabou was depicted in the media. "I read this woman was an intellectual writing a thesis on Wittgenstein," she says, "yet in contrast, she was accused of witchcraft. The French media said she's got an incredible way of speaking French, but obviously she's going to speak very well if she's doing a thesis on Wittgenstein. It was essentially racist."
She became "obsessed" with the case, and when Kabou's trial began Diop – then pregnant with her first child – travelled North to the town of Saint Omer near Calais convinced she would be able to truly see Kabou. She arrived with a fixed perception but, by her own admission, was "totally wrong." She continues, "I knew that Fabienne couldn't be what was promoted by the racist thoughts of journalists, so I told myself that only I can understand her as a Black woman." Yet, in the many months before the trial, Diop had entangled both Kabou and her white partner into the narrative of a 5th century Greek tragedy, where a woman is driven to infanticide by her husband's treachery. "Madea was a victim of Jason, and I came to the jail with that story. I wanted to see what kind of Jason her partner Michel Lafon was."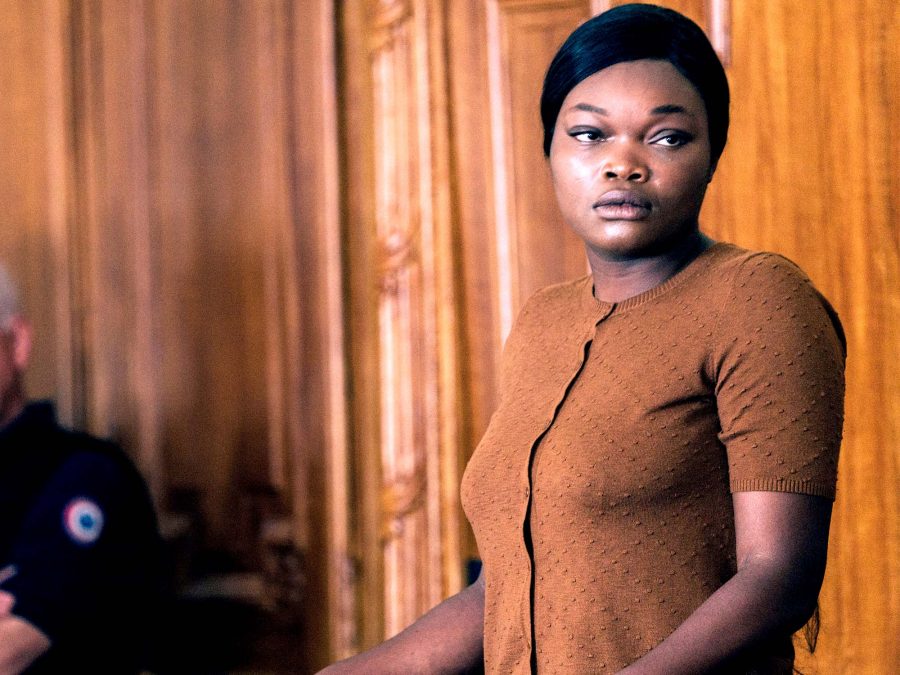 The reality was far more complex, and all of Diop's presumptions had to be re-evaluated. "Even the Wittgenstein thesis was a complete lie," she explains. "But the title she invented still meant something. She picked one of the hardest philosophers to grasp." The 20th century philosopher's works are notoriously impenetrable, having published two books on language and logic that entirely undermine one another. "Even in her lies," Diop adds, "she's telling us to see her as a person of contradictions." Having observed the trial first hand and duly confronted by those contradictions and the details of the most devastating crimes imaginable, Diop, "realised it needed to be a film."
But it was, "too late to film it for a documentary, so it had to be fiction. But by going into a fictional space, it could reveal my point of view." Beyond a more abstract lens, there was also a literal reframing of the story in the choice to "embed these Black bodies at the centre of the frame that are normally on the side – it makes you really study them."
Saint Omer's protagonist, Rama (Kayije Kagame), has many obvious parallels to Diop. But she is more than just a screen proxy: "She's the conduit of the universality of the story. Rama could have been a white writer, and it would've been universal as well, but making her a Black woman adds a political level to the film."
Diop isn't a didactic filmmaker, but those politics appear naked, and she pays open tribute to Marguerite Duras, the novelist and filmmaker who used her work to expose the horrors of colonialism and racism through a distinct feminist lens. Diop introduces us to Rama giving a lecture on Duras, speaking over her "images of women being shaved for being collaborators during the war." But beyond establishing the filmmaking lineage that Diop sees herself as part of she wanted to, "get to the essence of who Rama is before she becomes a silent figure in the courtroom. She's at this most elite of academic places, speaking about Marguerite Duras, and the film shows her embedded in French culture and history."
This is quickly followed up by a scene of Rama being ill at ease attending a family dinner, where there is a complete disconnect with her mother. "She doesn't speak in the Senegalese dialect of Wolof, but her family is watching something in Wolof. It sets up Rama's contradictions and those of being a Black French woman." That idea spoke to Diop's own complex personal identity, and her relationship to her Senegalese heritage. "Essentially, I am French. All my culture is French, but I discovered Ousmane Sembène too late. I come to films in Wolof as an outsider. And Rama's identity is the point of view of the film."
The trial location was key to Diop, highlighting the unlikelihood of a Black woman receiving a fair hearing in the eyes of the state. "We are situated in this working class, smallish town and that's where the jury is coming from." While the media were quick to stereotype Fabienne Kabou, Diop's equivalent character Laurence Coly (Guslagie Mlanga) adopts a position that is made all the more precarious as a "Black woman in this space who's being judged by these particular people with a mentality that of emblematic of certain towns in the north."
Though the film, too, is frequently devastating, Diop's point of view remains distinct and avoids the regular cinematic beats one would expect from such a courtroom-based story. No crucial piece of evidence unlocks the mystery; there are no easy answers or rousing speeches. Indeed, she cuts away moments into the prosecution's concluding arguments. For Diop, it's not really a trial film. "It's about who this woman was," she says, which means fixing the camera closely on the defence lawyer as she delivers a speech on "chimaera" and the foundational monstrosity of women.
Diop wrote the speech to be so powerful that, had been in the trial, she would've been acquitted. "I'm looking straight out at each spectator and making them a member of the jury. I am explaining why we should acquit." The speech is a triumph of writing, filmmaking and performance, and the courtroom's women collapse in unison with the audience. Like Diop's first interview, there's a catharsis in being permitted to simply "fall apart together."
Published 2 Feb 2023
About Post Author