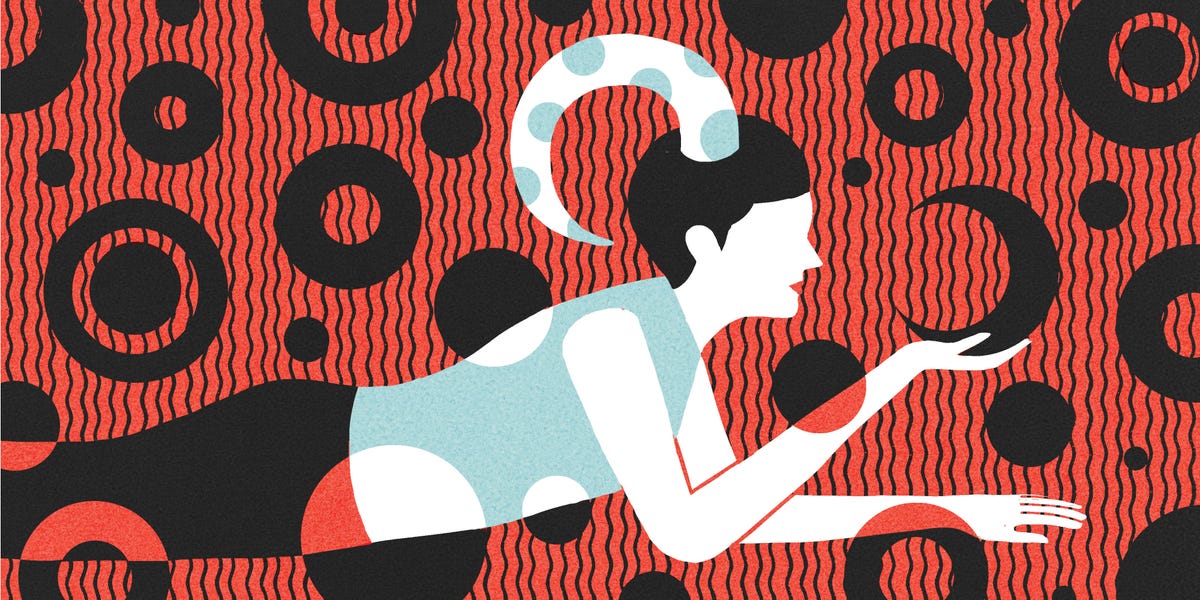 MONTH OF November
Turn up the heat, Ram. Until November 21, the Sun is burning through Scorpio, your eighth house of intensity, power and joint ventures. The sexy, sultry vibes can get overwhelming at moments, especially with one particular person. Need to channel them into a few outlets? The first three weeks of the month are great for focused and strategic work like strengthening your long-term wealth and solidifying close partnerships, both personal and professional.
Making power moves is green-lighted now that four of the six slow-moving retrograde planets that shaped September and October are back to direct (forward) motion. You're ready to take action—and ready or not, change is probably inevitable! Eclipse season (https://astrostyle.com/learn-astrology/solar-and-lunar-eclipses/) begins this month with the first of 2021's final two eclipses, this one starting off a new series on the Taurus/Scorpio axis that will reshape your approach to money, work, intimacy and investments between now and October 2023.
On November 21, the Sun enters Sagittarius and your ninth house of travel and adventure, widening your perspective. You're eager to break free from Scorpio season's emotional and psychological intensity. Think big, Aries, and get ready to take a leap of faith before the year ends!
If you're observing the Thanksgiving weekend or kicking off the holiday season, it begins with a festive Leo moon in your fifth house of play and pleasure. But mind your wallet since the moon will be at odds with unpredictable Uranus in your finance zone AND with cautious Saturn in your friendship house. Instead of blowing your budget buying presents for everyone, organize a Secret Santa, where everyone gifts one other person, to keep things merry but manageable for your crew.
The Sun is in Scorpio until November 21, a time to dive deep
Got the urge to (sub)merge? Until November 21, the Sun is in Scorpio and your eighth house of intimacy, privacy and shared resources. You could slip off the grid—perhaps with an all-consuming project or a sexy plus-one. Whatever (and whoever) has your attention in its grips will demand that you stay in "focus mode." Scorpio season is a favorable month for deeper inner work, something on-the-go Aries don't always slow down for—but when you do, the stress-relieving benefits are tremendous. A little time in the cocoon helps you process emotions and experiences that have been building up this year. Get into a meditation practice or pick up a copy of The Artist's Way by Julia Cameron and do the "morning pages" practice.
Another reason to put a soul-soothing mindfulness practice in place? All month long, your ruling planet, Mars, is also in Scorpio, adding stress and excitement in equal measure. Mars here can ratchet up jealousy and competitiveness as much as it cranks up the heat, especially as it travels with the competitive Sun. You may feel the pressure of a large expense, or you could be motivated to make a bold investment that promises to deliver great returns if you play your cards right.
The eighth house is the most erotic and connective zone of the chart, and November could serve up sizzling and seductive moments. Joint business ventures could also be on the table now since the eighth house rules "other people's money." From whittling down debt to investing in real estate to making your money work harder for you, 'tis the season to get your budget balanced—especially before holiday-season shopping.
The November 4 Scorpio new moon sparks potent connections
The "come together" synergy of Scorpio season is especially potent at the November 4 Scorpio new moon, which opens the door to strategic alliances. Sensing that someone has soulmate potential? This lunation paves a new six-month path to greater intimacy and closeness. For longtime couples, it could spark talk of an engagement, pregnancy or merging your lives in another significant way. Take your time and let the bond develop.
A blaring interruption could invade your cocoon, class="body-el-link standard-body-el-link" however, because this new moon will sit opposite disruptive Uranus, which is in Taurus and your second house of money, work and daily routines. Mundane matters and responsibilities could throw unexpected curveball demands. An exciting partnership, for example, might hit a speed bump when you realize that you're not on the same financial page (or standing) or that your lifestyles and schedules don't gel easily. If this seems worth it for the long haul, see if you can't work through those differences now. Watch for temper flareups and erratic behavior from people today as egos could run amok, particularly at work.
Mars squares Saturn on November 10
Slow down or speeclass="body-el-link standard-body-el-link" d up? When hasty Mars crashes into cautious Saturn on November 10 in a challenging square, you could feel torn between dueling needs for control and collaboration. How much power should you distribute democratically and how much should you keep for yourself? It's great to be equitable, but only if everyone is pulling their weight. Tension could increase due to a lack of leadership—and you may need to establish who's in charge of what area if you want to get things done!
If you've been waiting for an answer from a key decision maker, keep practicing the art of patience (not an Aries specialty). That said, feel free to be strategic and come up with some savvy workarounds. If people's lives are being put on hold because of one person's inability to say yes or no, maybe you can bust through the invisible barrier and get things rolling. A Mars-Saturn square can feel like having one foot on the gas and the other on the brake. It could take a lot of effort to move the needle even a little. But in a few days, this WILL pass.
The November 15 Sun-Jupiter square interrupts your bubble
Need to improve team morale after the Mars-Saturn square? Pull yourself out of that Scorpio-season cocoon on November 15, when the Sun makes its semiannual square to expansive Jupiter, which is in Aquarius and your eleventh house of group activity. Make sure egos aren't running amok on a team project. Check in with your people. Is everyone clear on their marching orders and aligned on expectations? A friend may need some quality time or you could have a social event to attend. Maybe it's a long-overdue Zoom check-in with colleagues; perhaps it's a gathering. Even if you're not feeling it, make an appearance. Your presence could be the "crew glue" that cements your bond again.
Eclipse season begins with the Taurus full moon on November 19
Ready for a whole new financial chapter to begin? On November 19, the Taurus full moon arrives dressed as a lunar eclipse, the first in a brand-new series of eclipses that will ripple across the Taurus/Scorpio axis between now and October 2023. Your approach to spending, saving and investing will get a major overhaul over the coming two years.
This particular eclipse will lock into a tight square with expansive Jupiter, forcing you to examine the ways you handle money in group settings. Perhaps you've been putting on a front to make others think yclass="body-el-link standard-body-el-link" ou're doing better than you are. Maybe a team project is draining your reserves and you need to get real. At a lunar eclipse (https://astrostyle.com/learn-astrology/solar-and-lunar-eclipses/), hidden information can be exposed out of the blue. While any sudden money news can be jarring, it can also force you to powerfully address something you've avoided, ultimately ushering you onto a firmer fiscal footing.
A financial matter you've been working on for the past six months could resolve at this full moon, hopefully with a prosperous and happy outcome. If you've been hunting for a job or a new source of income, these moonbeams can light the way. Ready to kick a bad habit before the holidays? With la luna in your house of daily routines, you can swap self-defeating patterns for regimens that boost your vitality.
​​
Mars-Uranus opposition on November 17
Keep a handle on your budget—and your emotions—during the November 17 opposition between passionate Mars in your eighth house of merging and volatile Uranus, which is in Taurus and your second house of work, money and self-worth. Finances could become a topic of animated debate, or you may have to confront some deep-seated insecurities that cause you to act (and react) in knee-jerk ways. Your emotions can be inflammatory. An attraction could move swiftly into physical terrain without any consideration of the possible consequences. With Mars here, a joint business venture can rapidly develop, and you might explore ways to merge your superpowers for mutual gain. But take your time starting out and let the erratic Mars-Uranus energy pass before you ink anything official, Aries!
Sagittarius season starts November 21
Perspective returns—refreshingly—starting November 21, when the Sun soars into Sagittarius and heats up your ninth house of travel, adventure and growth. For the next month, go wide instead of deep. Explore all the enticing opportunities that pop up to stretch beyond your comfort zone. You can narrow down your choices later. For now, the idea is to think (and dream) big! When the Sun meets up with communicator Mercury on November 28, you could score a chance to pitch one of your grand ideas or have a breakthrough conversation where you can truly be honest. What a relief!
The month charges out of the starting gate with some intense and focused love goals. On November 5, romantic Venus gallops into ambitious Capricorn and your future-minded tenth house for an extended stay that will last through March 6, 2022. The downside of this is that Venus will be retrograde (backward) from December 19 until January 29, a challenging six-week cycle that can test your closest bonds.
Proactively prepare by strengthening your communication and by talking candidly about the future this month. If you're in a relationship, you might no longer be okay letting things progress at a casual, organic pace. Suddenly you need to know where things are going, and just how serious IS this person? Your magic word is "commitment"—or at least "longevity." Your love of classy, upscale venues is at an annual high, so glam up and hit the dressy black-tie events together. And as the power couple you are, you're sure to turn heads wherever you go, even if you're masked.
With driven Mars blazing through intense Scorpio and your permabonding zone from October 30 until December 13, you're much more interested in the kind of merging that involves not just body but also mind and soul. Set the bar high and keep it there. By screening out the wannabes, you'll hold space for "the one." Single Rams may be borderline fixated on meeting someone with keeper potential. Sexual chemistry will be strong now!
Mars here can make you both passionate AND jealous—and at times paranoid. Emotions can be raw, and you'll be feeling a bit vulnerable. You could be overcome by an attraction so intense that you can't resist someone who you know in your heart isn't an ideal match. But the heart wants what it wants, so you may have some internal "refereeing" to do. With Venus retrograde approaching, a period of romantic reflection is ahead. So unless you're 100 percent certain about the direction you want to take, you've got plenty of time to weigh the pros and cons.
Focus on your investments, Aries—of time, energy and resources. With the Sun and intensifier Mars in Scorpio heating up your eighth house of wealth, this is a month for mergers! Look at how you could combine your superpowers with a savvy, well-connected collaborator for mutual gain. How can you make your money and your connections work harder for you? The November 4 Scorpio new moon will shed light on some options. Ready to break out of the daily grind? A joint venture or investment opportunity could arise. The November 19 Taurus full moon beams into your daily income sector, bringing radical change because it's also a lunar eclipse, the first in a series that will revolutionize your revenue between now and October 2023. Stay open to new possibilities, even ones that are far outside your scope or current plan.
Love Days: 25, 30
Money Days: 17, 8
Luck Days: 15, 6
Off Days: 27, 4, 13
This content is created and maintained by a third party, and imported onto this page to help users provide their email addresses. You may be able to find more information about this and similar content at piano.io