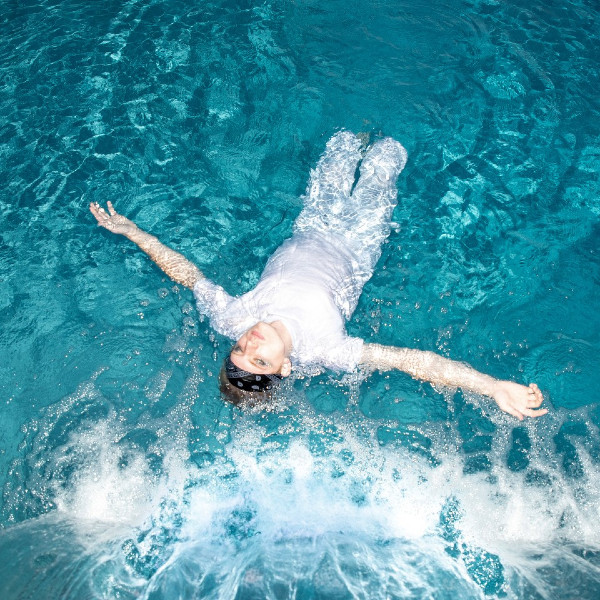 Bad Heather releases his self-titled EP via Wonderwild Records, a five -track collection of infectious new music.
Talking about the EP, Bad Heather shares, "I wrote the 'Bad Heather' EP with my ex-girlfriend. Although I'm no longer with her either, the songs are about my other ex. I've definitely been in a few fucked-up/fuck-off relationships. When recording these tracks in my home studio, I took inspiration from gritty DIY alt-pop artists like The 1975, Jai Paul, and even vibes from Scott Pilgrim's Sex Bob-omb. I'm proud of my collection of dirty little breakup anthems."
The doppelgänger of Porter Chapman, Bad Heather hails from Utah where he grew up surrounded by music. His mom is a classically trained vocalist and his dad, Caleb Chapman, is a Grammy-nominated producer and saxophonist, as well as the creator of the Soundhouse music program.
When he was 10, Porter began playing drums, tutored by drummers such as Steve Smith (Journey), Dave Weckl (Robert Plant, Paul Simon, George Benson), and Bernie Dresel (Brian Setzer).
In his early teens, Andrew Tolman selected Porter to drum for The Moth & the Flame. He also played with members of The Killers, Neon Trees, and the Dave Matthews Band. By time he was 17, he was songwriting and producing, working with Nate Pyfer of Kaskade fame.
Last year, Porter signed with Wonderwild Records, followed by entering the studio to begin working on Bad Heather, his debut EP. Inspired by the '80s cult movie Heathers, he took the name Bad Heather. He cites his influences as Arcade Fire, Crystal Castles, The 1975, Charli XCX, and Daft Punk.
The EP begins with "Honest," opening on a tight, stripped-down rhythm topped by Bad Heather's tasty, intimate vocals, infusing the lyrics with surging passion and a sense of urgency. Shimmering synths imbue the tune with tints of dance flavors melded with alt-pop and alt-rock.
"Her Sorry" travels on snapping percussion segueing into a hefty, pulsating rhythm. Delicious vocals infuse the lyrics with luscious flavors of galvanizing alt-pop inflections. "20" rolls out on gleaming textures atop a driving rhythm as sparkling colors stream overhead, giving the tune glowing layers of harmonics.
The throbbing pulsations of "Juliet" inject the rhythm with potency while swirling synths ride overhead. "Not Giving Up" amalgamates a heady rhythm with tasty coloration thrumming with misty splashes of energy. The braying of Caleb's sax gives the tune smoldering sensuality.
Explaining the track, Porter says, "'Not Giving It Up' is the most organic song on my EP. I wrote it with a band in mind. The production drew influences from yacht rock to drone-Americana bands like The War on Drugs. It's about reminding yourself to keep going even when it feels like you're getting nowhere, whether it be in a relationship or with your career or really anything that feels stuck and full of setbacks."
Bad Heather has it going on! Seething waves of sound and sinewy rhythms, along with the evocative voice of Porter Chapman, make the EP hella-contagious.
Follow Bad Heather Facebook | Instagram | TikTok | Spotify
About Post Author