Alejandro G Iñárritu grapples with creative fulfilment and the Mexican diaspora in his sprawling, semi-autobiographical surrealist drama.
"My homeland has many palm trees and the thrush-song fills its air; no bird here can sing as well as the birds sing over there" Brazilian poet Antônio Gonçalves Dias famously uttered in 'Exile Song', a poem written in 1983 during his time as a student in Portugal. The words are simple yet fitly communicate the burning ache that is homesickness – the romantic conviction that no feeling can ever be felt as deeply as when at home, no food can ever taste as good, and no music can ever be played as beautifully.
Dias' approach to displacement echoes heavily throughout Alejandro G Iñárritu's Bardo (or False Chronicle of a Handful of Truths), which follows Mexican journalist and documentary filmmaker Silverio Gama (Daniel Giménez Cacho) in the lead-up to the ceremony that will see him take home the fictitious Alethea Award for Journalism Ethics, an honour given by the American Journalism Society. Being the first Mexican – and Latin American – journalist awarded the prestigious laurel bears a heavy weight on Gama's shoulder and attenuates a cultural and geographic disconnect that has plagued the man since he made the decision to move his family from his home country to the shiny hills of Los Angeles.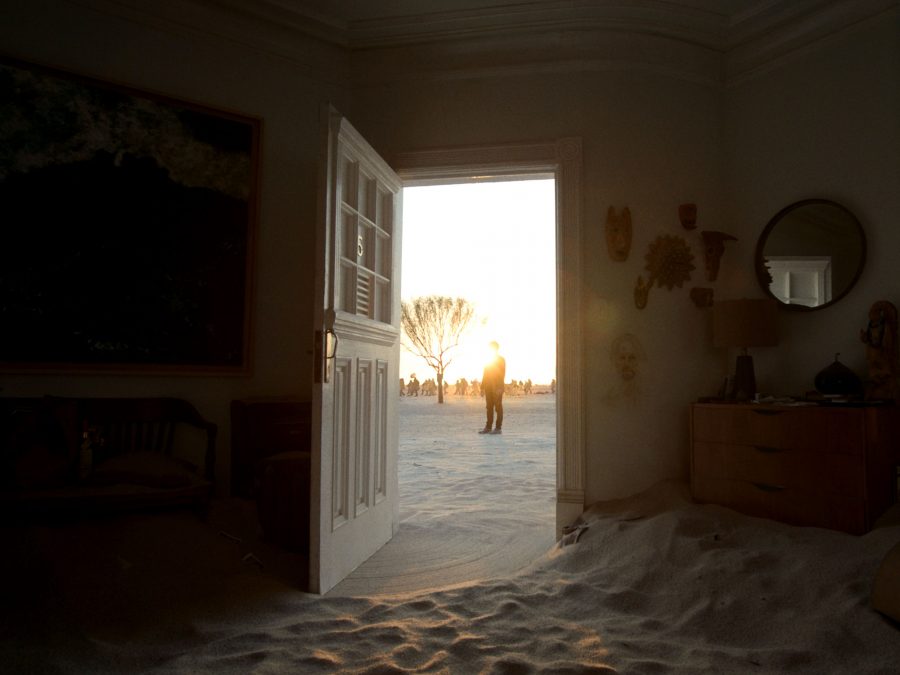 Yes, the blatantly autobiographical Bardo is acrimoniously self-indulgent. But it needs to be. The pained ache of diaspora can only be soothed by unbeatable arrogance, boastfulness a way of thinking of oneself as above origins, to become an island when the craving for the closeness of Pangea is all-consuming. To settle the wistful longing for one's country, one needs to become their own, entirely detached from all sense of belonging – bigger and bigger until all that doesn't pertain to the self feels futile. Otherwise, the what-could-have-beens become unbearable.
Vital to Iñárritu's musing on diaspora is the overbearing guilt experienced by the colonised when assimilating the cultural and social traits of the coloniser. Felt as if an act of treason, assimilation has intergenerational ripples, accentuated by the trauma carried for decades on end through the potency of bloodlines. Here, guilt is turned into a spectacle, as flamboyantly and self-importantly depicted as all else, Silverio at once Judas and Jesus, traitor and saviour. Bodies line up the cobbled streets of Mexico City, conquerors hovering over public plazas, the rooted sorrow of lands usurped through bloodbaths given lavish tangibility through the eyes of cinematographer Darius Khondji.
Bardo deviates from your run-of-the-mill ode to home in the sense that it is not as much an ode as it is an elegy – a work that carries a doleful sense of finality. Iñárritu places himself at the shore, watching as the last boat leaves the dock, forever stranded. It is an exercise in self-punishment disguised as self-aggrandisement, by a director powered by confident resignation and – for those unlucky enough to have experienced the gaping hole of yearning for home – it is entirely worth the self-indulgence.
Little White Lies is committed to championing great movies and the talented people who make them.
By becoming a member you can support our independent journalism and receive exclusive prints, essays, film recommendations and more.
Published 18 Nov 2022
Anticipation.
A new film by Iñárritu always warrants attention.
Enjoyment.
The balanced mesh of melancholia goes on a little too long, but merits the indulgent runtime.
In Retrospect.
A confidently realised examination of cultural displacement.
About Post Author