Writer/director Ryan Coogler expands his colonialist critique in this epic MCU sequel which also pays moving tribute to the late Chadwick Boseman.
II 2018's Black Panther, when T'Challa meets his deceased father, King T'Chaka, in the ancestral plane, he mournfully professes, "I am not ready to be without you". Two years later, in August of 2020, the world mourned the death of its star Chadwick Boseman. So, as its predecessor opened with the death of a King, so begins Black Panther: Wakanda Forever – writer/director Ryan Coogler's heartfelt and thematically ambitious follow-up to his critically and commercially adored original.
The key events of this epic sequel take place one year after T'Challa's death. Queen Ramonda (the ever-majestic Angela Bassett) now sits on the throne and must deal with the consequences of T'Challa's decision to pull Wakanda from the shadows and onto the world's stage as a powerful and technologically advanced nation. Without T'Challa, Wakanda no longer possesses the heart-shaped herb that imbued the Black Panther with their powers; the result of Killmonger (Michael B Jordan) burning their stores in order to hoard the abilities for himself.
And yet, as Ramonda defiantly asserts at a UN summit, Wakanda has not lost the ability to protect itself. The Dora Milaje, led by General Okoye (Danai Gurira) are as formidable as ever, more than capable of foiling the efforts of outsiders to infiltrate their research outposts in search of the highly desirable super mineral, vibranium. Where Wakanda faces its true threat, however, is from the secret underwater kingdom of Talokan which is ruled over by Namor (Tenoch Huerta), a wing-footed demi-god who beseeches Wakanda to join forces and wage war on the colonialist states of the surface world (represented by the US and France) to stop their continued efforts to steal the precious resource.
Despite Boseman's death triggering obvious changes to Coogler's plans for the sequel, the director's commitment to impactful storytelling is unfaltering. Wakanda Forever furthers Black Panther's geopolitical exploration of responsibility versus preservation, while simultaneously choosing to meet the unavoidable spectre of loss and lean into it in ways that are both bold and surprising.
Coogler deploys striking commentary of both external and internal strife as two nations of colour attack each other while the world's white governmental superpowers remain almost entirely unaware (but are poised to scoop their prize from the resulting rubble). A mother and daughter are both charged to lead and must do so as they reckon with insurmountable grief. In the former, Coogler continues to tap into the very real duty people of colour feel in defending their culture – a massive uphill battle in the face of widespread colonial plunder and brazing historical rewriting at the hands of the oppressors. Through the latter, Coogler presents a moving meditation on bereavement and the notion of forging a new path.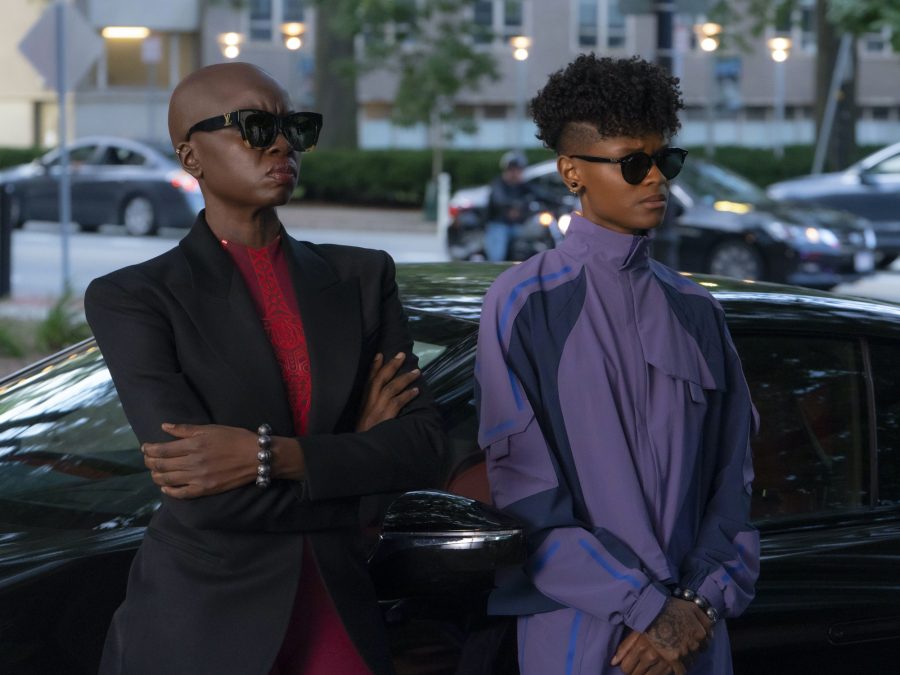 In telling this story almost exclusively through Black female characters we see not only a triumphant celebration of the strength of Black women, but an exceptional display that grants the rare opportunity for an audience to see a variety of Black women – each with different traits, each essential to the plot and granted both depth and agency. In a Hollywood where Black characters frequently tend to exist without any plot-essential relationship to other Black people shown on screen, or where white characters manage to avoid having more than one Black person in their friendship group, Wakanda Forever offers an embarrassment of representational riches.
Yet, an inevitable tension arises within the film in its need to feed the overarching MCU directive. This causes choppy editing choices as well as scenes and characters who feel beamed in from an entirely different film. In part, Coogler manages to make this obligation work to the film's benefit with the introduction of the thoroughly enjoyable Riri Williams (Dominique Thorne), a brilliant MIT student the Wakandans must protect from Namor.
RiRi brings a humorous, relatable, fish-out-of-water perspective to proceedings and bounces easily off Okoye and Shuri (Letitia Wright), who aren't just sublime in their portrayals of interior suffering, but as comedic foils for the film's many laugh-out-loud moments. However, for all the effort taken to balance the demands of its narrative, the film's two-hour forty-minute runtime is riddled with pacing issues that, at times, threaten to tip it into tedium.
Taking the long view of things, Wakanda Forever heralds the end of the MCU's "Phase Four", a phase that, save for the near-universal praise for 2021's Spiderman: No Way Home, has at best been divisive and, at worst, felt like an underwhelming conveyor belt of hollow, mish-mashed placeholders with its titular heroes coming second place to the desire to get us excited about interdimensional space wars.
The original Black Panther soared because it sat largely independent of its MCU obligations. But where Phase Three offered a well-oiled and expertly serialised superhero spectacle, Phase Four has shown much more of its machinery, so its presence here – particularly with the emotionally charged purpose of the film – feels much more like baggage that interrupts rather than intertwines.
It's no easy feat for a film to act as pallbearer to the late Boseman and deliver a tale that is fresh and future building. Wright, Gurira and especially Bassett rise to the occasion, with Lupita Nyong'o and Winston Duke also giving committed and exciting performances. As the well-reasoned villain of the piece, Huerta is engaging even when slightly constrained by some of his expositional functions.
Coogler admirably takes a big swing with Wakanda Forever and it produces a feature that is fluently in conversation with its predecessor, but less so with its position inside the wider franchise universe. There are some noticeable misses, but the value of such intricate and elevated storytelling cannot be discounted. Indeed, it's worth stressing that many of the film's ailments may still have occurred had Boseman lived. Yet Wakanda Forever pays moving tribute to Boseman and represents a chance for all of us to move forward. Which, ready or not, is a lesson we'll all face at one time or another.
Published 10 Nov 2022
Anticipation.
Black Panther was groundbreaking. How will director Ryan Coogler manage a follow-up in the wake of the loss of its star?
Enjoyment.
Black Women, assemble!
In Retrospect.
A moving, if at times muddled tribute that doesn't skimp on the storytelling.
About Post Author