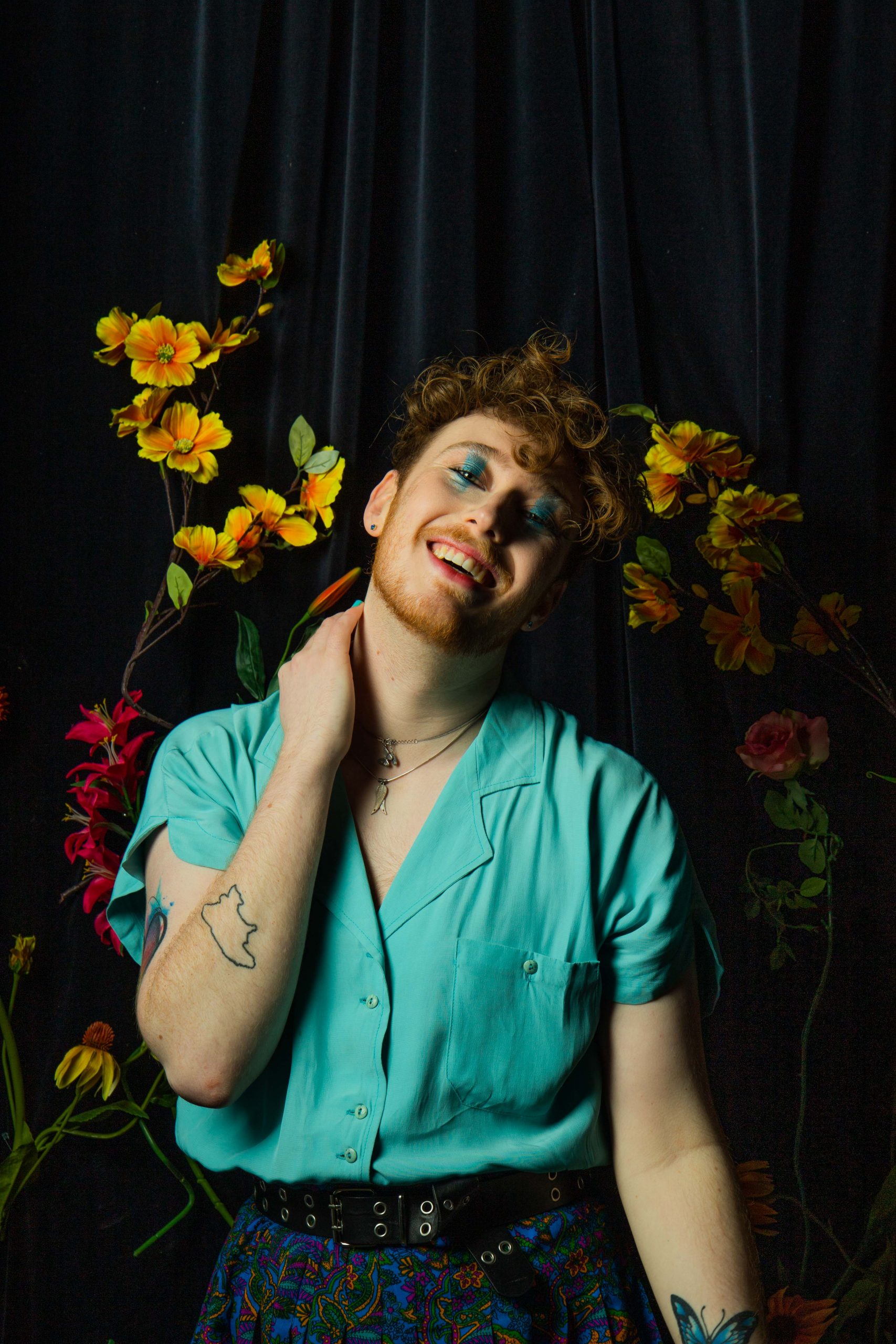 What a powerful positive track that Blair Davie has released, "Lovely" is the perfect self-empowerment anthem that we all need. It's dedicated to the trans community and we can so see this becoming a viral uplifting trans pride anthem in the future, and one that is worthy of being on all the LGBTQ+ playlists. We certainly need positive good tracks like this one in the world. This is the follow-up track to their previous single "To Miss You".
Blair Davie (they/them) is a Scottish-born, London-based singer-songwriter who has only recently been releasing solo material but has already gained notability and credibility. They are a seasonal performer, having fronted bands in the past, and they have now used their experience to date to focus on their solo work. After a challenging 2020, Blair Davie decided to focus on themself and they went on to amass 12k followers on TikTok, be officially playlisted on Spotify, toured the UK and Europe with the likes of JP Cooper, Emeli Sandé, and Fatherson, and sold out their first headline show at London's Laylow. They draw from a variety of inspirations for their music, including dealing with self-acceptance, bisexuality, anxiety, loss, and heartbreak; but also the beauty that life can offer. They already have tens of thousands of Spotify streams, with "Him, Hymn" being their most-streamed track on the platform, which was their own personal approach to coming out to their family and friends. Their determination, unforgettable voice, and undeniable songwriting skills are what will certainly make Blair Davie someone we all should be watching.
Written by Blair Davie and Joe Rubel with the latter producing the track, "Lovely" is exactly as the title suggests, a lovely track, but it's so much more than that, full of self-acceptance, honesty, integrity, and positivity. Loving oneself is so important and this track certainly spreads that message. A music visualiser video was also released, alongside the track, which was filmed by Bea Sa and directed by Louise Mason whilst hair and make-up were styled by Yong-Chin Marika Breslin.
Watch the music visualiser video for "Lovely" by Blair Davie here:
Quite possibly Blair Davie's best music release to date, "Lovely" encapsulates all of the feelings that you get when you finally express who you are and you love the person that is looking back at you in the mirror. To grab that moment and release it in this song and the music video shows Blair Davie's incredible artistry. The self-empowerment and self-acceptance track is absolutely incredible, and their vocals are superb, shining in the best possible light as they showcase to the world exactly how it feels to be yourself. This is hands down one of our favourite tracks of the year and the impact that this song is going to have, not only on their fans, but worldwide; we truly believe this deserves to go down in history as a trans-self-empowerment anthem, and one that we're sure is going to make a difference in trans lives. Anyone who is struggling with their identity needs to listen to this track, as it effortlessly sends out the message of being whoever you want to be and as long as you love who you are, it doesn't matter what anyone else thinks.
Talking about the track, Blair Davie said: "For as long as I can remember I've suppressed and hidden parts of me I didn't want the world to see. The world can be so unkind to things that are different. I never spoke about it with anyone and had become so used to being someone I truly wasn't that I barely even thought about it. Then one day, last year, I watched an episode of Queer Eye about a transgender person just letting themselves be who they are and celebrating that and it awoke something in me. Being unapologetically who I am can be terrifying and difficult but every day that I try, I find that I shine a little bit brighter."
Not holding back, Blair Davie takes all that joy, positivity, and euphoria, and showcases it in the music video. The visualiser video may be simple, with Blair Davie surrounded by flowers, but the stripped-back visual fully allows focus on this incredible artist as they show the world how they feel being themselves, and it's purely beautiful seeing how happy it makes them to be themselves. It's impossible to deny how amazing Blair Davie looks and they exude jubilation in being who they are.
Stream the brand-new single on Spotify here:
"Lovely", by Blair Davie, is available to download and stream, right now, across all platforms, via Watercolour Heart. Blair Davie has also been announced as the support act for Sam Fisher on his upcoming tour across the UK and Europe. On top of that, they have also been announced for the Hungary festival known as Sziget Festival and will be performing there on August 13. Check out the tour dates below:
Supporting Sam Fisher UK & EU Tour
May 31 – Brussels, AB Club
Jun 02 – Cologne, Helios 37
Jun 03 – Berlin, Badehaus
Jun 06 – Amsterdam, Bitterzoet
Jun 08 – London, The Waiting Room
Jun 09 – London, Folklore
+ Aug 13 – Sziget Festival, Hungary
Let us know what you make of "Lovely" by Blair Davie on Twitter @CelebMix.
About Post Author