The key to good cooking is balance. A meal with no salt is bland, add too much and it's ruined. Recreating a restaurant on screen needs that same balance: chaotic but with purpose; lonely but communal; cut-throat but with heart. Capturing that specific environment – a swirling pressure-cooker of clashing personalities where the lines between love and hate blur – has been attempted on-screen time and time again. There's something irresistible about that setting so we watch every time and almost every time, it doesn't quite work. This year though, the impossible happened – the chaos of the professional kitchen was captured brilliantly not once, but twice.
The Bear was the show of the summer in the US and finally hits UK screens this week on Disney+. It follows the story of Carmen 'Carmy' Berzatto, a world-renowned chef who returns to Chicago to take over The Beef, the beloved but deteriorating neighbourhood sandwich shop left to him by his late brother Mikey. Tense and wickedly funny, The Bear has been praised for its searing microcosmic depictions of toxic masculinity, addiction, gentrification, capitalism, and grief. It does all this effortlessly by first nailing the fundamentals, creating a restaurant environment that feels so real it often makes you want to hang up your apron and switch careers immediately.
There are precursors to The Bear which have also attempted to portray the professional kitchen to varying degrees of success. Stanley Tucci and Campbell Scott's Big Night hails from a time where the most you saw of the kitchen was a peak through the swinging door. As a result, while the kitchen is classic and beautiful, it didn't need to be especially accurate. The two-person kitchen staff produce a staggering amount of food, for example, talented as Primo is. It does, however, capture the desperate compromise a struggling restaurant has to make as well as the frustration of difficult customers – any waiter can relate to the battle between placating a customer who wants spaghetti with her risotto, and a chef whose reaction is "She's a criminal, I want to talk to her".
In Chef, Jon Favreau's real-life experience makes for a convincing, if rose-tinted, depiction of the pressures of a renowned chef on the downswing. A feel-good film more about family than food, Chef's kitchen scenes can't be too unbearable, instead taking those rare shining moments of peace before the customers file in and imbuing them with desperation. An honourable mention goes to Brad Bird's Ratatouille too, in which Pixar bring their trademark realism to an old-fashioned French kitchen where the only thing that doesn't feel plausible is Remy the Rat Chef.
But there are many more foodie films that miss the mark. John Wells' Burnt starring Bradley Cooper features bizarre assumptions about the inner workings of Michelin inspectors, exhibits staggeringly wasteful plate-smashing, and the unfathomable shucking of one million oysters, but it's the general feel of the film though that doesn't work. It overshoots on chaos, feeling more like a script note to "look busy" than a functioning kitchen. Burnt also ramps up the archetypal tyrannical chef to the nines. It's true that chefs are often intense, but Cooper's depiction is missing a method to that madness. On the other end of the spectrum are films where the energy is missing entirely. Rom-coms are often most guilty of this, films like No Reservations and Little Italy don't seem to care too much about what restaurants actually feel like, so long as they make a good backdrop for romance. Fair enough really, but it's jarring for anyone who accidentally came for the food.
One of the reasons The Bear works so well is that the restaurant is never just a setting. The relationships in The Bear aren't happening in between cooking scenes – they're constantly on the go. You understand more about Sydney (the show's true hero, played by the brilliant Ayo Edebiri) through her determination to get Carmy to notice her ideas mid-shift than you ever could through unnatural dialogue exchanged when the grills are shut off.
As he patches flesh wounds rather than addressing emotional ones, Mikey's best friend Richie's (Ebon Moss-Bachrach) unresolved grief is revealed more than it ever could be if the cameras followed him home. Silence says as much as dialogue in the interactions between its the complex, lovable (most of the time) cast of characters, but the restaurant is alive and all consuming, with the lives of its staff often taken over by their jobs, leaving little space for much else.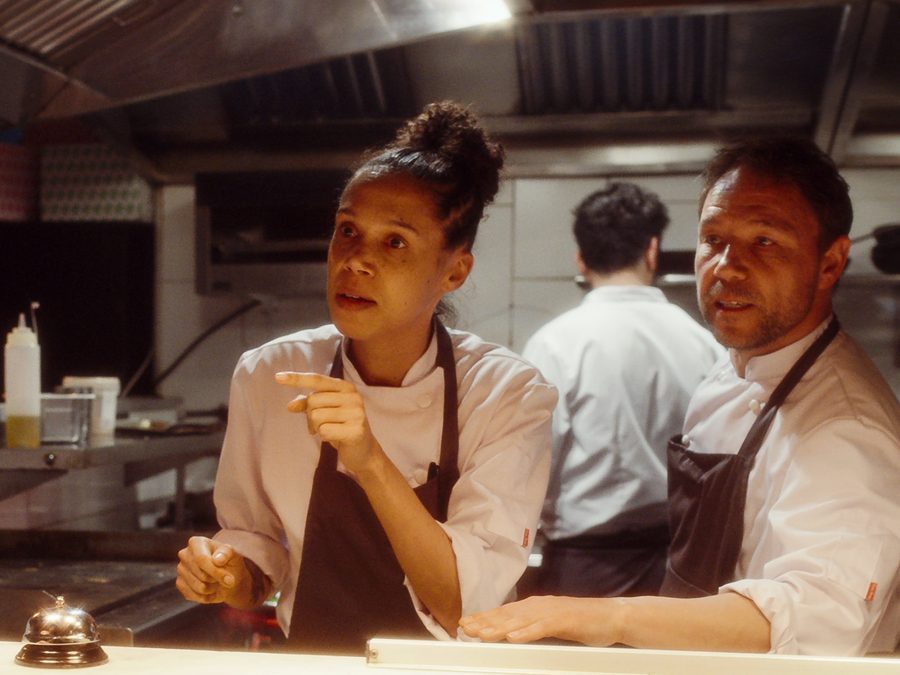 The other triumph of culinary arts in pop culture this year is Boiling Point, Philip Barantini's one-take film released in January. Boiling Point differs from The Bear in setting – set on the busiest night of the year in a high-end London restaurant – and has none of The Bear's comedy to unknot the agonising tension. Like The Bear though, the restaurant swallows everything. As head chef Andy (Steven Graham) desperately tries to keep his life together in snatched phone-calls in the back alley, he gets dragged in all directions, anxiously spinning plates to keep things on track. In any hasty moments of resolution your brain is still screaming out to the characters to pay attention to what's happening off-camera ("No! Stop! The dressing!").
Episode seven of The Bear is also largely edited as though it's a single take, in which things truly come to a head for Carmy, resulting in a mass staff walkout. It's a tough watch but stretch those uninterrupted eighteen minutes – where everything that can go wrong, does go wrong – over an excruciating hour-and-a-half and you've got Boiling Point.
Both The Bear and Boiling Point feature harsh words exchanged, but there's always a sense of comradery. The team pulls together, things said in the heat of the moment understood to be fleeting, with pride often swallowed in a swift apology. The shouty, sweary chef stereotype is often true, but it can be understood as Carmy sprints across town to flog jeans in exchange for ingredients, or Andy sleeps on the office floor due to not having time to hunt for a new flat. These struggles soften them, and their staff catch glimpses and take pity, willing to withstand a few rants or pick up the slack. It's toxic, yes, but not without heart.
Both pieces of media also shine in the small moments we spend with secondary characters, illustrating that dozens of relationships that are playing out at any given moment in a restaurant. Boiling Point has the motherly tenderness between pastry chef Emily (Hannah Walters) and her young, troubled protégée Jamie (Stephen McMillan) or the in-fighting between the pot-wash team as Andy defends drug-dealing slacker Jake (Daniel Larkai). The Bear has Matty Matheson's charming but underachieving handyman Neil and the heartbreaking tear-down of everybody's favourite pastry chef dreamer Marcus (Lionel Boyce).
This isn't to say that on-screen depictions of restaurants need to be hyper-realistic to be enjoyable, or that everybody watching cares about realism. Burnt is fun because it's so ham-fisted; Chef would be less heart-warming if it didn't have the grittier elements of restaurant work brightened; rom-coms have a comforting formula to follow where nobody's watching to be stressed out. The allure of the setting though comes in two parts: a desire to peak behind the curtain for those who don't have experience, or for those that do, to see it reflected back.
All these chefs share one thing: the drive to create beautiful food. There's something tantalising about seeing all that passion and dedication poured into one small plate of perfect food. The Bear and Boiling Point are not always exactly enjoyable, but the viewer feels right there alongside the team, giving everything to try and make something great.
Published 5 Oct 2022
About Post Author