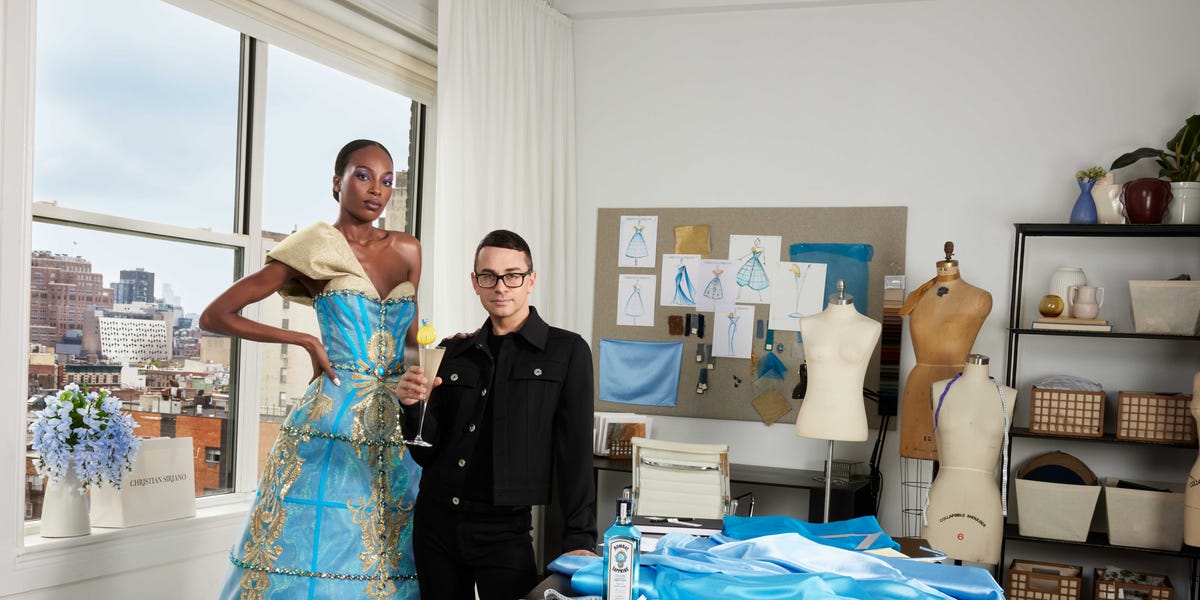 Backstage at Christian Siriano's spring/summer 2024 show, the general atmosphere is electric. Nay, romantic. Held at the iconic Pierre Hotel in New York City, a relic of gilded glory, the floor-to-ceiling murals and elaborate moldings are far from the most opulent items in your line of sight. The venue is no accident: Siriano's ballet-inspired collection demands a grandiose, celebratory mood. Not only is the designer celebrating 15 years in business (he won Project Runway in 2007 and subsequently launched his eponymous label in 2008), but he's a Time100 Honoree and a trailblazer in an increasingly inclusive industry. The milestone season 20 finale of the hit reality TV series just aired with Siriano as the host. Today is the first official day of New York Fashion Week. Moods are high. The vibes, immaculate.
What's more, Siriano is the latest collaborator in Bombay Sapphire's "Saw This, Made This" campaign. In a limited-edition capsule collection, the designer imagines four Bombay Sapphire cocktails as couture: the Bombay Martini, the Bombay & Tonic, the Bombay Tom Collins, and, of course, the Bombay French 75. In particular, the French 75 gown, made with beading, embroidery, chiffon, and Bombay Sapphire-dyed fabrics, was chosen to make its breathtaking debut on Siriano's latest runway. Sparkling and radiant, the gown is a party in itself.
Now, it's showtime. Celebrities and Siriano stans like Janet Jackson, Avril Lavigne, and Laverne Cox are seated in the front row. The buzz around the grand ballroom provides a dull echo that loudens as soon as the "Nasty" singer steps through the floral arches that accent the room. As Sia performs "Chandelier" and "Diamonds" in a voluminous pastel pink gown, the show, and NYFW, is off to a very strong start.
Before the show, ELLE.com got the chance to speak with Siriano about his collection, his career, the state of the industry and, fittingly, his favorite Bombay Sapphire cocktail to celebrate all of it with.
---
How did your partnership with Bombay come to be? What was your creative approach with the project?

I was really excited when the team reached out. Sometimes, when you collaborate, not everybody encourages you to be inspired and make something and I'm like, "Okay, I can do that." I was really excited to be inspired by something different: classic Bombay cocktails. For the runway, we have one really beautiful couture piece that was inspired by the French 75, which is my favorite gin drink. The fabric in that dress is made of beading and embroidery. My collection is actually inspired a lot by ballet and vintage paintings and the Royal Opera House, so we have a lot of French undertones. We have a lot of ballerina things going on, so it all worked together. And then, all the classic Bombay Sapphire, the beautiful blue, the idea of jewelry, all of that came up.
The French 75 may be your favorite gin drink, but is it your go-to order?
I think when I started working on this project, I kept ordering it. So many people drink gin cocktails, which I guess I wasn't aware of before this partnership. It's a great refreshing summer drink. I'm a big fan of a lemon twist, so I love that. I'd say it's definitely been my go-to lately.
What makes a great cocktail, and what makes great style?
Sometimes the best cocktail can be in its simplicity. It's all about the simple ingredients that make it so good, which is probably why a classic drink like the French 75 has been around for so long. I think having great style isn't always about simplicity like a drink, but it's about finding a signature. People that have great style I think have a signature. That signature can be very exuberant and wild, but it really is them.
Why, out of the entire Cocktail Couture collection, was the French 75 chosen for New York Fashion Week? What was the inspiration for your runway this season?
We're showing at the Pierre Hotel and it's my 15th anniversary. I wanted something that felt a bit celebratory, because it had that little bit of champagne. I like it and it's easy to drink. For the collection, I went back to this nostalgia of me and my sister growing up and wanting to be ballet dancers. I took a lot of inspiration from things that felt like fantasy. I love this idea of seeing ballerinas in their warm-ups and in rehearsals and then transforming into the Sugar Plum Fairy or something very beautiful, like a dream.
There's been a lot of buzz around model inclusivity, except, this time, some brands are treating representation like a trend, like it's not "in" anymore. What is your response to that, and why is it important to you to stay true to your customers and fans?

I just don't approach it that way. I really approach it like, I want people to wear clothes and I want them to feel beautiful in them and I don't really care where you are, what you do, what you like. It's so important to celebrate women if you're a women's designer. I just want people to buy the clothes and wear the clothes and feel good in them. I don't care who you are, what you identify with. I just don't think there are rules like that anymore—we should be able to wear the clothes we want to wear. There are no rules to it. I hope that there's more representation, I wouldn't want to see it go away. That wouldn't make sense.
As a designer of many show-stopping red carpet looks, how do you think red carpet style has changed over the years? How do you think the SAG-AFTRA strike is affecting the industry and red carpet moments?
Red carpet moments have their hits and their misses, right? They're great for so many reasons. They're something to look forward to. They're something to bring you out of your world, and it's a fantasy. It's something exciting to watch. Sometimes it's how trends are made. You see your favorite actress who you love and the film that she was just in, and she's wearing a short black minidress. Maybe it makes you think, "I want to wear a cool short black minidress," or whatever it is. That's just how we are. We're human; there's a reason there are millions of people going to see Taylor Swift. They love her. It's still very important to our culture to have some version of that.
What's happening with SAG strike is much bigger than a red carpet, though. Obviously, it's really about representation in the workplace. Not having carpets and not having the glamour, I think it's okay for a little while, as long as we're able to fix what's important. Everybody deserves to make what they work hard for. It's really hard, because it's kind of like how, back in the pandemic, people didn't have jobs, and it is affecting a lot of people in a bad way, too. So, what's the win? It's almost like being sacrificed for a greater cause, but not everybody wants to be sacrificed.
What are you most proud of this season of Project Runway? What can we expect for the show?
The final group is just really, really good, and I think they worked really, really hard. It was an amazing season having an all-star cast. What's really cool to see is that it's sort of the young versus the OGs, which I really love, because it proves that you can still be a great designer and be a young talent and it isn't always about age and longevity. Sometimes it is about newness and what's exciting. You have to have the balance. I do think that the designer that we crown, I think they'll have a really long career. I've been helping them a lot, and I'm trying to help as much as I can.
Do you think there will be a season 21?
I don't know! I said that the other day, maybe we just end on a bang. It's such a great show. I think people really love watching it with their families and their friends. That's something that will last; there's not a lot like it on television anymore. There aren't a lot of shows where you root for people, and I think that that's why people love it. You fall in love with the character and you root for them, and then hopefully they succeed. It'd be nice if there were more of those.
---
This interview has been edited and condensed for clarity.
About Post Author