It was finally the night fans had looked forward to for months after somehow securing tickets to the most highly anticipated tour in history. After surviving the great Ticketmaster war and much planning, fans began arriving to SoFi Stadium hours prior to the show to wait on extensive merchandise lines for tour keepsakes and gear up for a spectacular evening with the one and only Taylor Swift.
In just a few short hours following their arrival, Taylor Swift would take the stage for her second to last show on the U.S. leg of the Eras Tour on August 8, 2023, in Los Angeles, California.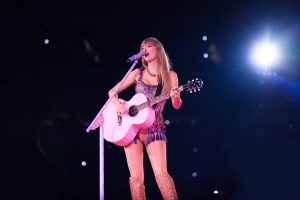 Attendees took their seats as Haim and Gracie Abrams opened the show with two energetic sets that set the tone for the rest of the night.
The sun began to go down as a countdown abruptly appeared on the stadium screens that let fans know there were just a few minutes left until Swift would begin a truly unforgettable performance. As suspense inevitably built and the countdown winded down to zero, the Eras Tour icon herself appeared and kicked off her set with a snippet of "Miss Americana & The Heartbreak Prince."
Swift then effortlessly transitioned from one era to the next, beginning with Lover and then giving fans a taste of nostalgia with Fearless. Each era, of course, featured different set designs as well as custom-made outfits and showed off Swift's remarkable stage production that undoubtably captivated fans both on the floor and in the sections at the very top of the stadium.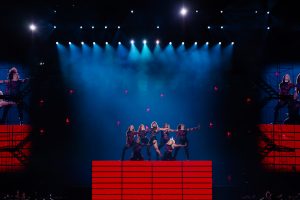 The demand for this particular tour continues to prove to be completely out of control in the best way possible. Although this was Swift's fifth night performing at SoFi Stadium in Los Angeles, every seat was taken. And fans not lucky enough to secure tickets to the show even set up chairs in the parking lot just to be a part of the experience.
Throughout her set, which continued to last well over three hours, Swift graciously thanked attendees for their support and remained unbelievably humble. In return, fans praised her with overwhelming applause throughout the night and even an eight-minute standing ovation after her performance of "Champagne Problems."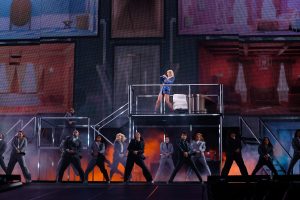 The night unfortunately began to come to a close as the "Anti-Hero" singer transitioned to the Midnights era, but her energy and enthusiasm did not dwindle in any shape or form. She continued putting on a powerhouse performance until the very last note of "Karma" and the fireworks ignited.
This show and tour in general has made one thing clear – Swift is not going anywhere anytime soon and neither are her die-hard Swifties who are ready for new show announcements at any time. Many may have left without a voice, but not without a smile. The Eras Tour will go down in history as one of the greatest experiences concertgoers could have witnessed firsthand during this century.
For information on future tour dates and tickets, click here.
Follow Taylor Swift on Spotify and Instagram for the latest updates.
About Post Author