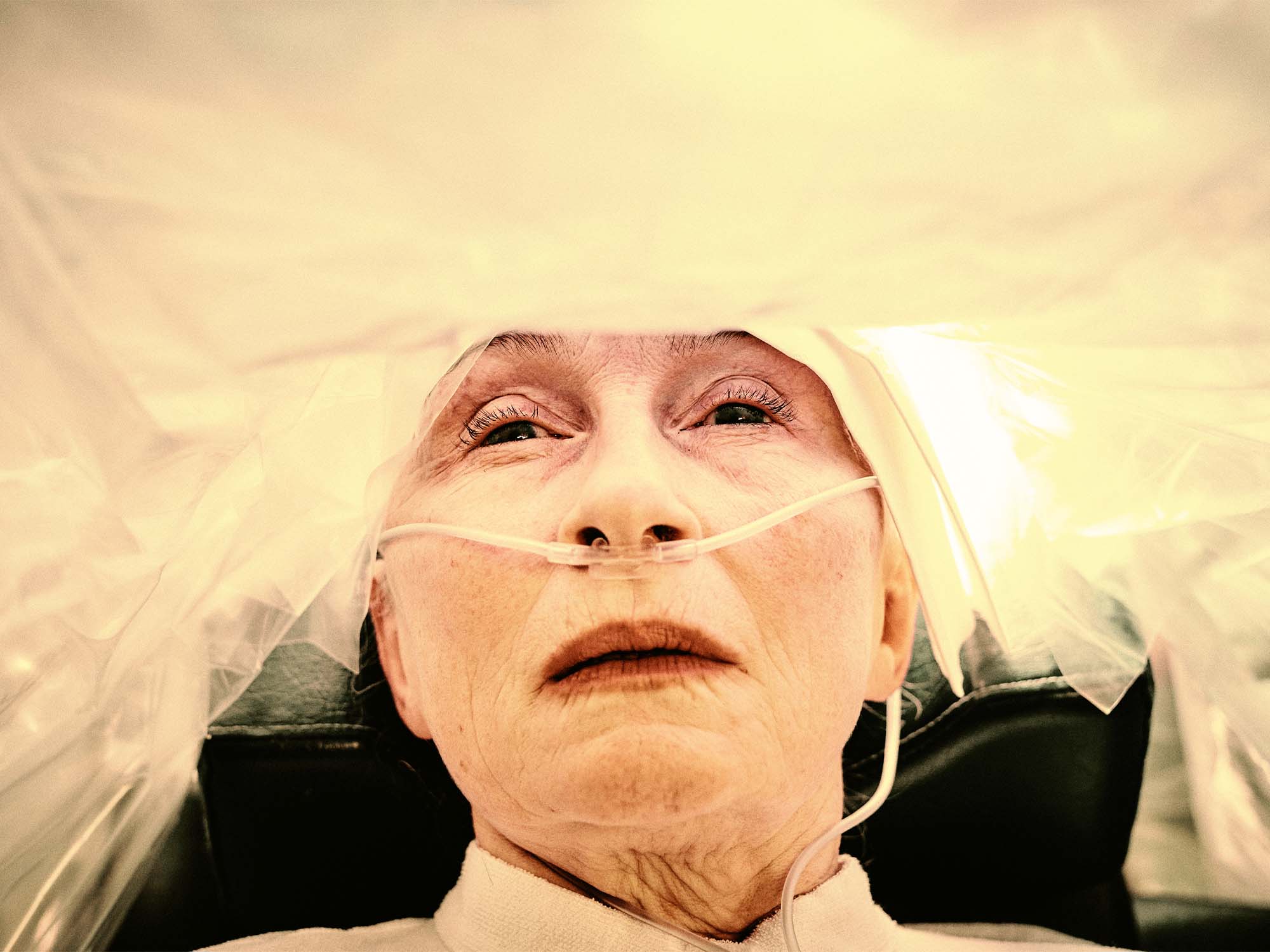 With Christmas in our sights, it's worth noting that Lars von Trier is offering us his own spiky bauble to hang atop the tree with a new TV series. It's a very belated continuation of one his most beloved early works: the phantasmagoric, hospital-based comedy-horror hybrid, The Kingdom. The Kingdom Exodus premiered to plaudits at the 2022 Venice Film Festival, where many believed that the filmmaker managed to deftly recapture the earnestly ironic spirit of the original run. The first of five episodes arrives on MUBI on 27 November (with the grand finale arriving in our stocking on Yuletide morn!), and LWLies readers can now claim a 30-day trial to watch The Kingdom Exodus and the newly remastered The Kingdom I and II. Let's take a quick journey back to the go-go nineties to explore the origins of this iconic serial.
Early in his career, von Trier casually set his stall as one of the most exciting and innovative young filmmakers on the planet. His "Europa" trilogy, which consists of 1984's The Element of Crime, 1987's Epidemic and 1991's Europa, was lauded for its maker's beyond-his-years skill and preternatural understanding the ins and outs of visual storytelling, but von Trier himself displayed an impish annoyance that none of his films netted him the big prize at the Cannes Film Festival.
And so he shifted to television as a way to make some fast cash for the newly-minted production company, Zentropa, that he and his production partner Peter Aalbæk Jensen had founded after making Europa, chiefly as a way to expand creative control over their work. If, indeed, The Kingdom was made for reasons that weren't entirely artistic, it goes some way to demonstrate von Trier's aptitude for imposing his singular sensibility on a range of artistic forms. In short: it definitely doesn't look or play like a cash-in. Quite the opposite in fact.
Von Trier himself sold the series as his version of David Lynch's Twin Peaks, and the many stylistic and tonal overlaps between the two would suggest that this wasn't just one of the director's famous publicity stunts. The story takes place in Copehangen's Rigshospitalet which translates as The Kingdom's Hospital (and is often shortened to Riget). As with Twin Peaks, The Kingdom offers a wry, often fond satire of its cheesy genre forbear (in this case, horror serials and hospital dramas), while committing fully to the story, characters and episodic structure, to the extent that it maintains a compelling grip on the viewer's attention and operates as a work that can and should be taken seriously.
The machinations all revolve around a massive ensemble, though boiled down there are three key protagonists: Kirsten Rolffes' Sigrid Drusse, a Miss Marple-type "little old lady" who possesses the powers of a spiritual medium, and is seen inventing ailments for herself in order to investigate the sound of a crying child she hears in a lift; then there's Søren Pilmark's Krogshøj, the slyly confident underling surgeon who feigns ignorance while quietly amassing one-ups on his hateful colleagues; and, finally, there's Ernst-Hugo Järegård as the Swedish attendant brain surgeon, Stig Helmer, one of the lesser-known icons of '90s TV and a brash, entitled baddie up there with the best of them.
At the beginning of each episode, we see variations of Helmer rolling up to the hospital in his red Volvo (of course!) and jimmying off his hubcaps so they're not nicked by a group of marauding youths. Then, another trademark comes at the end of each episode, as Helmer is given an enraged soliloquy which he delivers on the roof in season one and directly into a toilet bowl in season two, and each time he wraps things up by yelling, "Danish scum!" – a reflection of his belief that he's denigrating himself as a no-nonsense and officious Swede working in Copenhagen. When it arrives, it's always hilarious.
In the same way as Lynch made Twin Peaks as a tumult of questions without answers, so too does von Trier cleverly extend his plotlines in a range of weird and wonderful ways that always tantalisingly delays the possibility of resolution. Having been away from Riget for nigh-on 25 years, von Trier has opted to return to its ghostly (but, for him, soothing) hallways for this third season which was always mooted, but was put on ice when Rolffes and Järegård died before production could begin. The story picks up where things left off, with many of the key cast returning for more and various long-tail narrative payoffs finally achieved. And fans of the brilliantly awful Stig Helmer can be sated by knowing that his son turns up to pick up the baton.
The Kingdom Exodus launches exclusively on MUBI on 27 November, with new episodes dropping weekly.
Our readers can enjoy 30-day trials to watch The Kingdom Exodus and the newly remastered The Kingdom I and II on MUBI. Click here for more details.
Published 21 Nov 2022
About Post Author