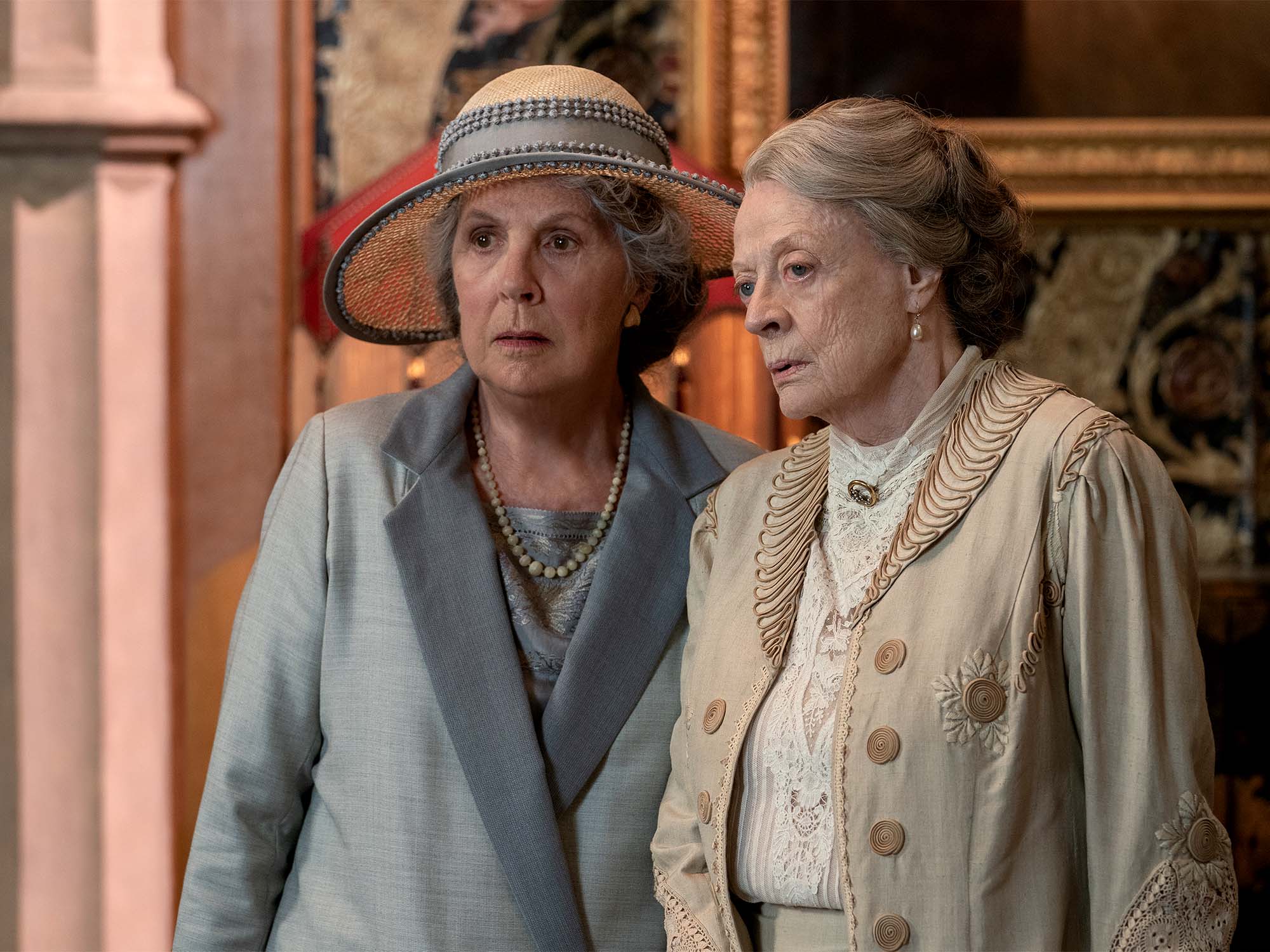 The sprawling period drama returns to the big screen for a giddy swirl of lawns and penguin suits.
Dwindling funds and past misadventures are brought to light as the Downton Abbey cast are dusted off and redisplayed for a feature length outing in A New Era. Set at the end of the 1920s, before the Wall Street Crash, this second long-form instalment of the behemoth TV serial hints at how the gentry is fading, so they must take themselves somewhat less seriously if they are to survive.
Maggie Smith's Violet, dowager-wit and head of the Crawley family, at one point exclaims, "Don't steer me, I'm not a racing car!" but drive the plot she does. Smith charms, coasting rock bottom as the twinkly matriarch. Amused, she breaks the news that she has been left a villa in the South of France by an old flame who has generously popped his clogs.
Bristly murmuring about "The French" ensues as Hugh Bonneville's Robert and co trot off to the Riviera to find out more about this mysteriously bequeathed estate. There are some stiff, excruciating exchanges between the English and French families as pop-eyed 'I say!'s abound in between languid games of tennis. Of-the-era sports-gear and swimwear is paraded, coordinated expertly by costume designer Anna Robbins.
Meanwhile back home, Lady Mary, played by Michelle Dockery, is left to her own devices and agrees to permit Hollywood to invade Downton as cash is needed to fix a leaky roof. Even aristos have maintenance issues – this fact sparks a confusing cocktail of schadenfreude and sympathy. The decision to allow actors into the Abbey is much to the chagrin of the Earl, and much to the delight of most of the servants.
There is a scramble to attend to the celebrities who file into the house, despite their rudeness. This introduction of a new kind of elite disturbs the class dynamics – glamorous, spoilt actress Myrna Daglish is screen royalty but speaks with a Cockney accent. The subtleties of changing social hierarchy are, however, muted as the pointy elbow of self-referentiality nudges indulgently, whispering, "Geddit? Actors, acting as actors in a film about actors!"
Hugh Dancy plays a neutered satyr in the form of film director Jack Barber, who leads Lady Mary politely astray. Her husband is inexplicably absent – frequently mentioned, he never emerges, leaving room for tepid romantic temptation. For added drama, the production is in trouble, as silent films are going out of fashion in favour of the "talkie", and Mary is determined to help save the day. The details of early film-making processes and paraphernalia provide some playfully meta historical intrigue. The props and costumes succeed through their period detail in being lushly diverting.
A New Era delivers in the births, deaths and marriages department – milestones are met in the lives of the main characters. But subplots are less well-organised in this upstairs-downstairs scenario. There is a loose homosexual thread that is never tied up between butler Thomas Barrow and Dominic West's dashing actor Guy Dexter. Condensed to brief, tense exchanges on landings, this relationship is coyly insubstantial. Though possibly an attempt at conveying hushed frustrations, the lingering question here is why include a potentially juicy plotline only half-heartedly?
Perhaps this limpness is in keeping with Downton's posh-soap plot currency of golly-gosh family secrets and watered-down scandals, served like a weak Alka-Seltzer on a silver platter by creator Julian Fellowes as Jeeves to its long-standing fans as Wooster.
The overall effect of this well-starched pantomime of Britishness is dizzying – it produces the peculiar kind of seasickness induced by cake-coloured period dramas when they don't quite capitalise on their potential for quality kitsch, instead over-amping the nostalgic sentimentality, and neglecting the campiness that could make them so much more fun.
Little White Lies is committed to championing great movies and the talented people who make them.
By becoming a member you can support our independent journalism and receive exclusive essays, prints, monthly film recommendations and more.
Published 28 Apr 2022
Anticipation.
For the uninitiated, the Downton fortress seems impenetrable.
Enjoyment.
Audio-visual Battenberg – not unpleasant, but slightly nauseating.
In Retrospect.
Claustrophobic Marks-and-Spencer's mildness quickly decomposes in memory.
About Post Author