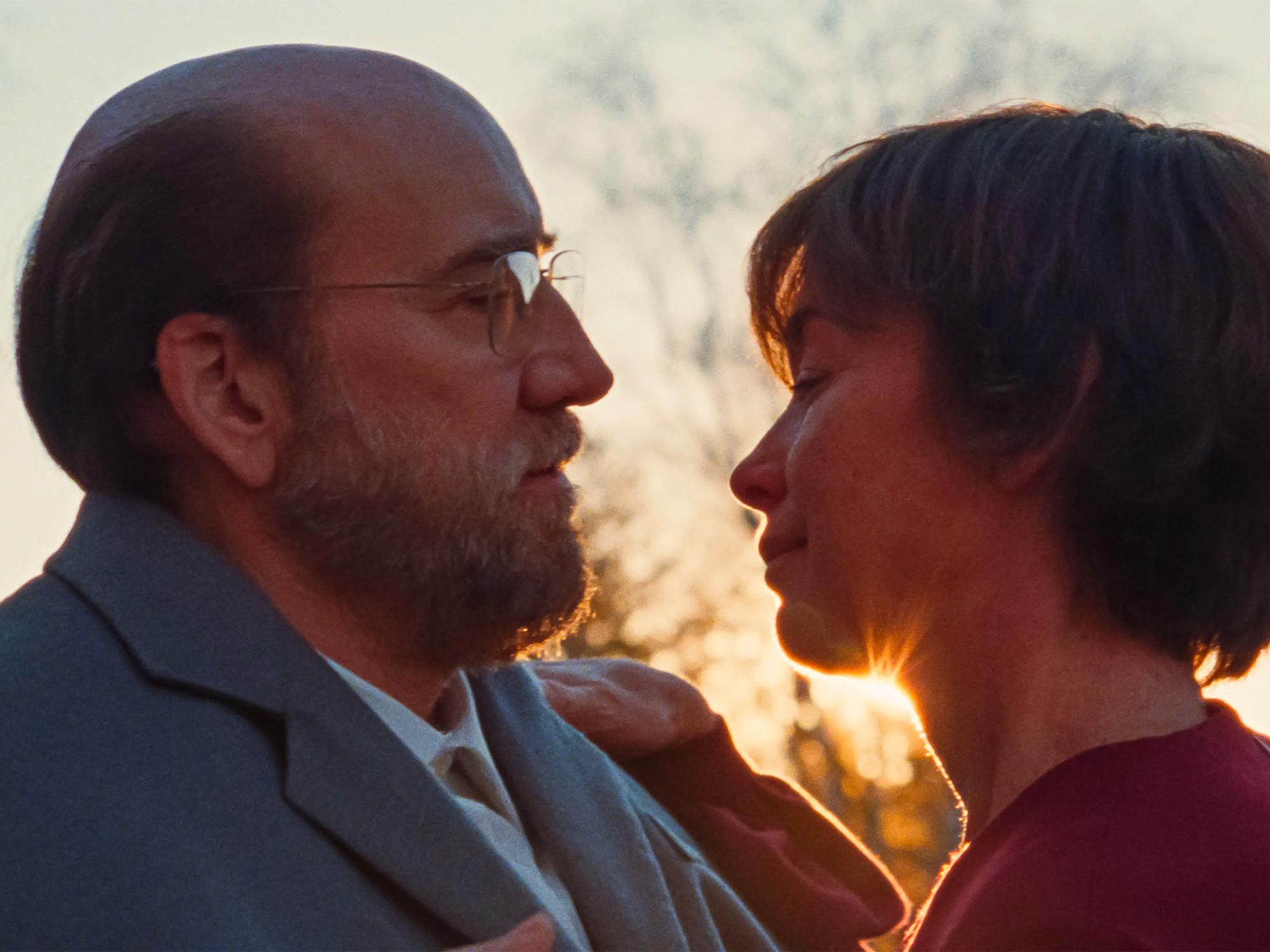 Nicolas Cage plays an otherwise unremarkable college professor who unexpectedly finds himself appearing in peoples' dreams in Kristoffer Borgli's latest satire.
Already this decade Kristoffer Borgli has established himself as a satirist of the branded self. His calling card short Former Cult Member Hears Music for the First Time took a quite savage swing at a Vice-like documentary crew packing edgy content into a bite-sized package, and last year's Sick of Myself, in which a woman achieves microcelebrity by infecting herself with a disease, going literally viral, stopped short of full savagery but displayed a deep familiarity with the smugly on-trend styles and values of creative marketing. With Dream Scenario, he warps the funhouse mirror more aggressively, foraying into a Charlie Kaufman-esque high-concept setup about a man who becomes a meme. Nicolas Cage plays Paul Matthews, a professor of evolutionary biology who suddenly starts showing up in the dreams of people around the world.
At his sparsely attended lectures, the tenured but unpublished Paul lectures about zebras' camouflage — not sticking out from the herd is a good defensive mechanism, but a disadvantage for mating. He has disappointments about not making more of himself, and not being known in his field, but he has a nice life, with a nervous wife (Julianne Nicholson) who does him the courtesy of feeling jealous over women who display an obvious lack of sexual interest in her husband, and eye-rolling daughters who mostly ignore him but as adults will probably post a photo of him every Father's Day with a tender caption that they really mean. There are advantages to not sticking out from the herd — but something about this unmemorable loser has become inexplicably replicable.
At first, in the dreams, Paul is a passive bystander, as he is in life — continuing to rake the leaves in the yard as his daughter loses contact with the earth and floats skyward, say. In many of the dreams he pops up amid the usual anxieties, terrors, and unresolved psychic residues, but the novelty of his universal presence makes him a celebrity, a nobody who becomes a somebody.
As Paul becomes increasingly famous for being famous, cameos from the alt-comedy world sharpen Borgli's satire to a snide edge: Michael Cera and Kate Berlant as creative marketers who want to enlist Paul for an influencer partnership with Sprite, as well as their assistant, Dylan Gelula, personifying the temptations of fame and the tendency of the millennial-Gen Z cusp on to performatively latch on to inexplicable thirst objects.
As played by Cage, with bald pate, fake belly, voice pushed up into the noise and given a bit of a wheeze, bundled up in a duffel coat whose lined hood exaggerates his hunch, Paul is a type of performance we've seen before the actor, a mannered schlub, like his Charlie Kaufman himself in Adaptation. He's an appropriately heightened everyman for Borgli's exaggerated allegory, an ostentatiously empty vessel for public projection.
As sleep becomes more troubled, with Paul overstaying his 15 minutes and becoming a more malevolent dream-life presence, the public turns on him; Paul is enraged by the accusation that he has traumatized his students, who demand a space safe from his triggering presence. (Filmed in the parking lot by a group of students who are righteously scared of him for what he did to them in their sleep, he is confronted by a literal woke mob.)
As Paul rages against the indignity of his cancellation, and Cera pops back on the phone to offer him guest appearances on right-wing talk shows, Dream Scenario looks with a mix of sympathy and cold bemusement at his feelings of persecution, his sense of shame and anger. Paul is "feeling a little bit too seen," as the saying goes; having sought wide validation, he has attracted attention that overpowers his ability to control his narrative.
The fantasy of being known is also the fear of being exposed; Dream Scenario touches on some of the same issues as this year's Beau Is Afraid did, particularly in its ending sequence — and in fact, Beau Is Afraid writer-director Ari Aster is a producer here. If this cynical and funny consideration of the distance between a person and their curated image in the collective (un)consciousness comes with any caveat, it's that it, itself, feels ever so slightly synergistic. Walking out of the year's second A24 magic-realist nightmare about the travails of a Beau-like sadsack, you may wonder if the end-credits Talking Heads needle-drop isn't actually guerilla marketing for the studio's upcoming rerelease of Stop Making Sense. Maybe that's the point.
Published 15 Sep 2023
About Post Author