Baz Luhrmann's sweaty, opulent take on the King of rock 'n' roll is not a biopic but a fairy tale.
No one does tacky opulence quite like Baz Luhrmann. He and Elvis Presley – the King of rock 'n' roll and the bedazzled jumpsuit – is surely a match made in garish heaven. This biographical film doesn't show us the full scope of Elvis' life, work and unprecedented influence on American culture. Instead, it opts to tell the fairytale version.
After a whistle-stop tour through the early influences that would forever mark the life of Elvis Aaron Presley – an impoverished upbringing, a devotion to his momma, the lifelong influence of black music – we are teased glimpses of the man who would become the King. A forearm, a magenta suit, a jet-black strand of hair, a snippet of a baritone Memphis drawl. Onstage, he came alive, his dripping sex appeal merged with a Southern good-boy naivety that made audiences go feral for decades.
Former child star Austin Butler plays Elvis with the sincere intensity of someone trying very hard to be taken seriously. The film makes a great effort to show the physical exertion of performing. Tensing, thrusting, dripping with sweat and the promise of a good time after the curtain falls, Butler gets the moves, the voice and, most importantly, Elvis' charisma down.
Whatever flaws the film has, Butler's Elvis is mesmeric. While the film makes a big deal out of Elvis' sex appeal, his "lewd gyrations and jerky movements" that made women go gaga, Elvis here is all smooth-corners. There is no room for exploring the contradictions, the thorniness of his relationship with a teenage Priscilla, his infidelities, politics, or drug abuse. Anything that would make Elvis unappealing or problematic by modern standards is taken out of the frame.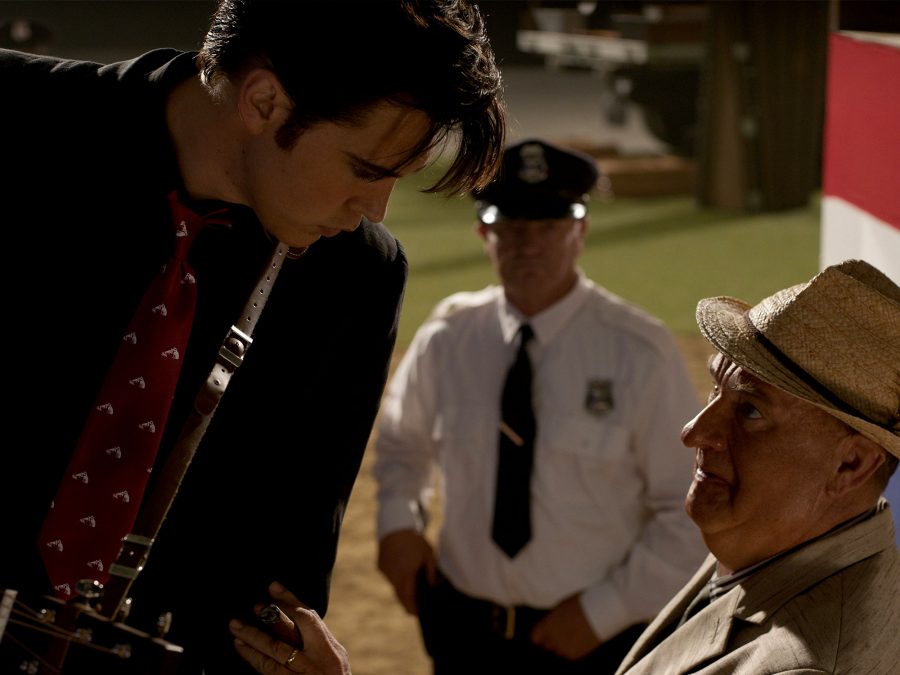 Through dizzying multi-split-screen montages the film whizzes through the details of Elvis' ascendancy into the mainstream. He sings, the girls swoon, and everyone gets rich. As his success grows, his costumes get flashier and his sideburns larger. Elvis dreams of becoming a serious actor while his face and name are merchandised mercilessly and those hip gyrations inciting a moral panic.
Ultimately, Luhrmann is not interested in the details, but rather the fairytale. Every fairytale needs a villain, and for Elvis, it's his leeching long-time manager, Colonel Tom Parker, played as an eyebrow-arching cartoon villain by Tom Hanks encased in prosthetics. The parasitic relationship between the artist and the manager – the former too naive to see he was being swindled and the latter a corny Svengali milking the Presley cash cow to cover up his own debts – is too categorical to say anything substantial about the dirty dealings of the music business beyond Parker's deluded platitudes and faux-fatherly manipulations of Elvis.
We're mostly spared Elvis' decline into a bloated, sweaty crooner – of course, that would ruin the fairytale. Riddled with debt, Elvis reluctantly continues performing in the mausoleum of a Vegas hotel until his death. There are infinite ways to approach a cultural juggernaut like Elvis Presley. Luhrmann rewrites him as a victim of the Colonel's greed and his own success, a good boy aching to do well by others and somehow always coming up short.
Little White Lies is committed to championing great movies and the talented people who make them.
By becoming a member you can support our independent journalism and receive exclusive essays, prints, monthly film recommendations and more.
Published 26 May 2022
Anticipation.
The hottest ticket in Cannes.
Enjoyment.
Sparkles, wiggles and crotch shots are a great combo.
In Retrospect.
Surface-level take on The King, but a great time nonetheless.