The Czech Republic festival is fast becoming a showcase for exciting new talent.
The spa city of Karlovy Vary in the Czech Republic, with its romantic Bohemian architecture and hot thermal springs, is a striking place to host a film festival. Its ornate, pastel-painted hotels set up in the hills are said to have inspired Wes Anderson's Grand Budapest Hotel; across the river, the brutalist Hotel Thermal towers over the water with concrete harshness. Festival attendees – or perhaps revellers, given the animated daily party scene that keeps the neighbourhood awake past 2am – flock from all over the country to "take the waters" and see this year's films, a large proportion of them students who come with no pretensions to this lavish place. When all the seats are gone, they find their spot gleefully on the stairwells and floor of the cinemas.
Every screening began with one of the festival's own plucky short films shot in black and white: minute-long tales where previous winners poke fun at the value of their Crystal Globe statuettes. Those which featured established heroes of Czech cinema were met with undeniable warmth from the audience. Some, however, were soured by the inclusion of disgraced former awardees Mel Gibson and Casey Affleck (last year the festival also chose to honour Johnny Depp with a dedicated tribute).
Thankfully more progressive thinking was found in the programming, and across both the main Crystal Globe competition and the newly instated worldwide Proxima competition (which replaces the former East of the West strand welcoming projects from Central and Eastern Europe), narratives that centred on the freedom of youth reigned supreme. This year's Grand Prix winner, Summer with Hope, was one such offering – at times an enigmatic portrait of a young swimmer in Iran hoping to make it big that patiently unravels its striking plot as community suspicions grow around the boy and his new coach. The second feature of Sadaf Foroughi, whose film Ava premiered at the 2017 Toronto International Film Festival, the film's win marks yet another A-list festival prize taken home by a woman filmmaker in the last two years.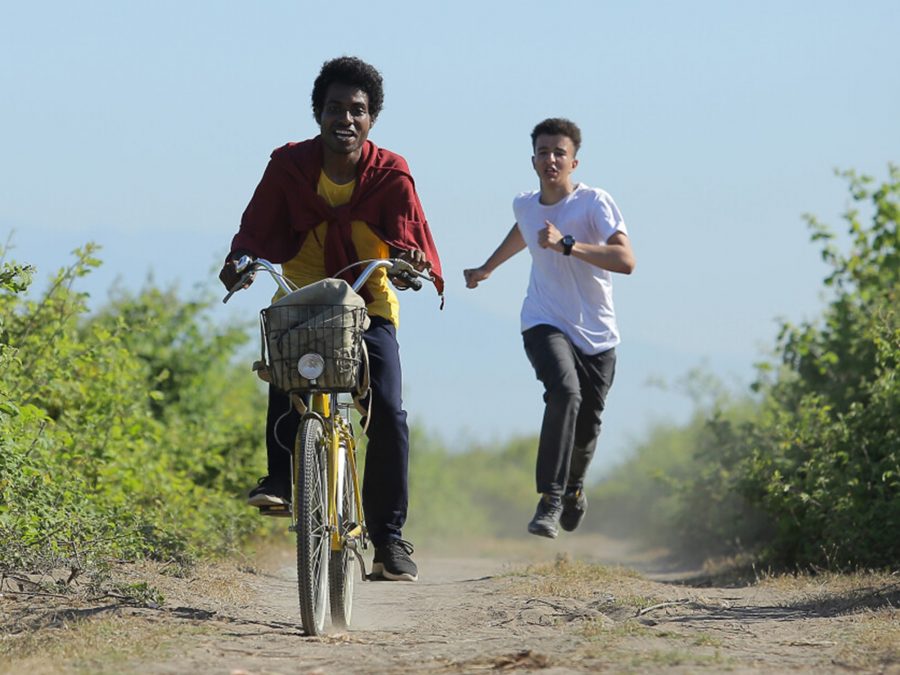 Other women-led highlights included the Georgian film A Room of My Own, co-written by lead actor Taki Mumladze and detailing the lives of millennial roommates in contemporary Tbilisi. Mumladze and co-star Mariam Khundadze shared the festival's acting prize for their compelling intimacy and audacity as new friends Tina and Megi, fighting their way out of the constraints of the misogyny and violence of the world around them. There is a gutsy collective resolve to the film, a no-budget lockdown project made between friends, and a youthful political spirit—a strong addition to the recent spate of films from Georgia emerging on an international stage.
Two films from Spain offered playful insights into love and romance from millennial perspectives, the debut feature Ramona by Andrea Bagney and the latest from the prolific Madrid-based Jonás Trueba titled You Have to Come and See It. The former, shot in black and white and exploring a young woman's doubt in her relationship when another man falls in love with her, felt reminiscent of Amalia Ulman's Sundance hit El Planeta with its spiky humour early on before mellowing into something closer to the emotional pangs of The Worst Person in the World. Its sensibility bordered on twee, perhaps, but its light touch and stylised aesthetic added less saccharine charm. Trueba's film, similarly stylised in idyllic Spanish apartments and sunkissed fields, revels in simplicity as its central couples, one still living in the city, the other having moved to the countryside, have conversations about literature, or trains, or cooking, and leave other things unsaid in a harmless yet pointed way. At just over an hour, the film was at once a perfect snapshot and something that you wanted to wile away the day in a little more, a sip of cinematic tonic.
My final film of the festival left the most curious mark. The third feature from Quebecois director Emannuel Tardif, In Broad Daylight, basked in obliqueness as it explored the decaying dynamics of a family who have hidden their teenage daughter's baby from the outside world. Confined to their stunning yet fly-swarmed house, each slowly loses their sense of self, and of reality. Tardif and DP François Herquel's images are beautiful, the symmetry of the frame and colour palette a reflection on the faux-perfection of this troubled family who sink further into a kind of abstract horror when the daughter finally flees to find her child's father. The film is an immersive, eerie slow burn that defies categorisation in the most refreshing way and another sign of the remarkable accomplishment possible with an extremely low-budget—after the screening, Tardif explained how he and his crew had all pooled together their pandemic support cheques from the Canadian government to fund the project.
It was encouraging to see these films, all by emerging or early career stage directors, given a platform in a festival's main competition strands rather than sidelined to a dedicated programme for new filmmakers or similar. With its student-led audiences, too, the Karlovy Vary International Film Festival seemed committed to offering a space for youth engagement and new voices – a welcome attitude that will hopefully prevail over the need to keep paying unnecessary tribute to various problematic men who hardly need the exposure.
Published 14 Jul 2022
About Post Author