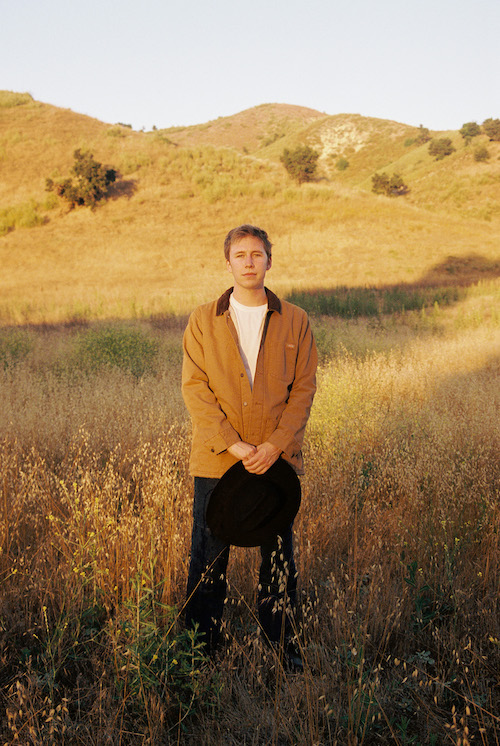 Fully embracing finding himself, Ethan Tasch dropped his awesome indie debut album, "Got Him!", this week. Alongside the release of his new album, he has also dropped music videos for the tracks "Shell" and "Whattaya Say". This album drop acts as the follow-up to the fourth single release, "Shell".
Ethan Tasch, the indie folk sensation, is leaving an indelible mark on the music scene with over 22 million streams from his two EPs released since 2020. With almost half a million Spotify monthly listeners, he is making waves as a solo artist beyond being recognised solely as Bea Miller's touring guitarist. His single "Room" has found a place on notable Spotify playlists, including All New Indie, Ultimate Indie, and Best Indie Songs of 2020, propelling his rise to prominence. Noteworthy collaborations with artists like Felly, Remi Wolf, Wallice, Boyish, and Jeremy Zucker showcase his versatility and talent, solidifying his reputation as a sought-after collaborator. While serving as Bea Miller's touring guitarist, Ethan Tasch remains dedicated to his solo career, captivating audiences worldwide with his heartfelt tracks that blend soulful storytelling and atmospheric melodies. His debut single "Room" continues to stand out as his most-streamed track, amassing an impressive 13.9 million streams on Spotify, while his collaboration with Felly titled "GPS" has racked in an incredible 5.7 million streams, on the streaming platform. With his latest release being his debut album, produced by Caleb Nelson of Mt. Joy, Ethan Tasch is set to take centre stage and cement his position as a force to be reckoned with in the music industry. From the stages of intimate shows opening for artists like Spill Tab, Trevor Hall, and Tiny Habits, to the solitude of his Los Angeles bedroom where he writes and records, Ethan Tasch's musical journey is a testament to his unwavering passion for crafting music that resonates deeply with listeners.
This debut album, "Got Him!", sees Ethan Tasch embrace himself as a solo artist. Nine of the ten tracks from the album have been produced by Caleb Nelson, while track eight – "Tetherball" – has been produced by Saint Patrick. We also get backing vocals from Boyish, Remi Wolf, and Spill Tab, along with notable instrumentalists Drew Taubenfeld, Dan Bailey, and Michael Byrnes.
Stream "Got Him!" by Ethan Tasch on Spotify here:
The album opens up with the track "He's Getting Away!" which is a great introductory track as it opens with a guitar/banjo rhythm that is strong indie-pop with a country vibe to it. The bright number contrasts with the lyrical content as Ethan Tasch sets the scene of the end of a relationship and the love interest is leaving, he's getting away, and there's nothing you can do about it. We love how the beat is bright but with a soulful slow energy giving a brilliant and interesting depth with the subtle suggestion that this ending of a relationship might actually be a good thing. The second song, "Holdup", starts off deep with the banjo, allowing Ethan Tasch to shine in his versatility within indie music. The upbeat number is easily one of our favourites as he shows off his incredible vocals and ability to convey a story within poetic lyrics and relatable themes. The tuneful track has an addictive melody with a catchy chorus and awesome instrumental segments. Following this track is "Love and Japan", which is a soulful indie-pop ballad that is wrapped around lyrics about missing someone. Vocals on-point throughout, Ethan Tasch impresses around a technical and impressive backing track.
"Shell" is the fourth track on the album and was the latest single released before the album officially dropped. The rhythm is intricately different again, allowing the drums to be the prominent instrument throughout. Addictive and catchy, this track is for all the introverts in the world and how we are a shell of ourselves in certain places but it can take just one person to bring us out of our shell – relatable and metaphorical as he pairs his own shell of himself with the shell from the beach. Next up is "Whattaya Say", which is a laid-back, guitar-driven indie song that suits Ethan Tasch's vocals comfortably. His gorgeous lyrics paint the story of wanting to be with someone and hoping that they want to be with him too. "Come Onn" is the sixth track, which brings a '00s indie-rock mixed with '90s country and Ethan Tasch's modern style. His vocals are spotlighted and crisp throughout as he sings from the heart. This one is powerful and honest, with this awesome singer-songwriter impressing from the start as he mentions dreams and focusing on the future.
The seventh track is "Tetherball", which starts off stripped-back and progresses into a soft-indie country song. Full of heart and honesty with story-telling lyrics with Ethan Tasch tapping into his indie-country vocals, as he sings about feeling down. "Present" is next, which is a short indie-rock track that leans more towards alternative indie, grabbing the listeners with a rhythmic groove and introspective lyrics, storytelling once again envisioning us lying on our backs staring up at the moon. Following next is "Solid Ground", which feels more like an experimental interlude, with Ethan Tasch giving the banjo the focus point as his softly-sung lyrics are overlayed giving a demo-style track that rounds off the end of the album and leads perfectly into the last track. "Wherever I Am" ends the album with a full-circle moment as a laid-back guitar rhythm takes centre stage with a pop-rock '00s mainstream style while still heavily influenced by modern indie. Lyrically, it proclaims that Ethan Tasch has found more of himself, and who he is inside, and he's spreading that in confident laid-back energy that we can't help but love – self-love and self-empowerment are so important.
Stream "Holdup", our favourite track from the album, on Spotify here:
"Got Him!", by Ethan Tasch, is available to download and stream, right now, across all platforms, via R&R Digital. Alongside the release of this album, Ethan Tasch also dropped two new music videos, one for "Shell" and the other for "Whattaya Say".
Watch the music video for "Shell" here:
Let's be honest, Ethan Tasch went all out for this music video and it really paid off. Directed by Francisco Covarrubias with Alexander Barrett acting as Director of Photography, we watch Ethan Tasch on the beach wearing a crab costume – although it's red so could be mistaken for a lobster, although the crown suggests a king crab, regardless, he's not afraid to be comical and it totally works. While this could totally have gone the other way, Ethan Tasch makes the viewers listen to the lyrics, like the awesome shots of him lying on the couch, clearly down and upset, while an actual crab is writing, almost as if he's taking part in a therapy session, is so powerful, especially when mixed in with scenes of him dancing and letting loose on the beach and just going with the flow. The additional scenes with the hot tub were left field in the best kind of way, and the puppet seagull adds additional comedic value – what more could we possibly ask for? Dressed as a crab, on the beach, acting like a shell of himself while singing emotionally about being a shell of himself, is crazy brilliant!
Watch the music video for "Got Him!" album track "Whattaya Say" by Ethan Tasch here:
Continuing to show his comedic personality, Ethan Tasch spends time with three other guys on a sailing boat where they are all dressed as sailors. There are various scenes around the boat as Ethan Tasch sings the song, as well as scenes inside the cabin. The entire video was directed and edited by Ethan Tasch, himself, with Francisco Covarrubias shooting and colouring the video, while the friends that appear alongside him on the boat as sailors (or as stowaways as they are credited) are Mikey Lasusa, Dallas Caton, and Patrick Ohalloran, and then the Captain of the sailing boat was Mark Killam who was also credited as the Ocean Commander.
Let us know what you make of "Got Him!" the debut album from Ethan Tasch on Twitter @CelebMix.
About Post Author