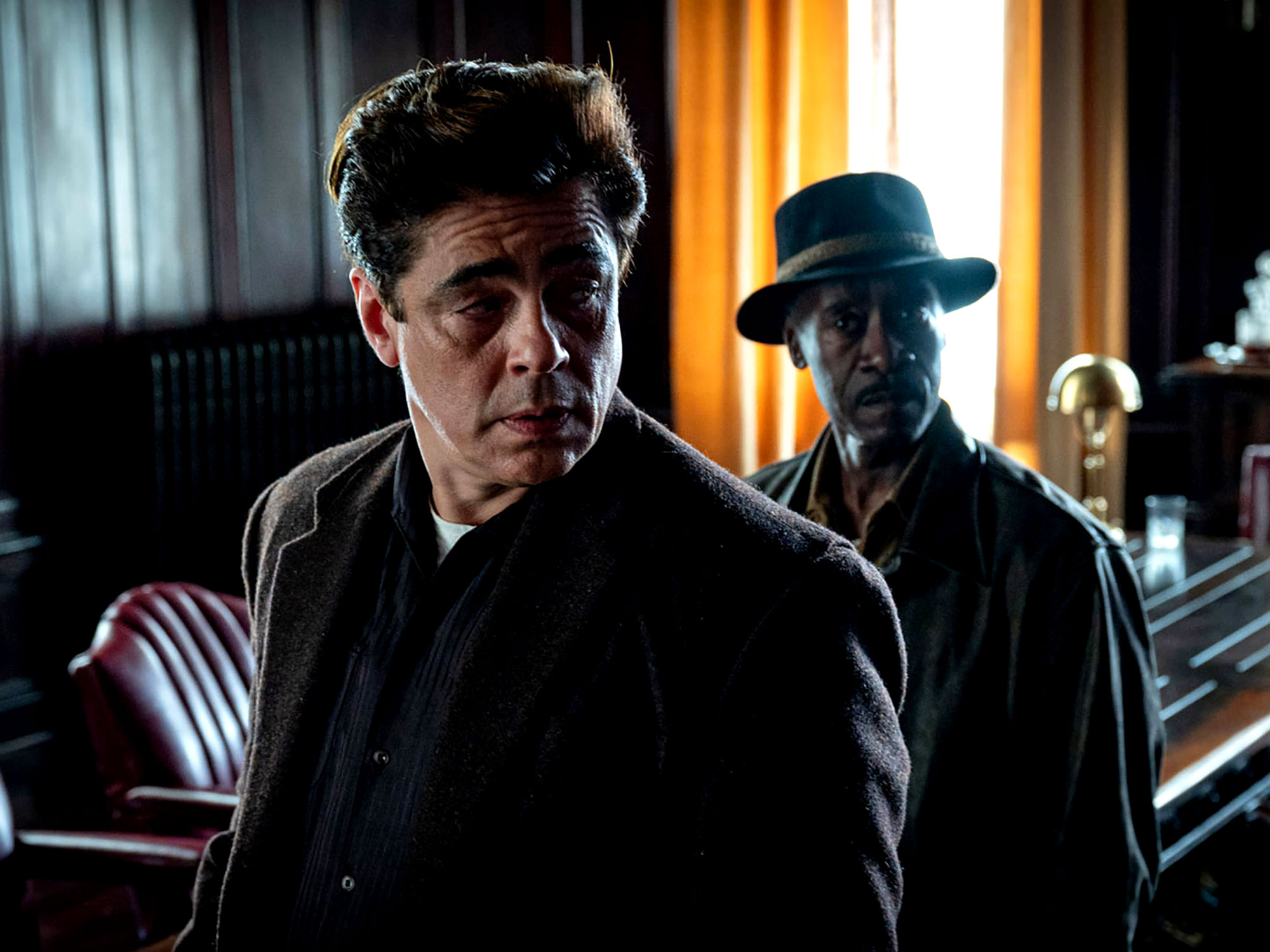 Never a dull moment with Steven Soderbergh – though his most recent feature Let Them All Talk still has yet to receive a release in the UK, he's getting ready to raise the curtain on the next one, his period crime thriller No Sudden Move. After the relatively talky, static seafaring voyage of his last film, the pistols-blazing action should come as a refreshing change of pace.
The first trailer prior to the upcoming Tribeca Film Festival premiere came along today to affirm that much, showcasing some tattered suits, cheap-looking face masks, and a whole lot of firearms. Fans of Logan Lucky and the Ocean's trilogy will appreciate his return to the milieu of guns and ammo, wherein no one can be trusted and anyone might be a double-or-perhaps-triple-crosser.
Don Cheadle leads the deep-benched cast as Curt Goynes, a small-time crook hired to gather a small team and rip off a piece of top-secret technology to be used to in a new type of car, but of course things go awry. He and his men (Benicio del Toro and Kieran Culkin) must outwit the feds on their tail (David Harbour and Jon Hamm) while searching for the employer (Brendan Fraser) who set them up, leaving at least one dead body along the way.
The presence of Sodebergh favorite Bill Duke is a dead giveaway that the filmmaker has returned to one of his pet themes in recent years, the structural and interpersonal iniquities between the races. We hear someone mention that the bounty for Curt is slightly less than his white compatriot, just one hint of the longstanding prejudice that defined the Detroit of the '50s.
The ensemble also includes Julia Fox, Amy Seimetz, Noah Jupe, and a pristine Ray Liotta as various parties caught up in this messy scheme, linked by the all-important money that drives all of Soderbergh's movies these days. It's the root of all evil, but in his hands, at least it's also the root of plenty of compelling drama.
No Sudden Move comes to cinemas in the US and HBO Max on 1 July. A date for the UK has yet to be set.
Published 7 Jun 2021