Archival films and footage presented a rich opportunity for filmmakers and curators to explore contemporary themes and events at this year's festival.
Archives hold repositories of time, people and place, and represent plethoras of information. Similarly, films found in, or created for, archives are rich socio-historical material, swelling with interpretational possibilities. That is, archival films are less static relics of history than very malleable resources to those that retrieve and screen them with creative intent. This year's London Short Film Festival saw various filmmakers and curators pull from archives, as well as create and recreate them. In this, they formed a conceptually charged relationship with 'the archive' across the program that was neither predictable or heavy-handed.
In assorted packages and panels that spanned over a week, London Short Film Festival positioned its use of archives as a tool, not for nostalgic viewing, but for creating mood, fleshing context only as needed. The program's wealth of archival films, featuring both new and old material, didn't thematically speak to each other (except within their own packages) or attempt to say anything earnest or cliche, like one must learn from history to avoid repeating it. But they had some purpose. To summarise various speakers at an LSFF panel, 'incorporating the archive' brings unheard stories to new audiences to reflect our diverse world. With this approach, the films landed with emotional resonance; audiences might feel the emotional experiences of the archive's subjects, even from a detached place.
This isn't incidental, but rather process driven. Graham Relton from the Yorkshire Film Archive posed the question at an LSFF panel, "What is the key human message in the film?" He described the process of entering metadata into the archive – such as hope and connection – to guide filmmakers in their search for footage. With such a subjective approach, they gather, reposition, and reintroduce material loaded with psychological meaning. It's a restorative approach, but how genuine is it?
Polityka i animacja, one of the program's more historical packages, started to unpack the place of truth versus feeling when screening archive films in contemporary settings. The package featured 15 short animations created between 1963 and 1989, influenced by events in Poland at the time. Its curator, Michal Mroz, explained the films as subliminal; certainly, they weren't abstract nor clear as day. Unless fluent in postwar Polish life, the viewer wouldn't be able to pick them apart as much as the animations, either then or now, can say everything they wanted to. With three decades elapsing since the Polish People's Republic disbanded, the collection of films didn't add context to this period of history so much as revisit its mood. After all, the subtle manifestations of living in a specific time are not as often recorded as explicit explanations of social and political movements. That's where creative cinema comes in.
In the shorts, bodies move together in crowds, split from them, and resist rules. The tension cutting through is on the nose, sniffing at the anxieties of social order, groupthink and personhood. A man visits endless offices for paperwork approval until even his body is covered in stamps, but he continues to smile, despite the inconvenience; a man opens a basket of body parts and builds Pinocchio-like children who destroy him so they can go and do what they want together. The repeated symbolism itches to uncover the permeating sentiment of this cultural chapter rather than giving us universal themes to ponder as a 2023 audience. Interestingly, women are mostly absent from the animations. Maybe their experiences are captured elsewhere in the archive (or they aren't in it at all).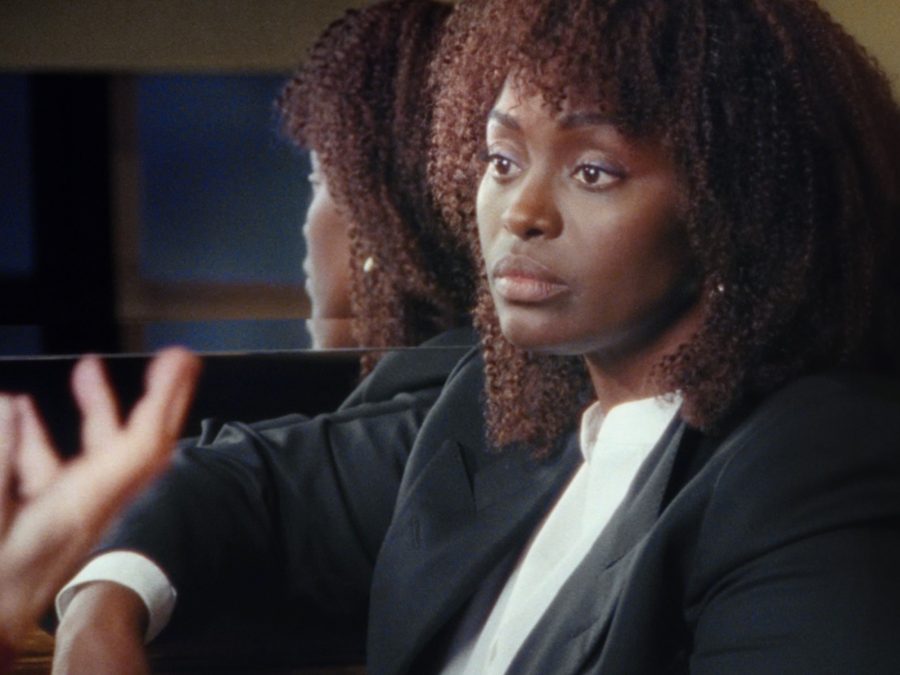 In Maria Schneider, 1983, reintroducing the archive brings emotional depth, even if that requires recreating the material. The film draws on a 1983 Cinéma Cinémas interview with French actress Maria Schneider on her experience of the film industry. Shot close up on Schneider's face, she's trapped in the frame, reflected by a mirror immediately behind her. It's an intimate portrait of an expressive and dissociated artist.
Director Elisabeth Subrin, also currently developing a feature-length biopic about Schneider, did not use the original interview but replicated it across three performances. Each iteration, performed by a different actress, alters Schneider's language, age and gender background, while retaining her subtle mannerisms and controlled voice and the interview verbatim with only slight tweaks. Critically, in one of the later interview renditions, Schneider uses the word rape in reference to the film Last Tango in Paris (Schneider was 19 at the time of filming in 1972 when director Bernardo Bertolucci surprised her with a rape scene not in the original script; Bertolucci later admitted to deliberately humiliating her).
In Subrin's reimagining, the archival material is repeated and stretched to exceed its limits. LSFF released Schneider's words from 40 years ago to hopefully more progressive, empathetic audiences, even if the film industry remains dangerous for women. Then or now, without the need for recontextualisation, it holds equally distressing weight.
Without being trite, LSFF creatively maneuvered their use of archive films to respond to trauma and social tension. In this, they see screening archival material as less dusting off a film from storage than a community effort of collecting, digitising, reviewing, curating and redistributing. They also contemplated the ethics of representation. Who's included? Who's drawn out again for cinema? LSFF aimed to use the archival's possibilities to show those overlooked in real life and on screen. It's an act of anti-censorship to see someone as told by themself.
And if there is a gap in the archive, filmmakers can fill it. For The Otherness Archive: As Biting The Image, a collection of shorts by transmasculine filmmakers curated by April Lin 林森, an archive can be created here and now for a vision, like, in their words, 'the mediation of Otherness.'
In As Biting The Image, new films with DIY production and self-as-subject become items to deposit within a custom archive. In this, there was honest experimentation to document the transmasc voice in its many manifestations and presentations. They draw out the experience of navigating bodies, gender, and relationships through text messaging, web browsers, photocopiers, Google Maps, and phone calls. Forming diary-like narratives, the creators use comedic, poetic, musical and conversational voiceovers to capture dialogue rarely heard in cinema, which is usually hyper-focused on the cisgender heteronormative experience.
In showing 'unexpected' stories, we could query the audience response: how important were these narratives to them? What did they illustrate to them, or what should they have learned? If it fell outside the cultural milieu or the social context of their lives, maybe nothing. But it was never about the audience really. Archives provide less universality than momentary truth. And the power of programming archival films – at least at this year's LSFF – is to bring screen time, as a tonic, to their subjects.
Published 11 Feb 2023
About Post Author