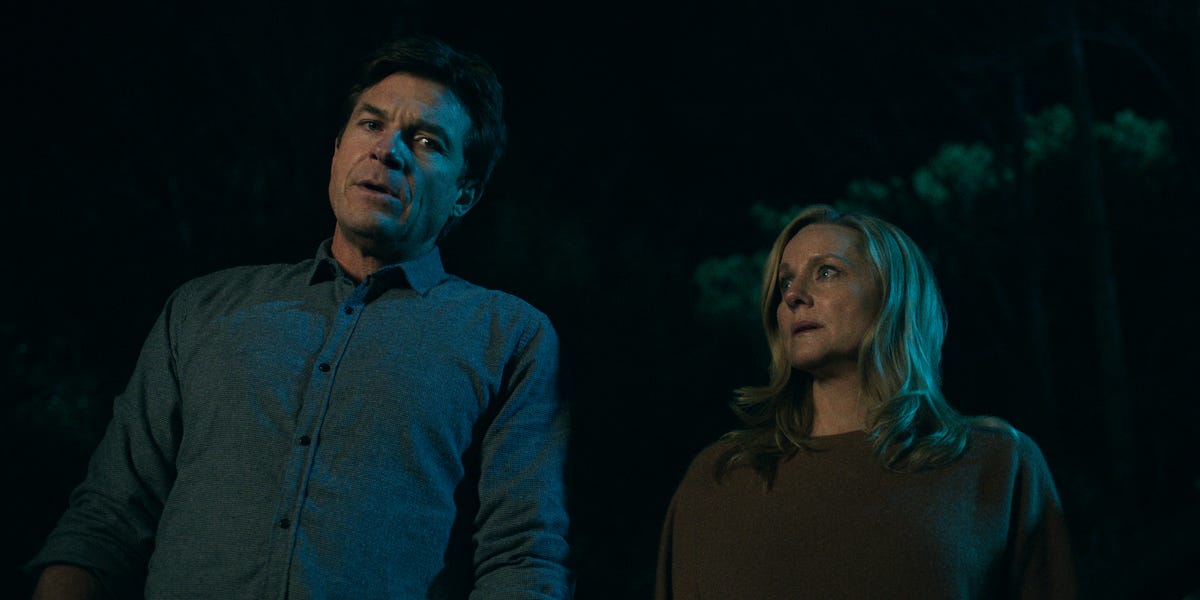 Warning: This article contains spoilers for Ozark season 3.
Some sad news: The Byrde family's time in the Missouri Ozarks—and on Netflix—is coming to an end. But first, Ozark will return to the streaming service to end the saga properly in its fourth and final season, split into two parts.
Since the beginning of Ozark, Marty and Wendy have tried (and failed) to keep their family and business lives separate, and season 3 found them in their most difficult situation yet when Wendy's little brother Ben came to town. Loyalties were tested, sides were switched (how could you, Ruth?!), and loved ones passed, culminating in an ending no one saw coming: Navarro (Marty's very impatient employer and head honcho of the cartel) chose the Byrdes over Helen. So where does this leave Marty, Wendy, and their children, Charl0tte and Jonah? Ahead, everything we know about the fourth and final season of Ozark.
When will Ozark season 4 premiere?
Part 1 of Ozark season 4 premieres on January 21, 2022 with seven episodes. Part 2, featuring another seven episodes, will arrive at a later date, to be announced.
Back in June, Netflix announced the final season of Ozark would adopt a new format, clocking in at 14 episodes total, but broken into two halves. "A super sized season means super sized problems for the Byrdes. I'm excited to end with a bang(s)," Jason Bateman, who plays protagonist Marty Byrde, said in a statement.
Bateman, who serves as an executive producer on the show and has directed several episodes, told IndieWire that he likely won't return to the director's chair for the final season to keep the set and the workers safe.
"As normal, I was going to do the first two episodes, but as we were looking through the protocols, the guidelines, all the complications with COVID, [and] the producer side of me made me think it's just not responsible to have one of the actors direct the first two, given that we're still going to be getting our perimeter safe," Bateman said. "Because if one of the actors gets sick, we all have to go home for weeks. If one of the crew members gets sick — while I'm making sure their salary is protected while they're in quarantine — we can hire a replacement. So it just didn't seem smart for me to [direct] the first two [episodes]."
Is there a trailer yet?
Netflix released the first teaser of Ozark season 4, part 1, on October 19. "Money is, at its essence, the measure of a man's choices," Bateman narrates. "Today is a new beginning," he adds.
This content is imported from YouTube. You may be able to find the same content in another format, or you may be able to find more information, at their web site.
On November 17, Netflix released a second teaser with the accompanying tagline, "No ending is reached by accident."
This content is imported from YouTube. You may be able to find the same content in another format, or you may be able to find more information, at their web site.
Finally, we got a full trailer on January 6, 2022, and it's a whopper. Perhaps the most cutting exchange comes between Marty and Ruth, when Marty tells Ruth not to get herself killed. "Like you fucking care," she replies. Watch the video below.
This content is imported from YouTube. You may be able to find the same content in another format, or you may be able to find more information, at their web site.
What characters will return to season 4?
Judging from the shocking season 3 finale, we know for sure that Helen (Janet McTeer) is out of the picture for good. But will her daughter, Erin (played by Madison Thompson) who befriended Charlotte, return to avenge her mother's death and blow up the Byrdes' cover?
Season 3 also saw Ruth (Julia Garner) join her cousin Wyatt Lang over on the Snell's side following a dispute with the Byrdes, so it's safe to say Ruth, Wyatt, and Darlene Snell might have some unfinished business with Marty and Wendy.
Netflix has confirmed that the season 4 cast includes Bateman, Emmy Award® Winner Laura Linney, Garner, Sofia Hublitz, Skylar Gaertner, Charlie Tahan, Jessica Frances Dukes, Lisa Emery, Felix Solis, Damian Young, Alfonso Herrera, Adam Rothenberg, John Bedford Lloyd, Joseph Sikora, Bruno Bichir, CC Castillo, Katrina Lenk, Bruce Davison, Ali Stroker and Veronica Falcón.
With Helen gone for good, what happens to Marty and Wendy?
Helen, who served as the middleman between the Byrdes and Navarro, was shot dead in the final moments of the season three finale. Will Marty and Wendy take over Helen's duties for the Navarro cartel? In an interview with EW, Ozark showrunner Chris Mundy explained that the Byrdes are much more valuable to Navarro than Helen.
As good as Helen is, there's other lawyers in the world. But Wendy and Marty have now pulled off two impossibilities for him," Mundy explained. "One is getting a casino to launder through in the first place, which is sort of the holy grail of money laundering. And the second is that, at least in Navarro's mind, their claim that they have the FBI on their side and can swing the power of the U.S. government in the intervention in the drug war against their rivals, that's something virtually no one else can do, and that essentially tipped the scales for Marty and Wendy.
This content is created and maintained by a third party, and imported onto this page to help users provide their email addresses. You may be able to find more information about this and similar content at piano.io
About Post Author