Jason Momoa puts in a fine showing as a new villain in Louis Leterrier's zany entry into the muscle car franchise.
After years of increasingly wayward sequels and spinoffs, F9 got the Fast and Furious franchise back on solid asphalt with a renewed focus on the character dynamics of its increasingly sprawling cast and much-improved action direction from Justin Lin. Lin's welcome return to the series signaled hopes of a strong finish for this bafflingly huge property that were swiftly dashed when he departed during production of this sequel. Worse still, Fast X was entrusted to Louis Leterrier, an undistinguished hack whose anonymous filmmaking hinted at a likely backslide for the franchise.
Surprisingly, Fast X emerges as not only Leterrier's best film but one of the most enjoyable entries in the entire series. A great deal of this can be attributed to the fact that this film, to an extent heretofore unseen, acknowledges and embraces just how absurd this franchise is.
Repeated references are made to the fact that no one ever seems to die in this universe, that one-time petty thieves are now international spy assets, and that the assembled family of blood relatives, friends, allies and former enemies under the aegis of Dominic Toretto (Vin Diesel) has grown to a population roughly equivalent to Luxembourg's. Even when the plot engages in the usual terroristic mayhem and vehicular combat, the tone is consistently goofy in its foregrounding of lunacy.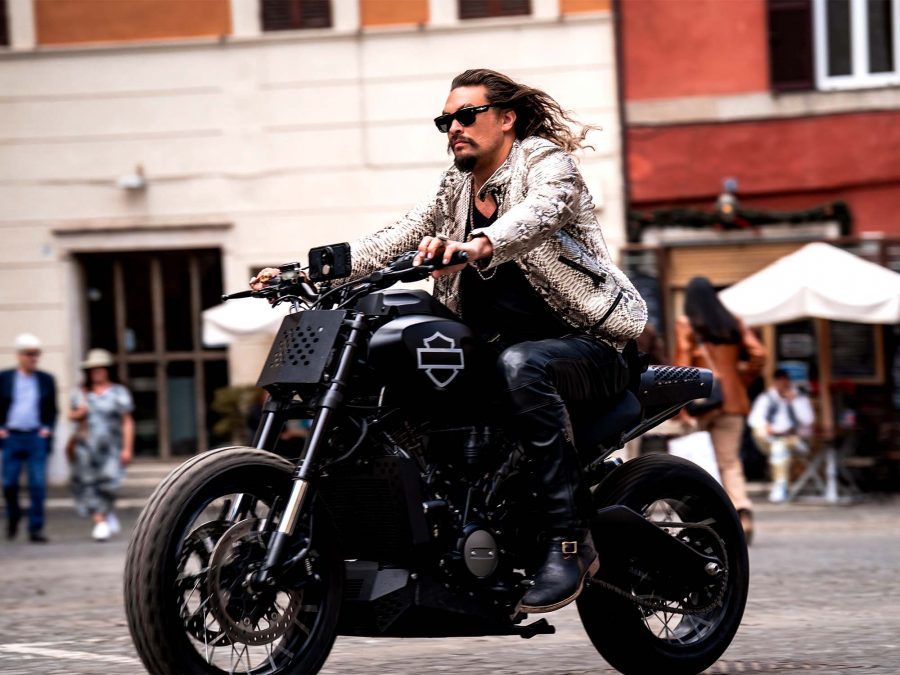 Nowhere is this more apparent than in the performance of Jason Momoa as incoming villain Dante Reyes, the son of the Brazilian drug lord killed at the end of Fast Five. Though Dante is willing to level entire cities to exact revenge on Dom and his crew, Momoa plays the man like he's the first Fast and Furious villain with advance knowledge that he'll likely end up a member of La Familia someday.
Dressed like a disgraced Las Vegas magician, Dante hoots and cackles, lapses into ironic fannishness in their face-to-face confrontations, and regularly throws off the cadence of a line delivery with a sudden flourish of high-pitched mania that would make Nicolas Cage proud. Dante is such a hilariously grotesque maniac that in one scene he even chats to two gruesomely butchered and re-stitched henchman in what looks like a tribute to Lars von Trier's The House That Jack Built.
Dante's over-the-top intensity translates to the action, which somehow keeps finding new and baffling ways to fight against formidably armed enemies with nothing more than cars. The relentless pacing of the sequences here sometimes threatens to lapse into pure incomprehension, but there's just enough spatial coherence to thread together, say, Dom's crew bouncing around a giant bomb rolling through Rome or a war of wills between a Dodge Charger and an attack helicopter.
Every action sequence starts at an outlandish level and escalates rapidly, the deafening roar of turbocharged engines drowning out the brain's objections to basic violations of physics. As this unwieldy, baffling franchise enters into its final instalments, Fast X positions it to go out on the goofiest note possible.
Little White Lies is committed to championing great movies and the talented people who make them.
By becoming a member you can support our independent journalism and receive exclusive essays, prints, monthly film recommendations and more.
Published 17 May 2023
Anticipation.
A late change of director threatened the promising return to form of F9.
Enjoyment.
An A.I.-worthy script elevated by sheer delirium.
In Retrospect.
The most ridiculous Fast and Furious film yet.
About Post Author