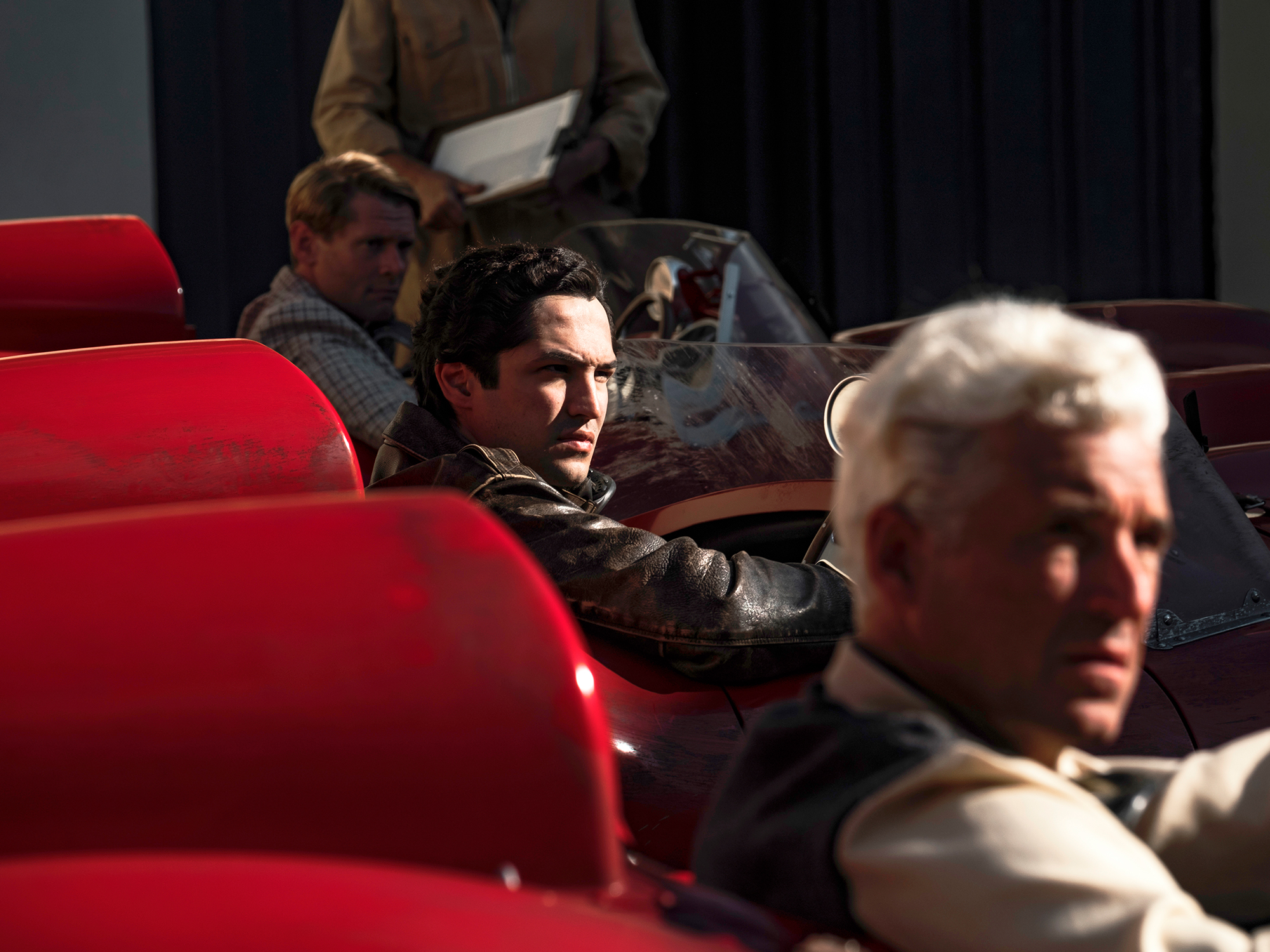 Michael Mann's long-awaited Enzo Ferrari biopic is a disappointingly conventional and surprisingly rough portrait of an automotive icon.
Michael Mann first floated the idea of creating a film about racing legend Enzo Ferrari over 20 years ago – back then it was an idea he discussed with Sydney Pollack. In 2015 it seemed to be taking shape, with Christian Bale attached to play the central role…until he dropped out in 2017 and was replaced by Hugh Jackman (Bale would go on to play maverick racer Ken Miles in James Mangold's rival project Le Mans '66). All this to say it's been a long road to the screen for Mann's twelfth feature, which is also his first since 2015's Blackhat, and now Adam Driver is the actor in pole position.
Notably this film covers a relatively short period of Ferrari's life, save for a brief introductory clip of him racing in his youth. The year Mann really focuses on is 1957, which could be generously seen as Ferrari's annus horribilis. This was shortly after the death of his son Alfredo due to muscular dystrophy, and his marriage to Ferrari co-founder Laura Garello (played by Penélope Cruz) was beginning to unravel, partially due to the stress of losing their only child, but also as a result of Enzo's philandering ways. Compounding his troubles were the company's dire financial prospects owing to his obsessive spending on the Ferrari racing team and the death of star racer Eugenio Castellotti during a private road test. This tragedy preceded the Guidizzolo crash during the Milles Miglia only two months later, which killed 11 people including driver Alfonso de Portago, and would result in a Ferrari lawsuit that lasted four years.
But Mann's career has been typified by an interest in stories of obsession. Enzo Ferrari is the latest in a long line of protagonists fuelled by something compulsive in their nature; here it is the pursuit of perfection. Ferrari bristles at his competitors, sniping "Jaguar only race to sell cars. I sell cars to race." But this single-mindedness has seemingly made Ferrari hard-nosed; he claims the death of his friends and fellow racers Ugo Sivocci and Antonio Ascari has dulled his reaction to loss, but when sitting at his son's grave telling him about his current troubles, Enzo weeps. This private display of emotion is a contrast from the stern figure he otherwise cuts, even around his mistress Lina (Shailene Woodley) and their secret child Piero. Driver does feel a little young for the part, even with his silvery hairpiece and make-up – the world-weariness is lacking, even with Driver's signature scowl. Similarly, Woodley leaves little impression as his mistress, and her Italian accent is one of the more questionable among the cast.
Penelope Cruz is entertaining as Enzo's long-suffering and increasingly unstable wife, though it does feel like a role she has played before. Still, none of these casting choices are quite as jarring as Patrick Demsey, who is cast as Ferrari racer Piero Taruffi. (Dempsey is a noted motorsports enthusiast who has taken part in the Le Mans and 24 Hours of Daytona races, which is presumably how he came to be involved in the project.)
The presence of Dempsey isn't the only jarring thing about Ferrari. Daniel Pemberton's score feels misused in places, pitched at such a level it competes with the dialogue. In other areas, the sound mixing is patchy, with vocals straying in volume, and the editing in several areas feels clunky to the point one has to wonder if the team were on a strict deadline and rushed towards the end. Even the script (written by Troy Kennedy Martin, prior to his death in 2009) leaves much to be desired, consisting of large portions of exposition and cliche rather than meaningful character work. A biopic doesn't have to go the route of trying to get under a person's skin, but when working with a figure like Enzo Ferrari, a biopic should really offer more than a Wikipedia summary of their key personal tragedies. There are some choice moments of wit that add a little personality, but it's awfully inert overall.
There is one truly jaw-dropping moment: the spectacle of the Guidizzolo tragedy. This gruesome scene, in slow motion with sparing sound, hammers home that racing is a fundamentally dangerous pastime – one that can ruin lives in the blink of an eye. The pursuit of such recklessness must seem mad to most, but not to Ferrari. It's a shame we just never have any understanding of why that might be, or even the ramifications of it beyond friends and family becoming collateral damage.
Mann has been open about the failure of his previous film (though it's certainly got its ardent defenders) and it's no secret that many consider Mann's own director's cuts to be far superior to theatrical versions of his films. Perhaps there's a different version of Ferrari that feels more compelling, but there's precious little to be done about the by-the-book storytelling, which doesn't do justice to such rich subject matter.
Published 31 Aug 2023
About Post Author