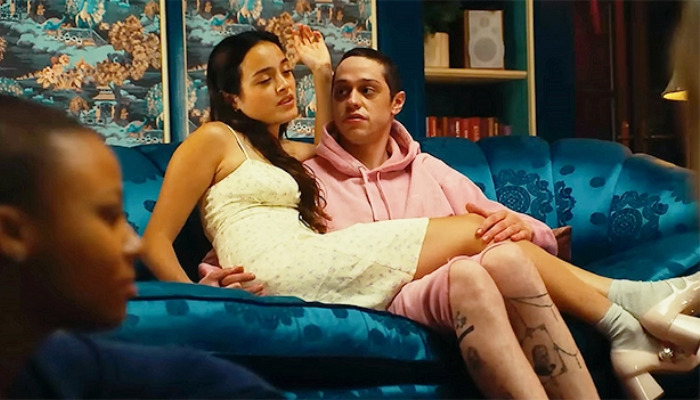 Bodies Bodies Bodies Review
Bodies Bodies Bodies (2022) Film Review, a movie directed by Halina Reijn, written by Sarah DeLappe and Kristen Roupenian and starring Amandla Stenberg, Maria Bakalova, Rachel Sennott, Chase Sui Wonders, Pete Davidson, Myha'la Herrold, Lee Pace and Conner O'Malley.
A group of young friends assemble at a large home for a party as a hurricane takes flight in director Halina Reijn's fast paced, clever and energetic new horror picture, Bodies Bodies Bodies. This is the type of movie where there is not a single person in the picture who you can trust. That's because each character turns out to be more deceitful than the next and it's a terrific good time trying to figure out who's killing some of the key characters in the picture until it gets to the point where all hell just breaks loose and characters just start killing each other in the name of self defense. Some of these characters think they know what's going on but they don't and that's the beauty of this picture. We never know who to trust and which way the plot will steer us next.
Advertisement


The movie opens with a couple of beautiful girls making out. They're Sophie (Amandla Stenberg) and Bee (Maria Bakalova). These two characters promise each other the world and seem to be madly in love. They are initially likable and instantly capture the attention of the audience. Early in the picture, one of our characters talks about drugs and hilariously relates a person to a drugged out NYU student. This movie is smart, and has dialogue with zest and intelligence buried underneath all the obvious sarcasm.
Pete Davidson is one of the central players in the film. He plays the guy throwing the party. Davidson plays David, a wise-ass who thinks he knows it all as he sits underneath the water in his luxurious swimming pool. Davidson is perfectly cast and uses his offbeat personality to define this character he plays in the movie. David's girlfriend, Emma (Chase Sui Wonders) has some revelations about her relationship with David that become intertwined in the plot especially when, during a storm, David appears to have been murdered.
The single best performance in Bodies Bodies Bodies (the title is based on a game the characters play early in the movie) is from Rachel Sennott who steals the movie as the seemingly dim-witted Alice who wears glow in the dark accessories which help give the movie an interesting flavor. Sennott's character justifies everything with ridiculous quips that are hysterically funny. She's always at the center of arguments and the movie places her in scenes that question the behavior of those surrounding her. Sennott is a natural born movie star.
Lee Pace is Greg who is the other male at the house party. Greg plays dead at first and tricks his new friends making him a suspect as a potential murderer when the plot kicks into full gear and bodies bodies bodies start popping up…dead. Myha'la Herrold's Jordan is the last central character on board and it's safe to say that Herrold's character is a no holds barred girl who will say exactly what's on her mind. She doesn't really care whose feelings she's going to hurt as the scenes move forward in the film.
The best scene in the movie comes when Bee is suspected of being the killer. It seems Bee is caught in a lie at one point about one of the stories she has shared and Bee relates the supposed explanation of why she lied. However, she becomes humiliated as she is forced to go out in the storm and must find a way to get into the car to prevent herself from getting soaked. This scene is so good because we feel for the character of Bee and seem to suspect she's innocent even while everybody else has their doubts.
Bodies Bodies Bodies doesn't waste any time with nonsense. It's straight up filled with suspense once the plot begins happening. There are graphic murders throughout the film but they all stem from the fact that our house guests believe their lives are in danger. When Greg is killed by one of our guests, it is because they think he's the culprit who murdered David but is he? And, was David such a nice guy anyway? Is it worth all that transpires to catch the one who killed him? These are just two of the questions the movie poses.
The whole movie eventually boils down to a conversation in the text messages on Sophie's cell phone. There's a passionate romance between Bee and Sophie but eventually they don't trust each other because Jordan has suggested Sophie isn't as sincere as she says she is. And, Bee already lied so who's really the innocent one here?
Bodies Bodies Bodies is pure fun from beginning to end with some heavy themes thrown in for good measure. It plays out interestingly with plot developments regarding deceit between friends while the obvious murders that occurs are all an excuse to portray the measures people will go to in order to save themselves. Does anyone really care about anyone else at the party other than their self? You be the judge.
Director Reijn has crafted a nifty little whodunit with enough suspense and laughs to keep audiences captivated all the way through to the end. By the time, the lights come up at the conclusion with the song playing on the end credits, "Bored in the House," you'll wonder what exactly just happened. Not that the movie makes anything unclear. It just makes you think about everything that transpired and one can't help but try to decipher which characters deserved to survive and which ones didn't. It's a terrific summer movie for sure.
Rating: 9/10
Leave your thoughts on this Bodies Bodies Bodies review and the film below in the comments section. Readers seeking to support this type of content can visit our Patreon Page and become one of FilmBook's patrons. Readers seeking more film reviews can visit our Movie Review Page, our Movie Review Twitter Page, and our Movie Review Facebook Page. Want up-to-the-minute notifications? FilmBook staff members publish articles by Email, Twitter, Facebook, Instagram, Tumblr, Pinterest, and Flipboard.
About Post Author