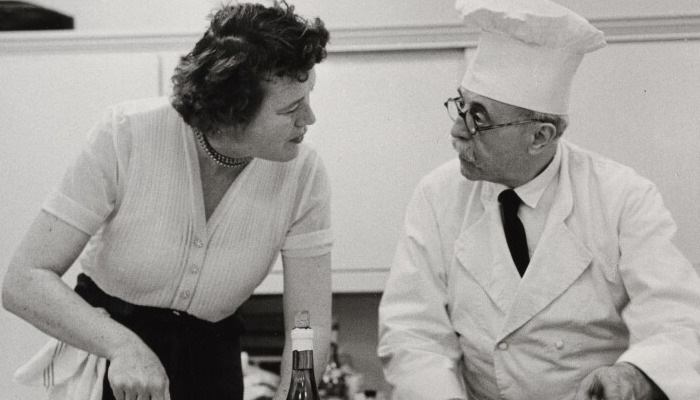 Julia Review
Julia (2021) Film Review, a movie directed by Julie Cohen and Betsy West and starring Julia Child, Jose Andres, Andre Cointreau, Susy Davidson, Ina Garten, Charles Gibson, Ruth Reichl, Cecile Richards, Marcus Samuelsson, Jane Friedman and Francois Simon.
Julia is a remarkable documentary about the life of Julia Child. A woman of tremendous integrity, she ultimately set the stage for the typical cooking television show but her life story was anything but typical. She married a man she met during World War II who admired her for her legs but Julia was not a physically attractive woman in a traditional sense. She had a more inexplicable attractiveness to her which is captured in great detail in this new documentary directed by filmmakers Julie Cohen and Betsy West. It should also be noted that the film features an exquisite musical score by the great composer Rachel Portman.
Advertisement


Julia Child was a woman who was born into a life where she was expected to marry well and become a traditional housewife. The fact that her life's work would ultimately change the lives of housewives all over the world is quite phenomenal. It was her work as a cooking teacher, an author, and as a chef that brought her recipes into people's lives and eating well became a great American past time as a result.
Some of the funniest scenes in the picture come from the lighter moments such as when Child appeared on late night television shows with hosts such as Johnny Carson and Jay Leno. A hilarious scene shows Dan Aykroyd's "Saturday Night Live" sketch which came after an event where Child injured her finger while preparing a preliminary recipe for a show. Child was a humorous woman and also, as the new film tells us, a flirtatious one with men but it was all in good, for lack or a better word, taste.
The relationship with Julia Child and her husband Paul is shown with great depth and complexity. Here were two people who had a relationship based on their appreciation of each other's intelligence more than their looks although Paul definitely loved Julia's legs, as previously mentioned. They loved each other and cared deeply for one another and that affection is wonderfully captured here.
The movie doesn't skimp out on the attractive looking food Julia Child cooked up and the film will probably make audiences want to rush out for a lovely dinner afterwards, or even better, cook something up from scratch.
Julia Child was also a political activist and, ultimately, a feminist. She stood up for a woman's right to choose when it came to the topic of abortion and although she didn't initially understand gay men in the beginning, she eventually became an advocate for AIDS awareness.
Child loved Paris, France which had led to her first big cooking book. It was deemed, initially, too complex for typical housewives. The movie makes the point that many women were not encouraged to use their brains and were simply expected to do mundane household tasks until Child helped pave the way for women to use their knowledge to cook better thus enhancing the greatly underestimated appeal of preparing a well-cooked meal.
Cohen and West have directed a very smart, fast-moving documentary that captures the passions of Julia Child extraordinarily well. Child was a woman who was so much more complex than many gave her credit for due to her very down-to-earth personality which was so evident on her cooking programs. The movie also looks at how she taught and inspired students in an initially male-dominated profession.
What I liked best about Julia was how it simply portrayed how this woman made a difference in the world without her being too self-assured and full of herself. Child was a woman who simply let her own passions fuel her life and the cooking world became a more interesting one as a result.
Julia could have used some more scenes about the wonderful chef's fight to publish her first major cook book but it gives the audience a fair overview on the many highlights of her accomplished life and the picture carries us through the major events which helped shape her life. Anyone who loves cooking or loves to eat will be won over by the fascinating documentary that this film turns out to be. It's also a good introduction to Child for people who have never heard of her. With today's high profile recipes from the likes of Martha Stewart and others, this documentary gives us a look at the original female master chef who became a legend before she died at the age of 91. It's well worth seeing.
Rating: 8/10
Leave your thoughts on this Julia review and the film below in the comments section. Readers seeking to support this type of content can visit our Patreon Page and become one of FilmBook's patrons. Readers seeking more film reviews can visit our Movie Review Page, our Movie Review Twitter Page, and our Movie Review Facebook Page. Want up-to-the-minute notifications? FilmBook staff members publish articles by Email, Twitter, Facebook, Instagram, Tumblr, Pinterest, and Flipboard.