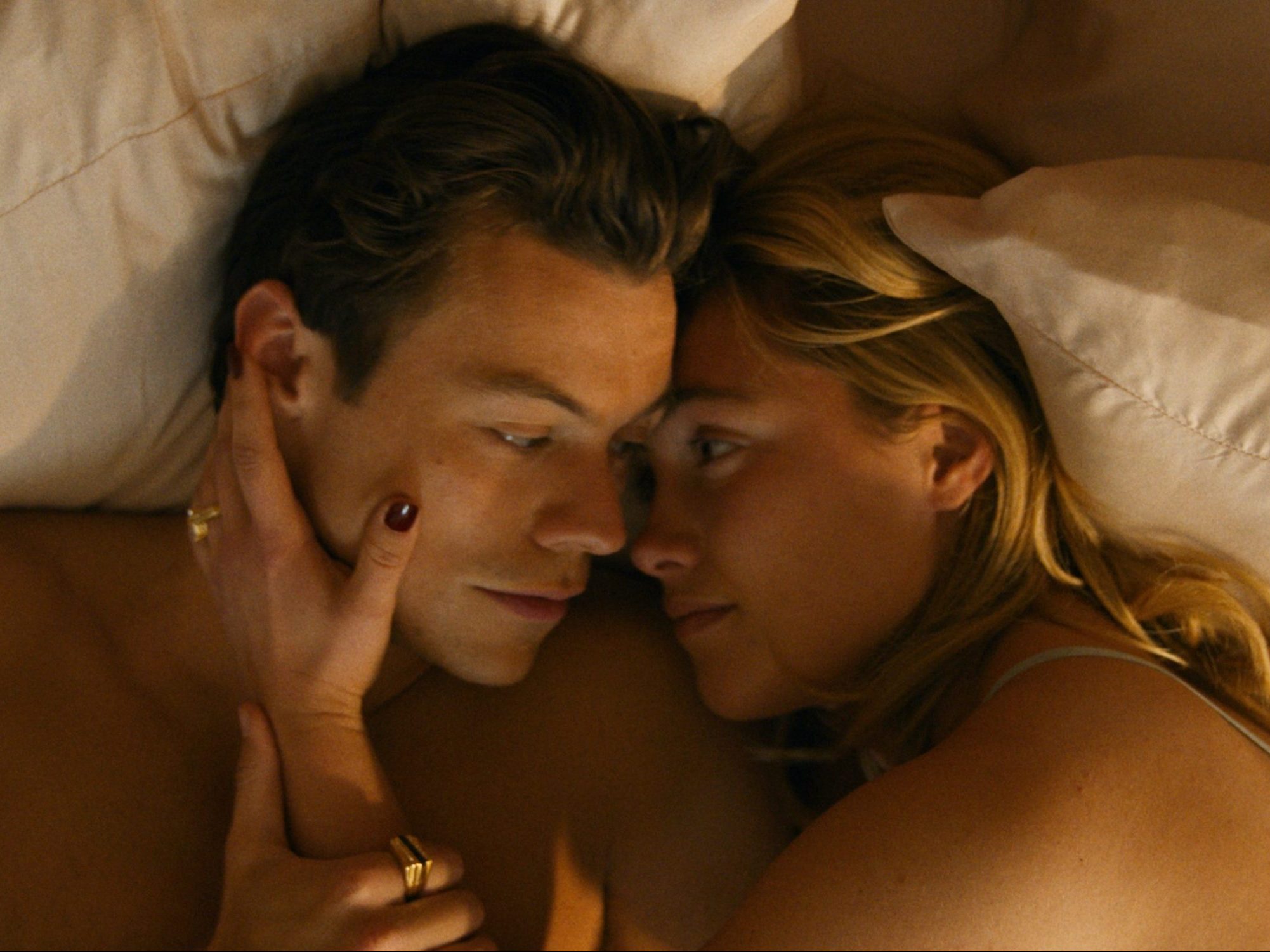 A multitude of buzzes have made Don't Worry Darling, the latest directorial effort from actress Olivia Wilde, into an object of much public interest: the behind-the-scenes drama involving Wilde and star Harry Styles, now a couple; her recent appearance at CinemaCon during which she was served with custody papers from ex Jason Sudeikis; the rumors that Styles absolutely goes to town on costar Florence Pugh in an unshy scene for the upcoming film.
The first trailer, released online earlier today, confirms that last one in its quick-cut shots of Pugh's Stepford housewife getting ravished atop a dinner table. And yet the clip below leaves more shrouded by mystery than it reveals, setting up an idyllic '50s suburbia in which the only thing known for sure is that it's all built on a lie.
Pugh stars as a young homemaker who seems to have it all, from the perfect husband (Styles) to a sparkling planned-community home to a group of galpals for ballet classes and cocktail parties (Wilde, pulling double duty, and Once Upon a Time in Hollywood's secret weapon Kate Berlant). But something about her housebound day-to-day doesn't feel right, and it seems like a dark secret may be beckoning to her from across the sprawling desert that surrounds their little postwar oasis.
The trailer hints at a sinister undercurrent, between the inscrutable murmurs about "Project Victory," the glowering menace of the company town's boss (Chris Pine), and a spooky eggless shell. It's also a handsome showcase for the cinematography of Matthew Libatique (a favorite of Darren Aronofsky and Spike Lee), which appears to dip into monochrome surrealism right out of a Busby Berkeley fantasy, complete with synchronized dancers.
What's happening underneath the placid surface of the town is anyone's guess, at this juncture literally. The trailer invites speculation on the true nature of its plot, the Occam's razor guess being that this is all some The Village-style ruse of isolation, and that the men of the town go off to enjoy the luxuries of the modern world before returning to a bubble frozen in a time when they ruled supreme. Your thoughts?
Don't Worry Darling comes to the cinemas in the UK and US on 23 September.
Published 2 May 2022