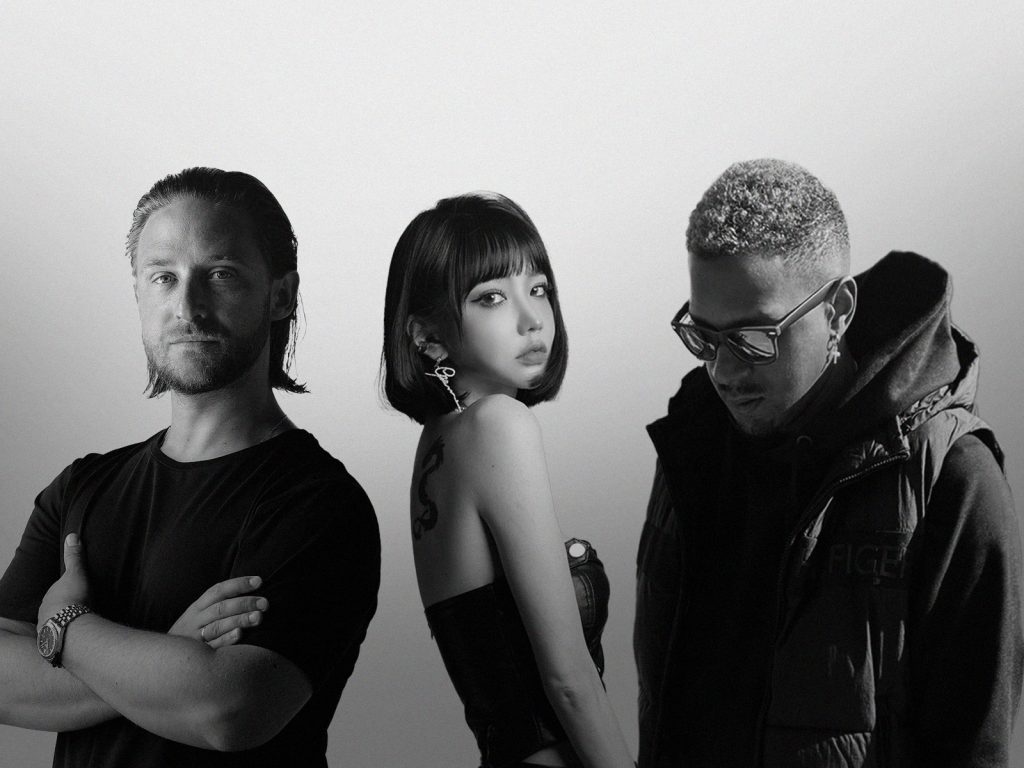 Now this is a global affair that we can totally get behind, US hit-maker Brandon Beal has teamed up with the incredible Danish producer, HEDEGAARD, and China's number-one ranked DJ, Lizzy Wang, for the unforgettable hit, titled "The Ones We Lost". The track actually features a heavy addicting sample of Red Hot Chili Peppers' track, "Pretty Little Ditty". The release of this new song acts as the follow-up to Brandon Beal's 2022 collaborative album with Pink Cafe titled "Pink Cafe"; HEDEGAARD's two-track remix single of his song "Bored"; and Lizzy Wang's collaboration with Tom King on the single "Feel So Right".
Brandon Beal is a Texas-born multi-talented artist who is a dynamic force in pop, hip-hop, and R&B. His career trajectory began in New York and soared to new heights in Copenhagen, Denmark. With an impressive roster of collaborations including Snoop Dogg, Flo Rida, and Danish stars like Christopher and Lukas Graham, Beal's music journey spans continents. He burst onto the scene with the viral sensation "Twerk It Like Miley", a collaboration with HEDEGAARD and Christopher, topping the Danish charts and earning him a Danish Grammy for "Club Hit of the Year" – all for a song about Miley Cyrus, we're totally here for that! The infectious energy of "Golden", featuring Lukas Graham, further solidified his status with chart-topping success in Denmark and beyond. A prolific producer and songwriter, Brandon Beal's influence ripples through the music industry, evident in hits like Christopher's "CPH Girls". Relocating to Denmark and amassing over 200 million streams on Spotify alone for "Twerk It Like Miley" and "Golden", Brandon Beal stands as a testament to transcontinental musical prowess, cementing his legacy as a boundary-defying artist.
As for HEDEGAARD, real name Rasmus Hedegaard, he is a Danish DJ and music producer who catapulted to fame with his distinctive sound. Since his breakthrough remix of "Dr. Dre – Next Episode" in 2011, he has consistently delivered chart-topping hits that have amassed over 1.4 billion streams across platforms. Renowned for his knack for merging urban-club fusion, he's behind massive Danish hits like "Happy Home" featuring Lukas Graham and "Twerk It Like Miley" with Brandon Beal and Christopher. His single "ALL DESIGNER" achieved global success in southern Europe, the Baltics, and China. With his recent agreement with Spinnin' Records and the launch of his label OneHundred, HEDEGAARD is redefining the worldwide Car Music trend. With millions of monthly Spotify listeners and countless chart-topping singles, HEDEGAARD's impact on the EDM scene is undeniable, proving that his organic growth and self-made path resonate profoundly with his ever-growing audience.
As for Lizzy Wang, she is an unstoppable force in the world of electronic music earning her the title of China's number one female DJ in 2019, as crowned by DJane Mag. Setting an unmatched standard, she not only broke barriers but catapulted Chinese electronic music onto the international stage. The first Chinese artist to garner global recognition, Lizzy Wang has graced the main stages of prestigious festivals like Ultra Music Festival and EDC, making history as the first female Chinese DJ to do so. Her tech house prowess has birthed hits like "I'm Into You", "Stranger Things", and "Shining", showcasing her sonic mastery and captivating listeners worldwide. Collaborating with artists like MAYLYN, she crafted "Secrets", a track that garnered over 1.6 million Spotify plays and topped DJ charts across territories, leading her to remix Cash Cash's "Too Late" alongside Wiz Khalifa & Lukas Graham. In 2021, Lizzy Wang inked a groundbreaking deal with Warner Music's Asia-Pacific electronic label, and her collaboration with Fiona Sit, "Shining", became a Chinese sensation, amassing over 100 million streams on QQ Music. Not just an extraordinary DJ and producer, Lizzy Wang's academic prowess shines as she graduated from both Columbia University and Harvard University. With boundless energy and unparalleled achievements, Lizzy Wang has become a luminary in the global music scene, pushing boundaries and captivating hearts with every beat.
Written by Anthony Kiedis, Brandon Beal, Chad Smith, Chester Henderson, John Frusciante, Michael Balzary, and Rasmus Hedegaard, whilst it has been produced by the artists of the track – Brandon Beal, HEDEGAARD, and Lizzy Wang, "The Ones We Lost" is a sonic-inducing dance track with layered soulful vocals. Brandon Beal effortlessly shines with his gorgeously emotive vocals that effortlessly paints the scene that the lyrics describe, placing us right in that setting, raising that glass. The chorus progresses with a smooth rhythmic bassline right before the drop hits like no other. We know that dancefloors around the world play different tracks, melodies, and even dance itself have different themes and movements internationally, but this epic global team-up takes international elements and serve it to dancefloors around the world. "The Ones We Lost" has an iconic edge to it that no other song can compete with, flawlessly allowing Brandon Beal, HEDEGAARD, and Lizzy Wang to show their styles, stamps, and impressive artistry.
Eagle listeners will be able to recognise the original sample as "Pretty Little Ditty" by Red Hot Chili Peppers, which became famous by Crazy Town who sampled the track for their 2000 hit single "Butterfly". The original track has also been sampled by British rappers Headie One, AJ Tracey and Stormzy on their 2020 hit track "Ain't It Different" and, more recently, GAYLE has sampled the Crazy Town hit on her track "Butterflies" which is also a part of the official Barbie: The Album soundtrack
Stream "The Ones We Lost" by Brandon Beal, HEDEGAARD, and Lizzy Wang on Spotify here:
Talking about the release of the song Brandon Beal said: "Instead of doing a track in the style we've done in the past, HEDEGAARD and I wanted to create something else – a new and more mature approach for us together, without me rapping but singing instead, and with a storyline that is not party-related at all; a celebration of a long incredible journey and friendship, and an ode to 'The Ones We Lost' along the way. Once we had the sample, we wanted to involve an artist that normally works with the tech house genre, to add some fresh elements to the song. With the recent success in China, it was natural to look for a collaborating artist in that market, and Lizzy Wang is both the biggest female DJ in the country, while she also has a lot of experience with releasing tech house. It was a match made in heaven, and together we added bits and pieces from both our worlds, which turned out to be a soul/pop/tech house hybrid."
Continuing on with what was said, HEDEGAARD added: "Working with Brandon again felt like old friends coming together, and the energy was electric, turning the recording sessions into an epic musical party. Lizzy's unique style and sound were a perfect complement to the track, and the synergy between the three of us was evident from the start. It's been amazing to see the response to our work in the Chinese territory, which I have come to love as a new home market, after visiting the beautiful Country, and meeting the incredible fans, which I feel lucky to have supporting me. This record truly holds a special place in our hearts, and we can't wait to share it with the world. 'The Ones We Lost' is a testament to the joy of creating music, celebrating friendships, and paying homage to the music that has inspired us throughout our journey."
"The Ones We Lost", by Brandon Beal, HEDEGAARD, and Lizzy Wang, is available to download and stream, right now, across all platforms, via OneHundred – Car Music under exclusive license to Spinnin' Records.
Let us know what you make of "The Ons We Lost" by Brandon Beal, HEDEGAARD, and Lizzy Wang on Twitter @CelebMix.
About Post Author