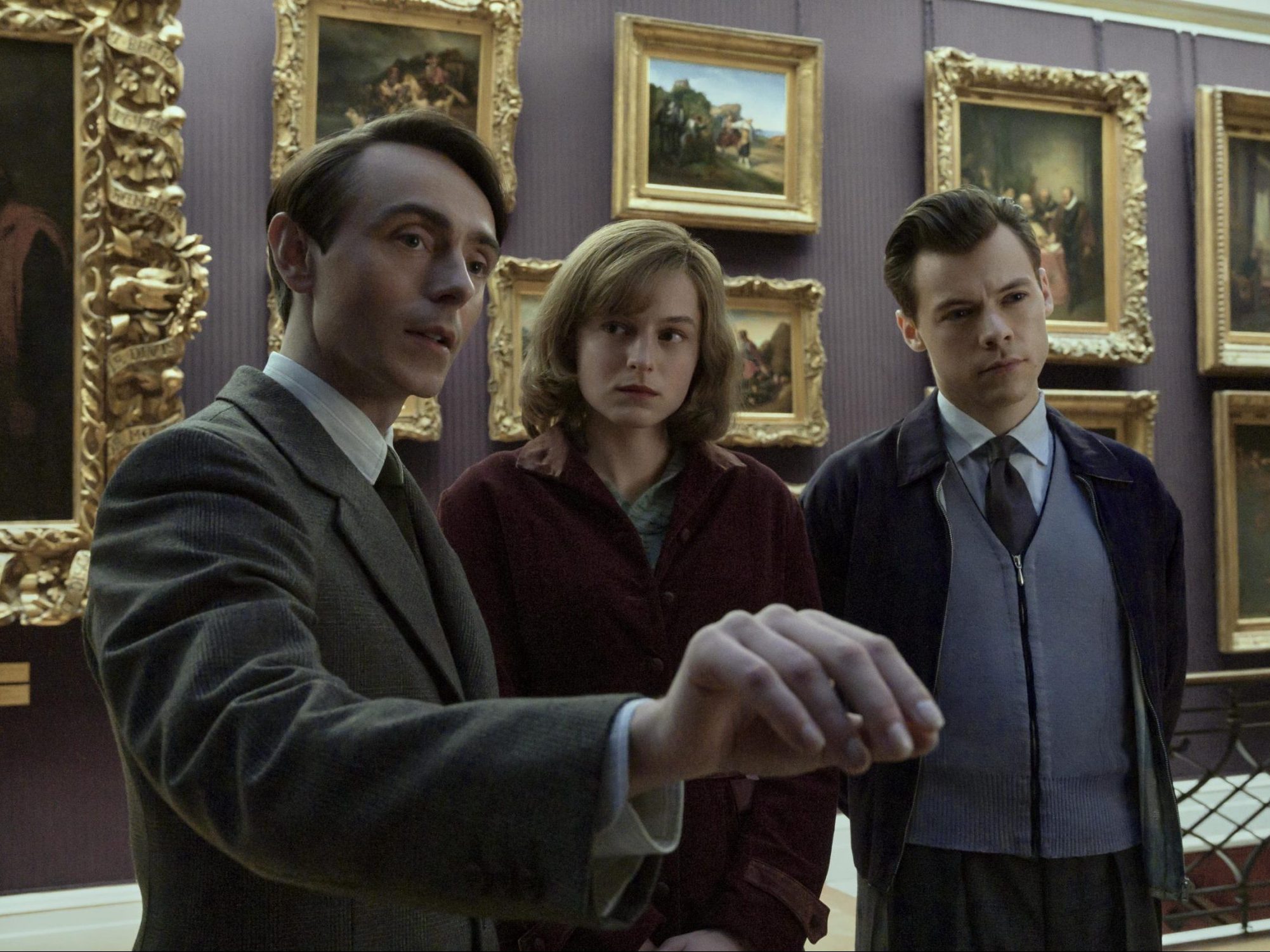 The shadowy illuminati-type organization of entertainment industry titans and assorted powers that be has come to the consensus that Harry Styles will be a movie star, and this will be the year to make it happen. This fall, he'll go to town on Florence Pugh and inspire one thousand gifs in the psychothriller Don't Worry Darling, and then he'll cement his moment with a second big-screen vehicle in the form of My Policeman.
The first trailer arrived online this morning for the upcoming adaptation of Bethan Roberts' novel, which tracks three intertwined lives from the '50s to the '90s in Britain, as social upheavals send shockwaves through their relationships. The vagueness of that description is reflected in the trailer itself, which shows us a lot of golden-hued shots of people looking pensive, without much narrative context to understand what everyone's so moody about.
A quick Google reveals a more substantive breakdown of the premise: Styles portrays Tom, a gay cop unable to leave the closet in the repressive midcentury climate. For the sake of appearances, he marries schoolteacher Marion (Emma Corrin), all the while carrying on with an affair in the arms of museum curator Patrick (David Dawson). The plot then jumps ahead farther into adulthood, as grown versions of these characters (Linus Roache, Gina McKee, and Rupert Everett, respectively) reckon with the choices made all those years ago.
This marks the second feature film effort as director for theatre veteran Michael Grandage, last seen on screen at the helm of Genius, a biopic about the close friendship between writer Tom Wolfe and his longtime editor Maxwell Perkins. Now, he'll explore the complexity of relationships between men with a bit more directness, bringing us another queer period piece to fill the maw of demand widened by Portrait of a Lady on Fire.
For fans of Styles, this will supply them with a bounty of fresh material to moon over frame by frame, and for conspiracy theorists attempting to suss out the precise nature of his sexual orientation, an intriguing new data point. For the rest of us, this film will be part of the coming season's referendum on whether the boy can truly act, a skill set not totally flexed in his dialogue-free sulk-a-thon on Dunkirk, his biggest role to date.
My Policeman comes to cinemas in the UK and US on 21 October, then streams through Amazon Prime on 4 November.
Published 15 Jun 2022
About Post Author