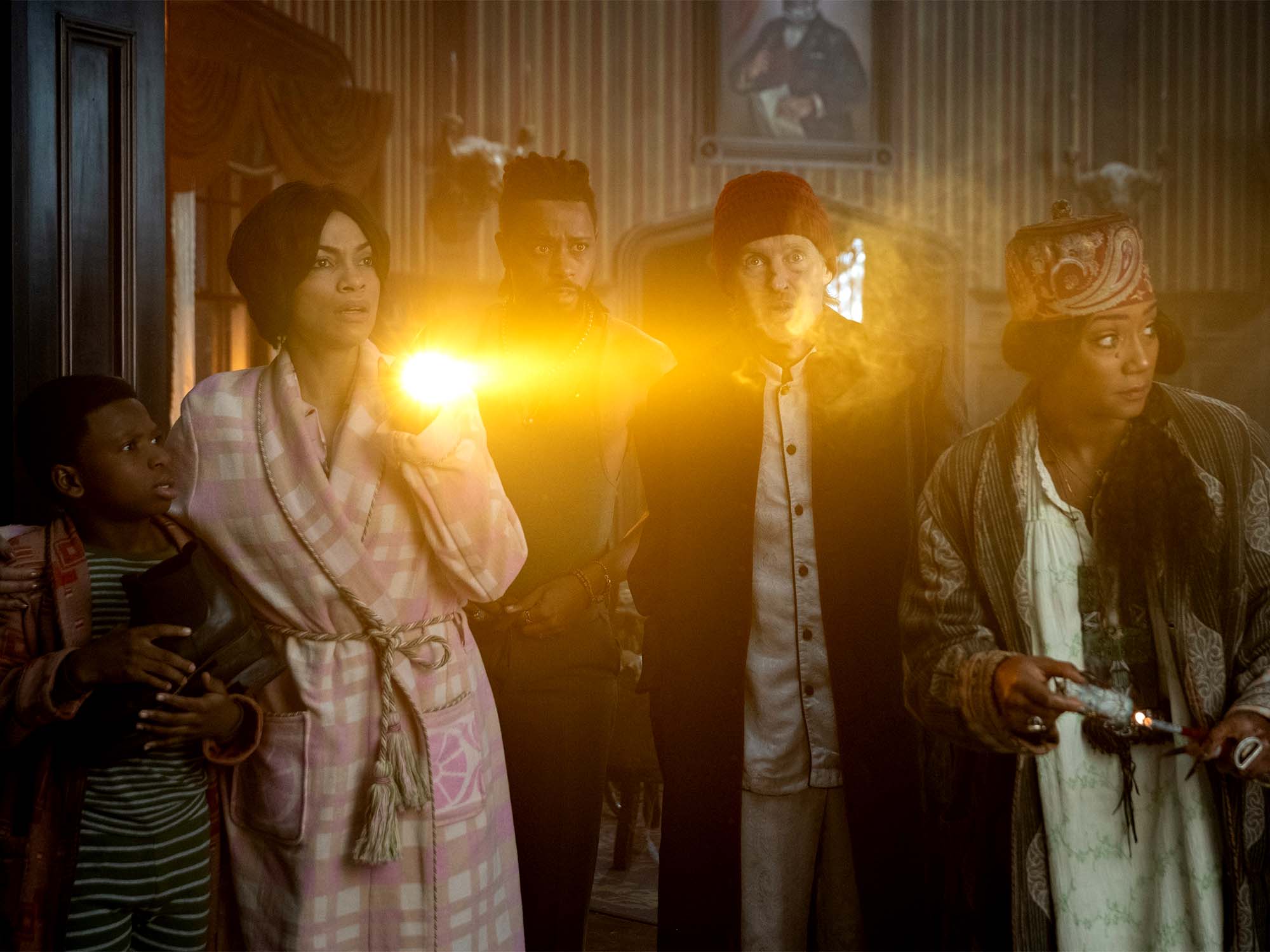 Justin Simien attempts to breathe life into Disney's latest ride-based franchise starter, but despite a fine cast the results are a little scattered.
In a world where blood is being squeezed out of every IP stone, Disney Land's Haunted Mansion ride being turned into a second live-action film barely raises an eyebrow. The first attempt, in 2003, starring Eddie Murphy was quickly (and rightfully) forgotten. 20 years later, after a long-teased version by Guillermo Del Toro that never came to fruition, the mansion is back, the keys now in the hands of Dear White People director Justin Simien.
Simien, to his credit, significantly improves upon his predecessor. His version sees single mother Gabbie (Rosario Dawson) and her son Travis (Chase Dillon) move to a ghost-ridden mansion on the outskirts of New Orleans, only to find that even if you leave the house, the ghosts will follow you wherever you flee and demand your return. Stuck in an impossible situation, they recruit a rag-tag team of a priest (Owen Wilson), a psychic medium (Tiffany Haddish), an academic (Danny DeVito), and an astrophysicist turned ghost tour guide (LaKeith Stanfield) to rid them of these spooks. The ensemble is an unsurprisingly fun one, with Wilson, Haddish and Devito delivering the exact schtick that they are best known for. But there's also a real sweetness in the bond formed between Dillon and Stanfield's characters, each feeling alone in the world and working through grief in their own way, slowly opening up to the potential of a new family.
While those elements surpass expectations and seem to be where Simien has placed most of his efforts, lingering on each glance and kind exchange between the two, the rest of the film is disquietingly at odds with their authenticity and packed filled with easter eggs, brazen product placement, and shonky computer graphics. The use of Jared Leto is particularly strange, appearing as "The Hatbox Ghost", who is only in portraits, and his "character" is fully digital with an unrecognizably processed voice. After so many stories emerged about Leto's acting methods, including needing a wheelchair to go the bathroom so he could stay in character during Morbius, one could see that employing a load of CGI would be a more palatable proposition than a film set with Leto going full Hatbox Ghost. But his presence, along with the blink-and-you-'ll-miss-it cameos from Winona Ryder and Dan Levy, beg the question…if we aren't properly using these actors why have them here at all?
Stanfield has so much movie star charisma and a sweet soulfulness; in scenes where he confronts his past, grief pours out of giant wet eyes that are half Steve Buscemi half spaniel puppy. Every time we lose him to a confounding action set piece or his performance swallowed up in chaotic SFX, the film immediately feels more like a product than a story.
There is an unshakeable sense that Simien may have lost a little control in the edit, thanks to Chase Dillon's growth spurt and voice deepening, its clear which scenes have been reshot, and certain plot elements appear that seem wholly untethered from what came before. It's a shame since this gang of characters is a joy and the level of scares is perfectly pitched to be a younger generation's entry into horror movie fandom. But ultimately, the wonderful family movie in here that's screaming to get out is hopelessly trapped in Disney's Haunted Mansion.
Little White Lies is committed to championing great movies and the talented people who make them.
By becoming a member you can support our independent journalism and receive exclusive essays, prints, weekly film recommendations and more.
Published 8 Aug 2023
Anticipation.
I love you Simien, but I could have had Guillermo Del Toro's Haunted Mansion.
Enjoyment.
But in what sense is Jared Leto "The Hatbox Ghost"?
In Retrospect.
At this stage of film capitalism getting moving moments about grief and loneliness in between product placement kind of feels like a win.
About Post Author