It's hard to image the holiday season without this zany reimagining of Dickens' classic tale – but as puppeteer Steve Whitmire explains, The Muppet Christmas Carol was make or break for the beloved company.
At this point, it's hard to get through the festive period without seeing The Muppet Christmas Carol at least once. Thanks to its cosy vibes, heartwarming songs and near-constant seasonal repeats, this beloved Muppet movie has become as integral to Christmas as gorging on Quality Street or drinking an unacceptable amount of Bailey's before midday. In fact, the film has become so synonymous with that warm, fuzzy festive feeling that it's hard to imagine its very creation was actually the result of one of the darkest moments in Muppet history.
When Jim Henson died from severe pneumonia following a rare infection in May 1990, the future of his company and its characters were suddenly left in limbo. While those close to him mourned the unexpected loss of their friend and leader, his son Brian – suddenly the new head of The Henson Company – gathered its family-like troupe of performers for an emergency meeting. After some tears and talk, he quickly discovered that if they could, they'd very much like to continue with what had, by that point, become their life's work – but the question lingered: what next?
"I'd worked with Jim for about a dozen years before he passed away and most of the other core performers had worked with him much longer than that," reveals Steve Whitmire, the former Muppet actor tasked with taking over Kermit The Frog following Jim's death. "It was devastating and unexpected. He died in a very short period of time and was otherwise very healthy. 53 is not that old," he adds. "We were reeling and mourning, and the question around this film was: 'Can the Muppets continue to go on?' We had decided that we wanted to make a go of it but I don't think we really knew for sure if it was possible."
Joining the Henson Company in 1978, Whitmire was faced with the tricky job of inheriting the Muppets' iconic green leader upon the request of Jim's son Brian. Written by long-time Muppet writer and collaborator Jerry Juhl and directed by Henson Jr, The Muppet Christmas Carol marked the first time Whitmire would perform Kermit to the world at large – and he continued to play the character until leaving the company back in 2017.
"Jerry's script was essentially straight out of the book. It really is Charles Dickens' words," remembers Whitmire. By casting Gonzo (Dave Goelz) as Dickens himself, Juhl was able to inject a surprising amount of Dickens' prose into this Muppety take on a literary classic. "Jerry was Jim's head writer on many projects and he added lots of little touches, like Gonzo and Rizzo's silliness. It was Jerry who came up with the idea of Gonzo playing Charles Dickens narrating the story. I think that's why it's considered such a faithful version."
Meanwhile, Henson's decision to cast his puppet performers as key Christmas Carol characters (Kermit became Bob Cratchit, Fozzie Bear Scrooge's boss Fozziwig, Statler and Waldorf played doubled up as Marley & Marley) swapped typical Muppet parody for unexpected integrity. To top things off, screen icon Michael Caine kept things frosty as the cold-hearted Ebeneezer Scrooge, with his dedication to playing it deadly serious perfectly counterbalancing all the Muppet zaniness. Still, for Whitmire, the task of becoming Kermit still loomed large in his mind.
"It was daunting," he readily admits. "I'd done so many projects with the muppets for so many years, we were like this repertory company and very family-like. The other performers were there as I was trying to do this and most didn't really give me a lot of pointers; they understood the pressure of trying to take on this really well-known character – they sort of sat on the sidelines and let me learn it," recalls Whitmire. "One very valuable piece of advice I got was from Frank Oz. He was still performing Miss Piggy, Fozzie Bear and all the characters he always did. He said: 'You already know how to be a puppeteer and you've done your own characters but when you're trying to be Kermit, you first have to be Jim.'"
As a result, the years Whitmire had spent watching Henson work became an invaluable tool that he could call upon when trying to embody this very familiar frog. "I was always there when Jim was doing Kermit. There was a certain stance he took when he did the character and a face that he made when he did Kermit. He'd frown when he talked and Kermit started to come out. Knowing what parts of Jim he put into Kermit and what parts really weren't in Kermit was key. I always say Kermit was the most optimistic, idealistic and best part of Jim." All this came in handy, especially considering his debut performance was Kermit playing another character: "It's me, trying to be faithful to Jim being Kermit, being Bob Cratchit," he chuckles. "There's three or four different layers to it."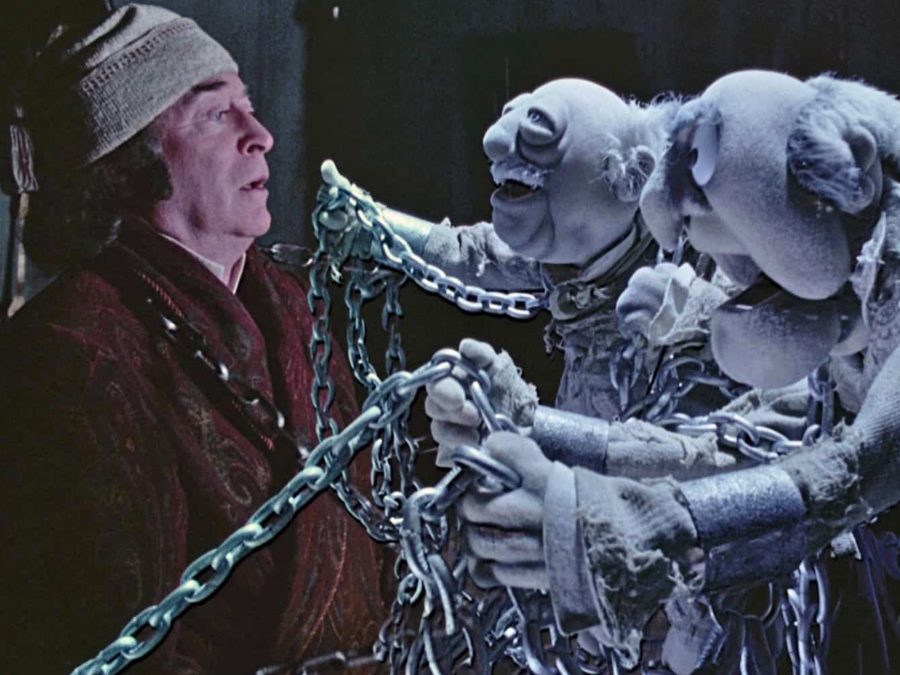 Of course, having Michael Caine act opposite helped: "He's one of the most accomplished actors on the planet and a terrific, approachable person to work with. I was in my early 30s and had been doing puppetry for around 14 years but to really sink my teeth into the performance of Jim being Kermit being Cratchit against Michael Caine was amazing," smiles Whitmire. "The way he played it so straight came into play with how I tried to bring this world to Kermit. Kermit's playing the role very straight as well. He's not being silly – he's just Kermit."
As with any Muppet movie, the film contained a number of scenes designed to push the artistry of puppetry to new levels. "One of the big scenes was Kermit walking down the street singing with his nephew Robin on his shoulder. That was extremely complicated yet simple in the way it had to be done," explains Whitmire. "To see Kemrit believably taking steps down the road as a practical puppet, we had to build this special rig which was a giant drum. That was the ground, and we used blue screens – because you can't use Kermit on green," he laughs. "As the feet are taking steps, the wheel is turning so it looks like he's walking down the street. The guy turning the drum had to be exactly in time with Kermit so if he does a little dance step, it had to stop a little bit. It's simple but complicated to figure out. These days you could probably do it in Final Cut Pro on your computer – but it was very complicated at the time."
For the movie's many memorable songs, Henson returned to Paul Williams, the composer responsible for some of the Muppets most iconic musical numbers, including Rainbow Connection. "Paul had worked with Jim back in the early days and really got a sense of Jim's influence and how to keep that a part of their characters through the lyrics they're singing."
Working with Paul during the pre-record of these tracks also helped Whitmire perfect his take on Kermit: "When it's just the bare voice, it's got to be the best it can be. My voice was never exactly Jim's but it was based strongly on it and Paul was really instrumental in dialling that in for me which set me up to feel great about going in to do dialogue on set. I'm glad I had that experience and I think the music is just wonderful," smiles Whitmire. "'One More Sleep 'Till Christmas' is all based around Paul and his children. He's a very innocent fellow and it worked well with the depth of these characters."
Production aside, being back on a Muppet movie proved to be a restorative process for a talented crew whose unusual day jobs had helped to forge close-knit, family-like bonds. With Brian Henson guiding the ship, there was a distinct feeling of hope underpinning the whole process — with his father's presence felt every step of the way. "It was joyful," smiles Whitmire, warmly remembering the experience. "It was the group back together and it was a hopeful time. Something that I've always loved about my time with the Muppets was the camaraderie. We really were a team of people who cared about each other and the work."
While the absence of their leader was sorely felt, at times, production on The Muppet Christmas Carol almost felt like a therapeutic process for those involved: "The scene with Bob Cratchit and his family around the table talking about Tiny Tim? All that emotional stuff played into where we were with the grieving process with Jim," he reveals. "It was less than two years after his death and here we were. Whenever Kermit was on screen, we all thought of Jim. It was bittersweet and because we could feel the emotion of that, it gave us all the confidence that what we were doing was working."
Thirty years later, the love that fuelled the creation of The Muppet Christmas Carol is clearly visible with every festive revisit and seasonal repeat. "I've heard so many people say that it got them through some really tough times in their lives," reveals Whitmire, pondering the film's cultural impact. "The story itself is just as important and poignant as ever. It's about the importance of treating people as you'd like to be treated," he says. "In many ways, this film was proof to us all that we could continue the Muppets without Jim being here."
Published 6 Dec 2022
About Post Author