Ira Sachs' latest drama features steamy sex, passionate rows, and some of the best cinematic knitwear in years. We speak to the film's costume designer to find out how the film developed its signature style.
Ira Sachs is well known for telling messy, hopelessly human stories about love, marriage, addiction, and family. His latest, Passages, tells the tale of Tomas (Franz Rogowski) and Martin (Ben Whishaw), a gay couple, whose marriage is thrown into disarray when Tomas meets and falls in love with a school teacher, Agathe (Adele Excharpoulous). The film has received many a headline for its explicit sex scenes, which are plenty sexy but also a key plot device to excavate through the emotional rubble that the charismatic Tomas leaves in his wake. But just as important as the erotic in Passages is the use of costumes – to both let the audience understand who these characters are, how they interact with one another, and what they are saying about themselves through their fabulous peek-a-boo sweaters, sheer red robes, and armour-like leather jackets.
For Sachs, costuming in Passages was incredibly important – so much so that Rogowski told him that he had never spent so much time trying on clothes in any other film he had previously worked on. "My feeling at the moment was a mixture of pride and shame," Sachs laughs. "Pride that my attention and rigor were being noticed. The shame was somehow he was pointing me out as a homosexual. [laughs] I felt in that moment very much like George Cukor, you know." Sachs came into Passages with many a cinematic reference that he mentions like Sandrine Bonnaire in A Nos Amours, Beware of a Holy Whore by Rainer Werner Fassbinder, and Jean Luc-Godard's Contempt with its rich color palette. While Sachs had his own ideas going into the film, working with costume designer, Khadija Zeggaï helped to bring the work to another level as he describes. "She's this wonderful combination of extraordinarily warm and kind, and also very, very sharp. She's got her eye on the prize in a way which elevates the work of the rest of us."
Zeggaï had previously worked with Sachs on his 2019 film, Frankie, dressing the legendary Isabelle Huppert. Having already established that relationship with Sachs and getting along well on that set, led Zeggaï to collaborate with him again on Passages. She tells Little White Lies about collaborating with Sachs, that now infamous mesh crop top, and dressing three of the world's sexiest actors.
How was it working with Ira again on Passages and that collaboration process?
It's very free and very creative work. Ira is always searching for the characters in his films over an extended period of time. We prepped a lot for this film, especially for the three main characters. He's a very cultured man, so it's really enriching to work with him because he brings his entire memory. He's searching his memory for things that we could use to enrich the characters. It's really fascinating to work with him and things are changing all the time. And I was asking him to give me a maximum of information about what he wanted, and he was very generous with that.
After you read the script, what were your initial thoughts and inspirations for the characters?
As soon as I read the screenplay, Ira and I were immediately communicating. He wanted to know what I thought of the screenplay and had his own ideas of what each character should look like. What I told him is that, for me, this screenplay was a story of great freedom. And in fact, that freedom is like Ira himself. There's something in the screenplay that I applied to myself in an enormous way. And of course, the three actors are very different people, but they're three sexy, beautiful young people. So it was very easy to imagine how they might look and Ira was constantly giving me additional information and support for that.
What was the process creating the aesthetic for Tomas? His clothing almost feels like he's using it as a weapon for what he wants from people, whether that's Martin or Agathe. And obviously need to know everything about the crop top that he wears to seduce Martin and then meets Agathe's parents in.
Tomas is played by Franz [Rogowski] who has a very strong personality. As soon as I read the screenplay, I saw Tomas with this, this animal skin on him [laughs], a fur coat, something that was arrogant but discreet. I immediately thought of this fur piece for him. And so that's something that I found right away.
The crop top was initially planned to be an undergarment since Tomas is someone who gets naked quite a bit. [laughs] And since he wears see-through sweaters, I assume that we would see the crop top through a sweater. But then one day Ira said, 'Let's just have the crop top with no sweater.' And I said to him, 'Are you sure? Isn't that a little daring?' And Franz immediately adopted it as a costume. It's an unexpected one, but it's a choice that Ira made to see that crop top in those two scenes.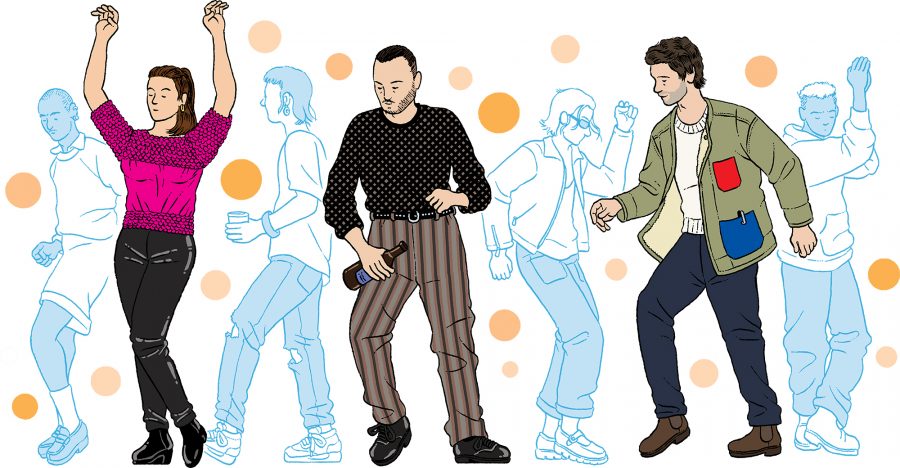 When you read the screenplay and wanted this almost like an animal motif for Tomas, did that blend into his use of pattern? Especially when we see the crop top, he's wearing those low-slung leopard print pants and there's the scene where you just see him in the snake print leather jacket.
The idea from the start was that we would see the character's skin as much as possible. That we would see all these actors in the sexiest, most seductive way possible. And then we have Tomas's bear fur jacket. We have the snake jacket, the see-through sweaters, the holes in the sweaters. All Tomas's clothes were chosen starting with that bear fur. Tomas was the only one who I imagine wearing such eccentric costumes of the three characters.
Martin is obviously the opposite of Tomas. You know, he's more laid back. He's always wearing the three-button Henleys. He has that beautiful patterned art jacket that he wears to work. There's a coziness and a stability about him. And then his red robe, which I think is one of the sexiest things I've ever seen on film, and especially on Ben Whishaw.
Ira wanted Martin to be exactly as you understood him to be – the opposite of Tomas. He's an artist, but he's a modest artist. There's something a little bit held back about him. Ira wanted each character, one after the other, to wear a red garment. The red garment shows when they're strong. So Martin, when he's with his lover, he's strong. We need to show that he's stable. And at the end of the film, Agathe is wearing a red sweater. She's chosen for her life, she's decided what to do. Ira chose each color, which was quite fascinating work to be involved in.
As for Martin's dressing gown, it does look sexy, but it's simple. It's a woman's bathrobe. It's sexy because it's cashmere. It has a way of hanging down. It moves a little bit. These are garments that circulate through the film. It's very sexy because it's a little transparent and Ben wears it marvelously.
There's a lot of play with gender through the costume. Was that something you and Ira discussed when dressing the characters?
Ira didn't want to differentiate for this film. So for instance, Ben wears women's clothes in the film, but so does Franz. The crop top is a women's garment, so are the leopard print pants, and the green sweater is unisex. So there's lots of things in this film that are male-female. There's really no limits in this film or no boundaries.
Speaking to that, dressing Agathe, she's obviously so sexy and then you find out she's a teacher. Was she purposely dressed to be this seduction foil to Martin in some respects?
She's a very seductive character and Ira really told me a lot about her. He really directed me for dressing Agathe. She's both a very popular person in the sense of working-class or of the people. She's very accessible. But she's also very sexy. Adele [Exarchopoulos] herself is of course very sexy if you see her in real life. She's not a person who needs beautiful clothes
She wears them very well. She's beautiful, she's young, she's sexy, and she also wears things with a kind of simplicity.
So for instance, the red jacket that she has is a vintage piece from the eighties. And I thought that we needed something that would protect her which is why that's leather. We also chose rather simple underwear for her, sexy red, but simple. And her shoes also are not very fancy women's shoes. The character is a modest person of modest background, you know, but I think that one can feel that in the way that she's dressed.
Were there any specific designers that you used for the clothing in the film?
There's a lot of clothes in the film from a stock of clothes that I have. When I encounter a piece of clothing that I like, I keep it to use for a film someday. There's some vintage Kenzo, there's some Acne, and Agnes B loaned us clothes for Tomas and Martin. It's more Ben who wears the Agnes B. And then there's a lot of secondhand, not very expensive clothes, vintage stuff. As for the crop top, I found it in a very affordable boutique in Paris. And I think it caught something like 15 euros. When I saw it, I thought to myself, I think this could be something good.
There's so much interesting monochrome dressing, such as Tomas in all red on the red couch. At the end of the film, Martin in that beautiful white when he's cooking. How was it envisioning and doing the monochrome dressing for the film?
Regarding Martin, it was Ira who wanted at the end of the film to have Martin in white to signify something. He wanted something very light, very clear. And similarly for Tomas, on the couch, the sweatshirt is something from my closet that I had. And those striped pants are kind of like clown pants. [laughs] It's a very peculiar scene because Tomas starts to cry. He's really suffering and it was Ira who wanted him to be dressed like that.
Published 30 Aug 2023
About Post Author