I first learned about fashion rental services through the classic yet divisive 2008 film, Sex and the City: The Movie. Jennifer Hudson's Louise (from St. Louis) dropped the deets on her designer bag with the oft-quoted line, "It's rented; Bag Borrow or Steal—it's like Netflix for purses." Nearly 15 years have passed since the movie first debuted, and a lot has changed in the fashion industry, especially the world of luxury rental companies.
In 2023, there are a lot of reasons to consider renting your clothes. I could wax poetic about the benefits of a circular economy, especially in an era where fast fashion continues to reign in the retail space. However, if you—like me—consider yourself a fashion enthusiast, there's another huge factor: a virtually endless (and rotating) closet. And when said closet can include rare designer handbags from major fashion houses, trending pieces from buzzy labels, timeless fine jewelry, and more, you can bet it's worth a look. Of course, it wasn't always this way, but more and more rental services are specializing in different areas of luxury fashion, and I'm willing to bet this is only the beginning.
"The luxury borrowing industry is booming," Blake Geffen, the founder of Vivrelle, tells ELLE.com in an email. Vivrelle currently has a waitlist of 8,000 users and counting, and rather than using a one-and-done-type business model for its rentals, the brand offers a tiered membership, giving its customers the flexibility to borrow items for as long as they need, with the opportunity to buy them, too. "We know our consumers are always looking to expand their wardrobes, add in fun, seasonal pieces, and that increasing the lifecycle of luxury accessories is important to them, making our business at Vivrelle critical to how they view and interact with their closets."
Clothing rental services surged as more and more people stepped back into the world and out of their homes. It makes sense: With returns to the office, new social events—whether casual or formal—and more reasons to leave the comfort of matching sweatsuits and couches, many were rediscovering how to get dressed again. But now that they've once again begun to define their personal style, with a keen interest in trying out high-end items, the time for renting items with designer labels has reached new heights.
For a lot of fashion lovers, luxury rental simply makes sense. "It's a sustainable way to shop. Luxury doesn't have to be a commitment anymore, where we have to pay super high prices to style out our outfits," says Kate Mao, the founder of Into Archive, a company specializing in rare, archival designer items. She goes on to note that luxury rentals allow consumers to try something, study a piece, or style with others, adding, "People will be more creative, in general, without the pressure of a price tag." Adriel Darvish, the co-founder of Switch—which offers fine jewelry and, most recently, designer handbags—echoes this sentiment, explaining that the option to rent high-end pieces also democratizes the fashion space, providing more accessibility to those who might otherwise not be able to own something. "Fashion is about self-expression, and self-expression is multi-dimensional," he says over the phone. "The vision here is a world where luxury isn't seen as something you aspire to own, but an experience to enjoy." When you think about it that way, there's no reason not to test-run a rentable piece of fashion, right? Not to mention, it sets up the perfect scenario for special occasions like birthdays, weddings, and bachelorette parties.
Aside from brand names, what sets luxury fashion rental services apart is a unique selection of items to borrow. "I wanted to curate something that felt more interesting to a younger audience," Mao shares when discussing how she started her brand, noting that she saw a lack of extremely rare pieces available in the clothing rental market. "In a lot of ways, the accessibility part is still pretty limited to editorials, stylists, and specific clients…sometimes, we get special requests for birthday parties or special anniversaries that are pretty interesting. This is definitely something we want to begin to accommodate starting in 2023."
For moments when you're hoping to rent more than just a handbag, fine jewelry, or more specific items, the other option is to rent a full ensemble. This is how Janet Mandell, the founder of her namesake high fashion rental brand, shaped her business. "A missing component in the clothing rental market is a full, head-to-toe look available entirely within one showroom," she shares. "As busy working and stay-at-home females, time is valuable. I want to create less stress for our clients."
While brands like Mandell's as well as Vivrelle have showrooms for clients to see products in person, there's no doubt technology has moved the needle for fashion rentals. Mao hypothesizes that platforms will continue to evolve to meet and serve the demand, with a rise in "apps, websites, Web3, and social media outlets" catering to the market. "Renting doesn't even have to be physical one day, but digital. There are so many ways we envision luxury fashion rentals to exist, and it's pretty exciting to see so many people take care of our items as they continue to experience and pay with them."
How we experience fashion is changing, and luxury clothing rental services are becoming a key player in this new era. Mandell believes that the concept of borrowing will become even more prevalent in the next five years, suggesting that major online retailers will also incorporate rentals into their business models. And when you have a growing inventory to choose from (without the long-term commitment), your wardrobe possibilities are—quite literally—endless. Prepare to fall down the sartorial rabbit hole.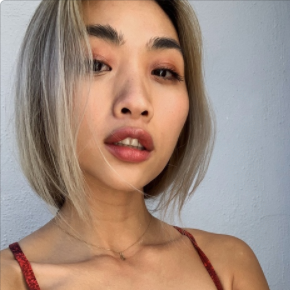 Dale Arden Chong is the Senior Fashion Commerce Editor at ELLE.com. Previously, she was an editor at MensHealth.com and has written for Who What Wear, GLAMOUR, The Coveteur, and more. She loves fashion, food, and art, among other things—but her greatest love is K-pop idol V of BTS.
About Post Author