Among the endless innovations which may be attributed to The Beatles is the marriage of pop music with video. While earlier rock-'n'-roll acts like Elvis Presley and Cliff Richard had made (largely forgettable) movies at the behest of their management, The Fab Four embraced film as a means of artistic expression in its own right.
Most influential were their appearances on the small screen in short musical promotion films which laid the groundwork for the modern music video. But more ambitious was their self-produced 1967 TV movie Magical Mystery Tour. Savaged by critics at the time, it is often regarded as one of the band's few misfires – an indulgent and incomprehensible spasm of drug-induced absurdity.
While contemporary audiences may have been confused by the film's amateurish production and lack of a conventional narrative, the film has become more accessible over time. Running just under an hour and anchored by a series of extravagant musical sequences, Magical Mystery Tour is essentially the blueprint for the modern visual album popularised by the likes of Beyoncé and Janelle Monáe.
Influences of '60s counterculture and cinéma vérité, once condemned as inexplicable, now seem ahead of their time. As a work of multimedia pop art, Magical Mystery Tour challenged the preconceptions of an entertainment establishment which The Beatles had already outrun, and their vision was later vindicated by the emergence of MTV and the lavish music videos which have become so ubiquitous.
Arriving just months after the release of their seminal concept album 'Sgt Pepper's Lonely Hearts Club Band' and the subsequent death of their manager Brian Epstein, Magical Mystery Tour was the first project over which the band exerted full creative control, serving as their own producers, writers and directors (although Ringo Starr receives sole credit as director of photography). Filming commenced without a script – all the band had were six songs, a brightly-painted coach, and a cast of distinctive supporting actors. As Paul McCartney put it, "We made it up as we went along."
To begin shooting with so little preparation was not simply an exercise in folly, but rather grew from a sincere desire to make an unfiltered artistic statement, free from the shackles of convention. McCartney summarised, "We were fed up of everything taking so long and being such a fuss," while George Harrison was grateful the film provided a joint focus following Epstein's death, stating, "It got us out and got us together."
The film's songs, naturally the highlight of any Beatles project, are rendered in a number of fantastically conceived musical chapters, which stand up superbly as self-contained music videos. Building on The Beatles' earlier promo films for singles including 'Paperback Writer' and 'Strawberry Fields Forever', these short segments illustrate their psychedelic melodies to transcendent effect.
The trippy instrumental track 'Flying' is accompanied by hypnotic aerial photography, originally shot for Stanley Kubrick's Dr Strangelove, while other tunes play over abstract montages and preposterous mimed performances – all shot and edited with an eye on the avant-garde.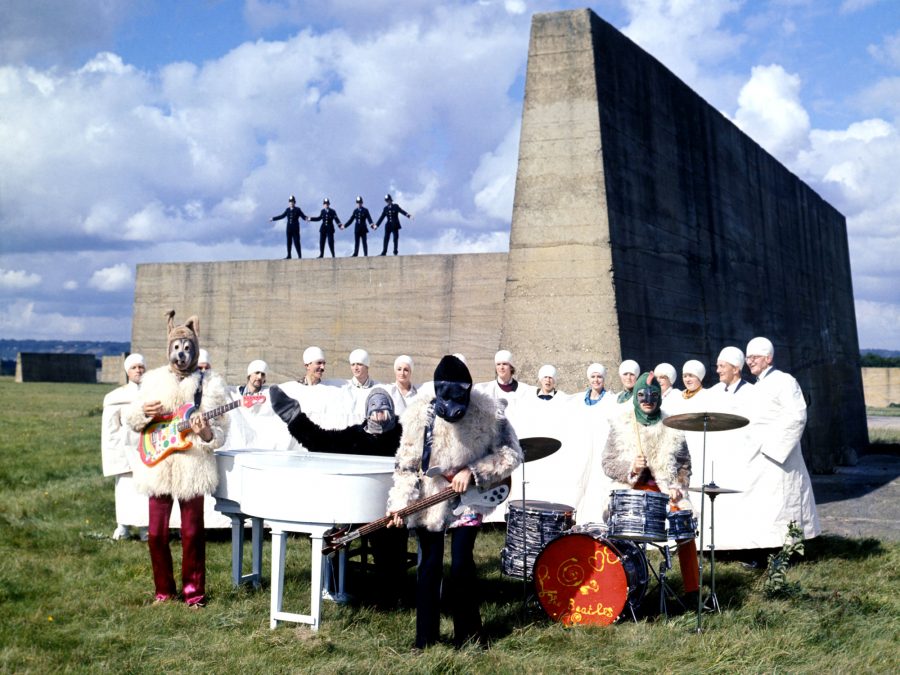 According to Steven Cockroft and Jason Carty, hosts of Beatles podcast Nothing Is Real, these musical sequences set a benchmark which generations of pop stars would follow. "The promotional films contained within the film do not make any attempt to depict the band playing live – Paul walks around some mountains, George plays a keyboard chalked on the road and 'I Am The Walrus' delivers an absurdist take on a concert setting," Cockroft tells LWLies. "They are redefining what a promotional film is."
The largely improvised non-musical sections of the film are rougher around the edges, but not without their charm. The vein of surrealist comedy which runs throughout takes influence from The Goon Show and clearly predicts Monty Python's Flying Circus, particularly the caricatures of authority figures like army officers and vicars. A grotesque dream sequence features John Lennon literally shovelling food onto the plate of a gluttonous woman, from which a straight line may be drawn to the Mr Creosote scene in Monty Python's 1983 film The Meaning of Life.
These comedic vignettes serve as whimsical connecting tissue between the songs, but are also a quietly provocative treatise on The Beatles' worldview. As Cockroft argues, "The film satirises religion, consumerism, the army, censorship and attitudes to sex, and perhaps most subversively its own audience."
The 15 million people who eventually watched the film during BBC One's Boxing Day transmission, however, were not impressed by these postmodern flourishes. The black-and-white broadcast effectively neutered the colourful visuals, and audiences were further thrown by the plotless, meandering narrative. The headline of the Daily Mirror ran 'Beatles Mystery Tour Baffles Viewers,' while the US transmission was swiftly cancelled.
Such was the intensity of the critical mauling that McCartney was hauled onto ITV's Frost Programme the following evening to answer for the apparent disaster. Most tellingly, his defence stressed that the film should be approached more like an album of music than a traditional narrative film. "If you watch it a second time it does grow on you. And this is one thing we forgot, because when you make a record a lot of people listen and say, 'Well, I don't like that one.' But the second time round they say, 'Not bad'."
McCartney has continued to stand by the project over subsequent decades. In a 1984 interview defending another cinematic flop, Give My Regards to Broad Street, he argued, "If you remember back to Magical Mystery Tour, that got even worse reviews than this had, and if you watch that film now, I think it's damn good to see John Lennon up there singing 'I Am The Walrus'."
And therein lies the crux of Magical Mystery Tour's enduring influence. It lacks the thoroughly scripted and lavishly budgeted structure of The Beatles' earlier feature films, but it triumphs as a cinematic companion to their music, visualising the brilliant psychedelia of their aural innovation as had never been attempted before. As Carty explains, "music videos as we would come to know them were not the norm, pop music and abstract visuals was not the norm and long form video projects/video albums didn't have a frame of reference yet with the general public."
Indeed, McCartney later conceded, "It was certainly shown at the wrong time to the wrong audience." Even so, The Beatles' pioneering multimedia approach would eventually become standard across the music industry.
Representing the last gasp of 1967's so-called Summer of Love, Magical Mystery Tour remains an intoxicating slice of countercultural excess, serving up The Beatles at their most experimental – even if these arthouse stylings proved too rich for families gathered around monochrome television sets. "It wasn't the worst programme over Christmas," McCartney reflected. "I mean, you couldn't call the Queen's Speech a gas either, could you?"
Published 21 Nov 2021