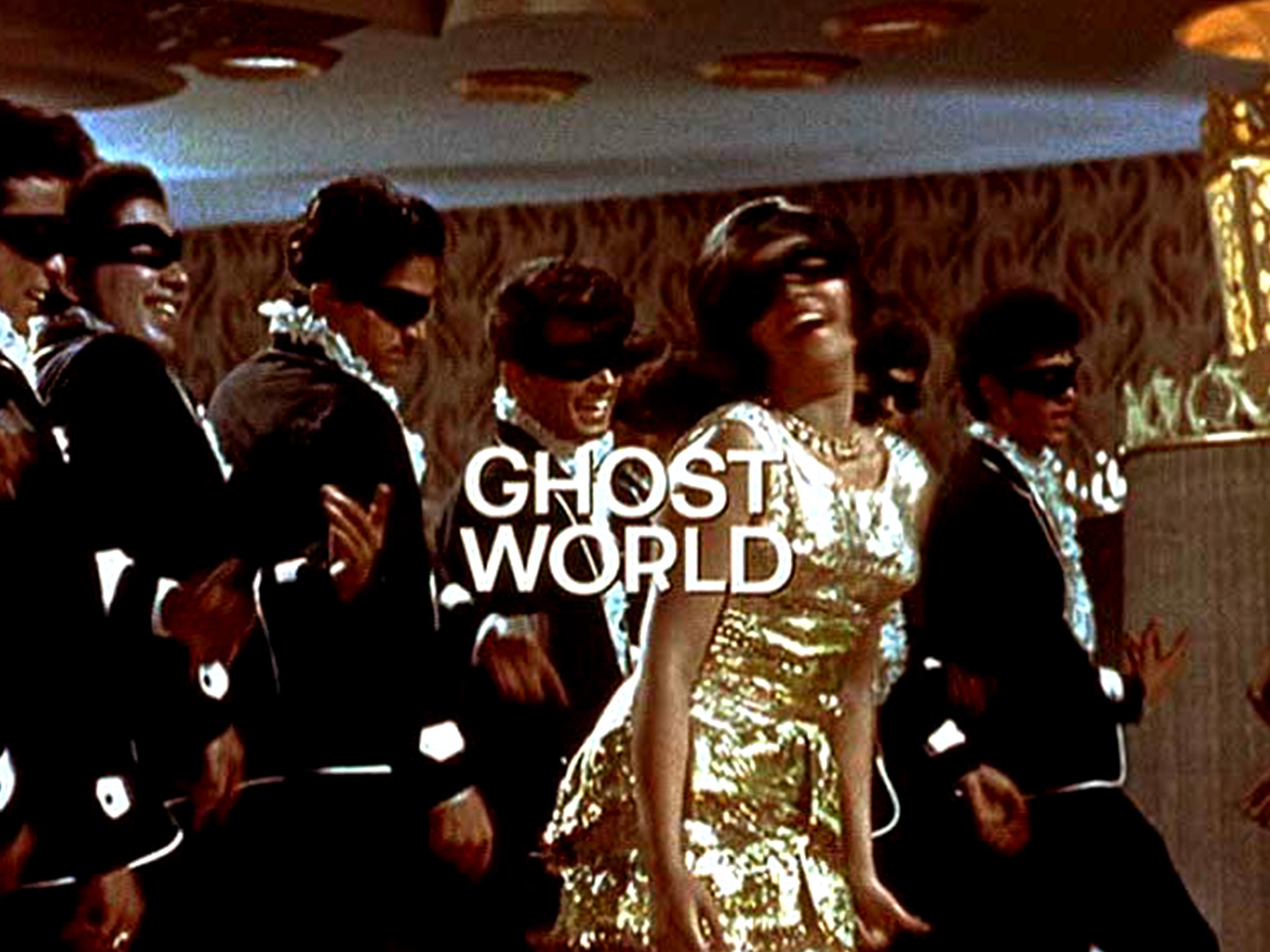 You know that feeling when you graduate high school and spend the summer hating everything and everyone except for fortysomething Steve Buscemi? Or when you get upset because an uppity classmate plops a tampon in a teacup and calls it art? Do you dye your hair in crisis or protest? Twenty years on, Terry Zwigoff's Ghost World is still asking these questions.
A mélange of post-grad existentialism and ersatz 1950s aesthetics, Ghost World follows Enid (Thora Birch), a disaffected teen living in an unnamed suburb, as she contends with her waning friendship with Rebecca (Scarlett Johansson) and budding attraction to Seymour (Steve Buscemi), a feeble middle-aged record collector. The film may be readily associated with bottle-green hair, passive-aggressive art classes and the general malaise of the early 2000s, but its offbeat energy is most effectively characterised by its first needle drop.
In the opening credits, Zwigoff intercuts a highly-stylised scene from the 1965 Bollywood thriller Gumnaam with a row of nondescript suburban homes and their inhabitants. The clips from Gumnaam see a host of masked dancers gyrating to Mohammed Rafi's 'Jaan Pehechaan Ho' (roughly meaning "let's know each other"), a brassy Hindi surf track with enough verve to jumpstart a car. The suburbanites, by stark contrast, are a lethargic bunch: some smoking, some reclining, all vaguely glancing at walls and windows while televisions paint light onto their faces.
The camera finally finds Enid prancing around her room in a cap and gown while the Gumnaam sequence continues on her TV set. She matches her movements to the dancers with no sense of irony, bobbing her head and shaking her wrists to the beat. Unlike the pallid blue-grey rooms we've just seen, Enid's private space is an oasis: punky, kitschy, adorned with doll heads and a Pufnstuf poster.
There's a disorienting appeal to blending prototypically American images with the distinct sounds of Bollywood. It serves to subvert the viewer's expectations while grabbing their attention, simultaneously reconfiguring the songs for new audiences. (The opening credits of Spike Lee's Inside Man, which borrow the song 'Chaiyya Chaiyya' from Hindi drama Dil Se, are a testament to this.) This apposition didn't appear to be Zwigoff's intended effect, however, as he picked the scene on a whim.
"I saw a short clip of it on a VHS tape and I really loved it and decided I needed to use it in Ghost World somehow," Zwigoff told Dazed. "Wasn't too logical an idea, but I knew I had to do it." It was Daniel Clowes, the cartoonist who created the original 'Ghost World' comic in 1995, who owned the tape, unaware of its filmic origins. Through John Malkovich (a co-producer on the film), Clowes and Zwigoff were able to trace the dance number to Gumnaam and even invited the producer's children to watch them film the opening sequence. As Clowes recalled to Salon, "They were so excited to have it resurrected and they couldn't believe how much we loved it. But we kept saying, 'This is the greatest thing ever filmed, you don't understand!'"
Lovely and lively as they may be, these sequences can also be tricky. The trouble with repurposing older "foreign" media for contemporary Western audiences is that the original work can become occidentalised. I'd venture to say that most fans of Ghost World haven't sought out Gumnaam and are comfortable letting it live as a mere extension of Zwigoff's oeuvre. As a consequence, many may not know that Mohammed Rafi was one of India's most distinguished and iconic playback singers, and that 'Jaan Pehechaan Ho' is one of thousands of songs he recorded. Conversely, had Zwigoff not borrowed the song and scene for his film, it likely would have never reached Western audiences, cementing its cult following abroad.
Some have also exhausted Enid's alternagirl sensibilities to the point where 'Jaan Pehechaan Ho' and her characteristic love for Indian rock and roll ("Do you have any old Indian records?" she asks Seymour when they first meet) seem to function as a means of exoticism, wherein Enid's consumption of foreign media makes her more interesting to behold. Yet this presupposes a kind of cultural engagement that Ghost World slyly rejects. The film's aim, both stylistically and narratively, is to disengage from popular American culture, to carve out a space for the quietly bizarre.
In his essay 'Cosmopolitanism, Remediation, and the Ghost World of Bollywood', David Novak, an ethnomusicology professor at UC Santa Barbara, excavates Ghost World's opening credits to understand the process of remediation that occurs through the film's soundtrack. He finds that while the title sequence may appear to evoke Orientalist fantasy, the song "does not authorise Enid's escape into the promise of anOther culture. Rather, it is part of her alienation from the very idea of culture."
Zwigoff doesn't appropriate 'Jaan Pehechaan Ho' so much as use the song to further detach Ghost World from its American backdrop: the nunchuck-wielding redneck at the corner store; the onslaught of college-bound grads eager to be exploited; the ugly, sleepy row of suburban houses. The typical delineation between East versus West, or America versus Other, is absent. In its place is an angsty teenager revelling in nothing and everything all at once, thrashing about to a song she doesn't understand.
Published 16 Jun 2021
About Post Author