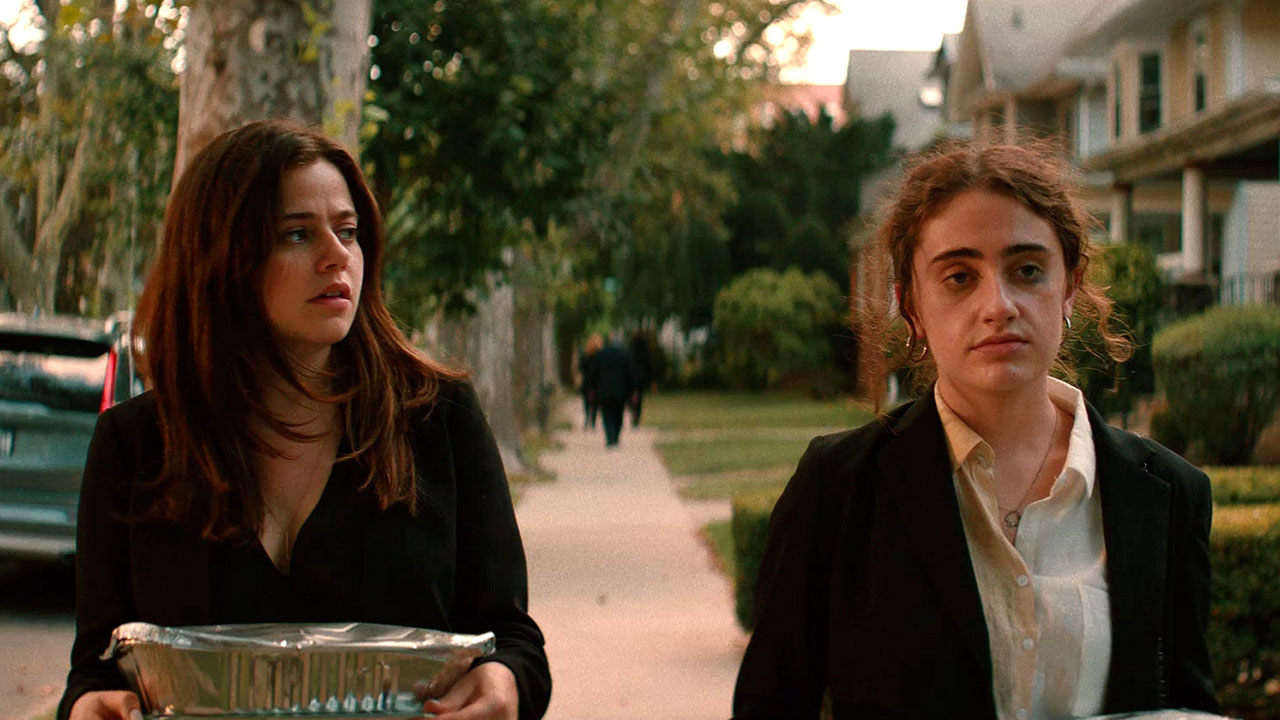 The journey of bi characters in film and TV has gone from mockery to fear-mongering all the way back to disdain. This works differently for male bi characters, who are often openly laughed at (remember Carrie Bradshaw being disgusted at her bi boyfriend?) and generally considered to be secretly gay (even on Will & Grace, Will dismissed pansexuality as "Isn't that just a rest stop on the highway to homo?"). Bi women, on the other hand, are coded as hypersexual and slutty, with their bisexuality signifying that they're for "up for anything".
This reductive, over-sexualised representation of bisexuality has evolved, however, and the trope of the Messy Bisexual is now thriving in comedy. With characters like Detective Rosa Diaz in Brooklyn Nine-Nine, Nomi in Grown-ish, Darryl in Crazy Ex-Girlfriend, Ilana in Broad City, and Petra and Adam in Jane the Virgin, there has been a bi boom on TV in recent years. But how did we get here, and why is there still a bi absence on the big screen?
In film, stereotypes rooted in bisexual characters' untamed sexual appetite evolved into the Murderous Bisexual trope, mostly notably embodied by Catherine Tramell in the erotic thriller Basic Instinct. Tramell is a prime example of how bi women have been portrayed, collapsing the femme fatale archetype with the over-the-top horniness and untrustworthiness associated with bisexuals. The Murderous Bisexual is selfish, scheming and sexually promiscuous. They are often the villain, their sexual fluidity equivalent to their moral flakiness.
In Basic Instinct, Tramell's bisexuality is presented as catnip for the male characters, an extension and demonstration of how insatiable she is – for sex, power and violence. The Murderous Bisexual pathologises sexuality, equating it to a hunger that can never be fully satisfied. Therefore, bi characters can never be trusted, and can only ever be a hypersexed version of the charming sociopath. All sexy surfaces, and no interiority.
Conversely, shows like Broad City, Grown-ish, The Bisexual, Brooklyn Nine-Nine and even Jane the Virgin don't use bisexuality as a plot point but rather incorporate it as a key character trait. Their sexuality doesn't define their morals, their values or their narrative arcs. They're allowed to be funny and fun to watch, lovable and messy, with rich interior lives and narrative arcs that go beyond their sexuality.
The connective tissue between the Murderous Bisexual and the Messy Bisexual is Killing Eve's Villanelle, who is savage, chic, extremely good at her job (granted, that job is killing people) and has zero vacillation about her sexuality. She is also messy, funny and more childlike than sexy. Villanelle has a rich, complex relationship with Eve, the emotional nuance of which distances her from the Murderous Bisexual trope.
"Danielle is a Messy Bisexual, yes, but crucially her sexuality does not define her messiness."
Meanwhile, Broad City's Ilana is an oversexed bisexual tornado but is still devoted to her friendship with Abbi; Brooklyn Nine-Nine's Rosa Diaz, who comes out as bisexual in the fifth season, has a lot more to her as a character than just her sexuality – her story doesn't hinge on her coming out. In these shows, the Messy Bisexual doesn't performing their sexuality for the sake of titillating another character or the audience. With the rise of the Messy Bisexual, bisexuality has evolved from a wink-wink-nudge-nudge plot point to a core – but not defining – aspect of a character's identity.
Yet film has been curiously slow to catch up. With the notable exception of bisexual filmmaker, actor and bisexual icon Desirée Akhavan, who has single-handedly raised awareness of bisexuality on screen with her films Appropriate Behaviour and The Miseducation of Cameron Post, and appropriately-titled series The Bisexual, there have been very few films which have embraced bisexual characters.
Enter the Shiva Baby. While historically the sexual fluidity of bisexual characters has been presented as something to fear and distrust, Emma Seligman's feature-length directorial debut creates a Messy Bisexual for the ages. Sitting somewhere between a coming-of-age comedy and a horror of young adult anxiety, Shiva Baby ushers in a new era for bi characters.
Rachel Sennott's Danielle is a chaotic mess. She's unfocused and anxious. Her bisexuality is the only thing that's not unclear to her. Even as everyone around her – especially her family – tries to pass off her sexuality as an "experimental phase" and actively keeps her away from her ex Maya, Danielle is steadfast in who she is. "You think that everyone who's bi is experimenting!", she snaps at her mother in one scene.
Danielle is a Messy Bisexual, yes, but crucially her sexuality does not define her messiness. She's not unfeeling. She's not treacherous. She doesn't lack interiority. Her emotional anxiety is a welcome respite from how bisexual women have been presented on screen. With Shiva Baby already firmly anointed in the bi canon, the film's centring of Danielle's chaotic inner life proves that comedy is providing the Messy Bisexual space to thrive.
Published 11 Jun 2021