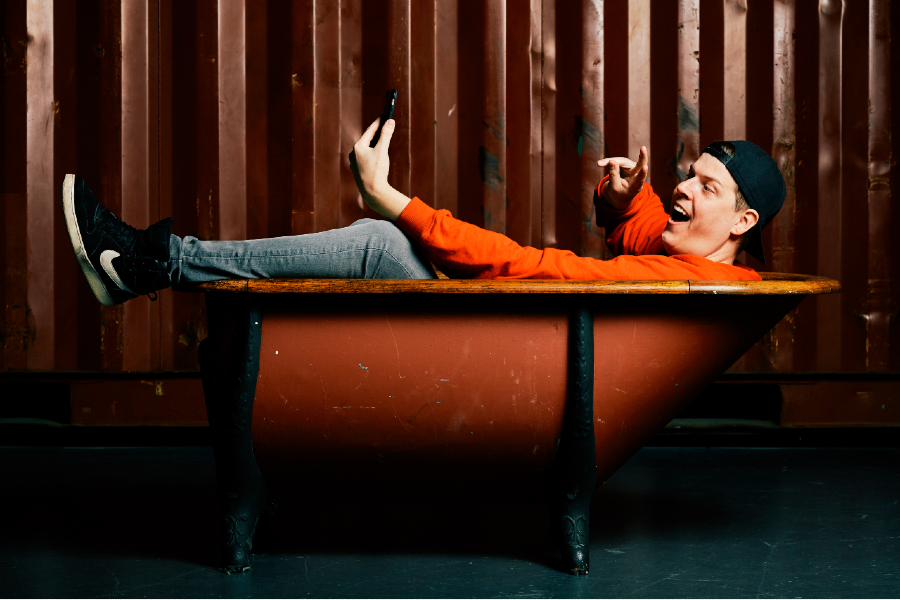 A few days ago, DJ and producer Teddy Beats released his brand-new single, "Alive," featuring Britt Lari, via the Smash Deep label.
Talking about "Alive," Teddy shares, "Britt Lari and I wanted to shake things up and show off our wild side by coming alive on this fierce, summery, slap house-inspired track while bringing in my signature chill dance sound. Keep your ear out for the lion roar before the drop, it's our favorite part!"
Teddy Beats first made big waves in the dance music ocean with the release of "Ain't Stoppin'," via The Bearded Man/Armada Music, followed by a string of singles, such as "Hold Me," "Lost Boy," and "Smile" with Jolee Nikoal.
With over 12 million streams on Spotify, Teddy's music inhabits prestigious playlists like Chill Tracks, Heart Beats, Electro Chill, Festa na Praia, Kygo: Palm Tree Playlist, Starbucks Coffeehouse Pop, and SiriusXM Chill. He's performed throughout the U.S., including the Moonrise and Firefly festivals.
CelebMix caught up with Teddy Beats to find out more about the genesis of "Alive," how he hooked up with Britt Lari, and what makes his "chill dance" sound so alluring.
What's up Teddy? Thanks for making the time and congratulations on the release. For those of our readers that don't know you, who is Teddy Beats?
What up what up! Thanks, man. Teddy Beats is just a tall-ass dude with a serious passion for Taco Bell and chill dance music (who apparently refers to himself in the third person now). When it comes to my music, I always like to say I'm too pop for EDM, too EDM for pop. When it comes to my Taco Bell, it's a Cheesy Gordita Crunch and a Baja Blast.
Your new single "Alive," featuring Britt Lari is a smash. Can you share the inspiration behind it?
Britt and I have collabed a few times before, she sang on my song "All of Me" and I did a remix for her BIMINI project called "Homebound." Both tracks were pretty chill, so we wanted to shake things up a bit and do something a little different for our third collab. We made sure to maintain the chill, poppy vibes we're known for on the verses but wanted to get a bit more fierce and come alive on the drop (See what I did there?).
Your style and Britt's voice mesh together pretty seamlessly. How did you decide to go with her as the vocalist?
Having worked with Britt a few times before, I've really gotten to know her voice and I feel like each beat tells me which vocalist should be on the track (just call me the beat whisperer) and this one was begging for Britt. Her voice always sounds great over poppy guitars and chill dance beats.
You've put out a lot of music this year already. How do you know when a song is ready to go?
A wise man once told me, "a song is never finished, it's only surrendered" and I couldn't agree more. If it were up to me, I would spend years working on one song (thank goodness for deadlines, right?) but the truth is, not every song needs 30 instruments and drum tracks or several years of work. A lot of the time, less is more and I think a song will tell you when it's done (and sometimes your A&R will).
Throwing it back real quick — How did you get started in music? We saw you've worked with Chucky Thompson?
I have! Remember the quote from the wise man in the last question? That was Chucky! I started my musical journey making hip-hop beats and eventually signed a production deal with him and his label at the time. Chucky is a super talented dude, I learned so much from that experience and his mentorship (Thanks Chuck!). We still keep in touch too. I've been trying to get him on a dance track for a while now but the timing hasn't worked out. I think that would be super cool though!
You call your unique sound "chill dance." How are you evolving the sound and where do you see it going?
Chill dance has a little something for everyone. I use elements of dance music in my melodies, elements of hip-hop in my drums, pop in my vocals and arrangements, and even elements of folk/singer-songwriter in my guitar riffs. See? It literally has something for everyone (sorry opera fans). It's chilled-out dance music that you can listen to on Top 40 radio or at a festival. I can definitely see chill dance being a staple in drop-down menus on all music sites.
How do you keep your sound and ideas fresh? Has to be hard to stay innovative.
I listen to a lot of different music from all eras and genres which I think really helps fuel my creativity. I'm always analyzing the songs, taking mental notes, and listening for things in them that could work in my own music (honestly, it's exhausting sometimes lol). Ironically enough, I think incorporating elements from past eras and music fads into my songs and adding a modern twist on them is one of the things that makes my music sound new and fresh.
On top of being a pretty talented guy, we hear that you are very involved with philanthropy efforts. Care to share any notable ones with us?
I have a family member on the spectrum so Autism is really close to my heart. My team and I are currently working on a virtual autism benefit concert sponsored by OAR (Organization for Autism Research) that will feature DJ sets from myself and other artists with a connection to autism such as Tep No and Paige. The show will be sensory-friendly (no lights or graphics) with all tickets available by donation and all proceeds going to OAR. I think it's really cool I get to use my music for a good cause but I think it's even cooler that I get to do a show where everyone can enjoy it and no one is excluded.
If you could change anything about the music industry, what would it be?
A little less ego never hurt anyone or anything, right?
When all is said and done, what is your biggest goal as an artist? What would you consider to be the biggest sign that you've "made it"?
I've always said I'll know I've made it when Weird Al does a parody of one of my songs buuut I haven't heard much new music from him lately so I might have to rethink the sign….
Follow Teddy Beats Instagram | Facebook | YouTube | Spotify