The wildly imaginative and highly resourceful filmmaker behind Uganda's ultra low budget studio Wakaliwood describes his own cinematic education, travelling to China to shoot Shaolin monks, and the next generation of African filmmakers.
"Home of Da Best of Da Best Movies", full of "supa action", the films emerging from Wakaliwood – the action movies made by Ramon Film Productions out of Wakaliga, the slums in Uganda's capital Kampala, are thrilling, inventive DIY filmmaking. The studio, now internationally famous, was founded by Isaac Nabwana (aka Nabwana I.G.G.) director of Who Killed Captain Alex?, Bad Black, plus many others. Made on a shoestring budget, these rigorously choreographed films feature props all made in-house.
More than that, they also come with their own unique style: like the "video joker" who cracks wise over each scene. The new documentary Once Upon a Time in Uganda chronicles the proliferation of this studio, as well as Isaac's journey from experiencing films by proxy (he would have them described to him), to having his own work screened at a film festival. Ahead of the film's release, we spoke to Nabwana himself about learning kung fu from magazines, Chuck Norris posters, making films abroad, and Wakaliwood's future.
This interview has been edited and condensed for clarity.
You've gained a lot of international attention since you first made Who Killed Captain Alex. Has that changed much about how you make your films?
Yes. Somehow yes, because I believe that it has not changed my touch of making the movies. I normally make a trailer, I put it out and then people ask me if the movie's out and then I start a discussion. Now I tweet and start a discussion there. But that also reminds me of how now I'm using people visiting from different parts of the world in my movies. Plus if you look at Bad Black, Alan [Hofmanis, an American film festival director who is now Wakaliwood's Head of International PR and Sales] acted in that movie… he looked like a British guy, but people were calling him Van Damme. But for me, he was also helpful in the sense that Ugandans did not believe that we can make movies. Most of the movies they were seeing were from Hollywood, so there would be white guys all over it. So now when we got Alan, for me, I used him to say something like, "Yes, this is my Hollywood here, now."
You got your muzungu [Writer's Note: muzungu basically means 'foreigner' or 'white person' in most Bantu languages].
Yes.
In the documentary you spoke about the popularity of your "beat up the muzungu" films.
People like that. They want muzungu to be beaten seriously. If you watch this movie Eaten Alive, because the muzungu [Writer's Note: it's Alan] is going to be eaten. He's going to be eaten alive. So I think people will like that part. When he's first beaten, first punched and then runs all over the village and they're eating him.
There was a fun behind-the-scenes segment about Alan being eaten in your zombie movie Eaten Alive in Uganda. How is that film coming along? Seems you've been working on it for some time.
I'm editing it. The truth is I lost the movie I think in 2019, '18, around there. Someone came here and stole my hard drives, seven of them. So I lost almost everything. Normally when I shoot, I try to put on different hard drives. Now I have like 80% of the movie. I'm trying to finish it very soon. I tell you, I'm editing it every day. I've stopped almost everything because I've realised that I have almost 80% of the movie.
In the documentary, you said that where you live, cinemas are for the rich. What was the alternative?
Yeah, what I mean by "cinemas", there are these big professional cinemas, like the cinemas in the West. Those are the ones for the rich. But we have smaller local cinemas in Uganda, and they started around '86, '83. They started as bars or drama stages, and then these guys would add a deck and a loudspeaker. Sometimes others have got a projector. Those are the cinema halls. They would put a film poster outside, and in the '80s most of them were drawn. I liked the posters with Bruce Lee on them, holding a chain. And I liked the Chuck Norris ones: more of a cowboy, but holding a big gun. You could see from the poster that action is coming. But I never watched cinema the proper way, like in cinema halls. Our parents believed that if you go and watch movies, you'll get addicted to movies and then you'll not want to go to school.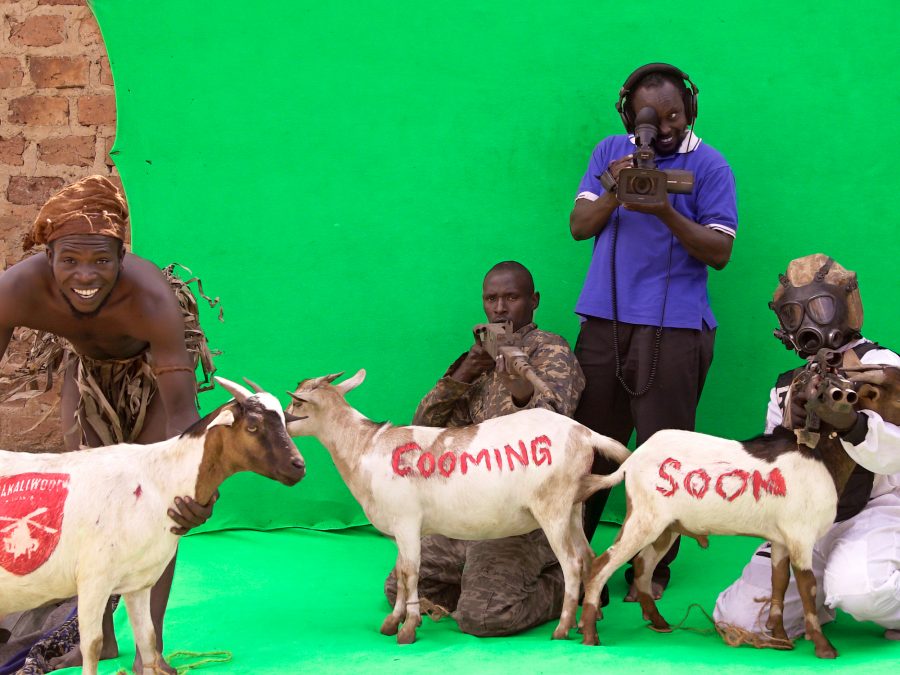 How did VJ Emmie first become part of your movies?
I was marketing movies all over the country, and then I realised that there were young people, who don't have DVDs at home, who hung out in the local cinema hall in the evening to watch movies. So when I put my movies there, they didn't like them because they did not have a VJ. So I had to find a VJ. So I went to VJ Jjingo, who was my favourite at the time. When I reached out to him, I said, "You're not a translator, you are a video joker, I just need jokes the way you usually do it." He said no.
So I had to find four VJs, but Emmie became the best. So we approached him and he said the same thing, "How can I translate a Ugandan movie to Ugandans?" So I said, "Try it." We had a screening that evening, and Emmie was so excited to see that people are also interested in Ugandan movies to be VJed. So I think that gave him a lot of energy. Even though I made the movie, it was like new, he put in a lot of jokes, put it in another direction. I was like, "Why didn't I think about this when I was making it?"
I saw that you shot some of your new film, Bruce U, in China. I was hoping to know more about how that happened.
I was spotted on social media by Chinese people looking for places where kung fu is most loved. So they were under a company called StarTimes, a television company which is supplying dishes or something like that in Africa, I think. So they were making a documentary, I think, which was supposed to be screened in China with the aid of sub-states from Africa. So I was part of that documentary, and they brought me to China.
They took me to a Shaolin temple, where I met the real abbot. I had to ask the others to ask him if he can be part of my movie. When they talked to him, he said, "Yes, I want to be, what can I do?" Then I started directing him as they were translating. I told him that, "I want you to meet this team, who learned kung fu from these Chinese martial arts magazines, then you demonstrate for them, and they'll demonstrate for you. After that you hand them to another master who is going to teach them in the Shaolin temple." He was speaking, and then they translated to me. After that, we stayed there for a number of days and we met the other monks in the Shaolin temple. We exchanged ideas, we ate dinner with them.
It was like a dream come true. Because we used to teach ourselves kung fu, and now we're seeing Shaolin monks, talking to them, even directing them.
Looking to the future – have the Wakastarz [a group of young Ugandans who perform and write scripts] started becoming directors in their own right as well?
Yeah, in my new movie I'm making, The Clan Leader, the main character is Isaac Newton Kizito, a kid who was in Crazy World. I also made Million Dollar Kid with him, and my aim was attracting a new generation. That's why The Clan Leader is a superhero movie cause I see them, they're loving those. So that's why I cast him as a superhero now, at 15. He's in the movies acting, but he can also direct a little. He always makes suggestions, because we are family here. Yes, I would say I'm the chief director, but they're also directing because he can tell you that, "What if I do something like this?" So that is already directing.
And he's also behind the making of the graphics on the computer, during COVID he taught himself with YouTube tutorials. The future is basically the Wakastarz. I feel like if I could get a piece of land somewhere and then I put a school, I want to teach. I want to be a very good teacher and a big studio for action movies in Africa.
Having a platform for action movies in Africa feels important – like Alan said in the film, they're not something that African filmmakers are expected to make.
So many people have been calling me and asking "Why do you make action movies? Why don't you make a movie on cholera, on malaria? What exactly do I learn from your movies?" I'm not the minister of education, I'm under entertainment. It's not what people want from Africa. They want us to talk about poverty. But we should also tell our own stories in the way we want. I mean, action is not from any one place in this world. Talent is everywhere. It can be here. We are also entertainers. I stress that we should tell our own stories, because many of our stories have been poorly told.
Once Upon a Time in Uganda is playing in UK cinemas from Friday 8 September.
Published 5 Sep 2023
About Post Author