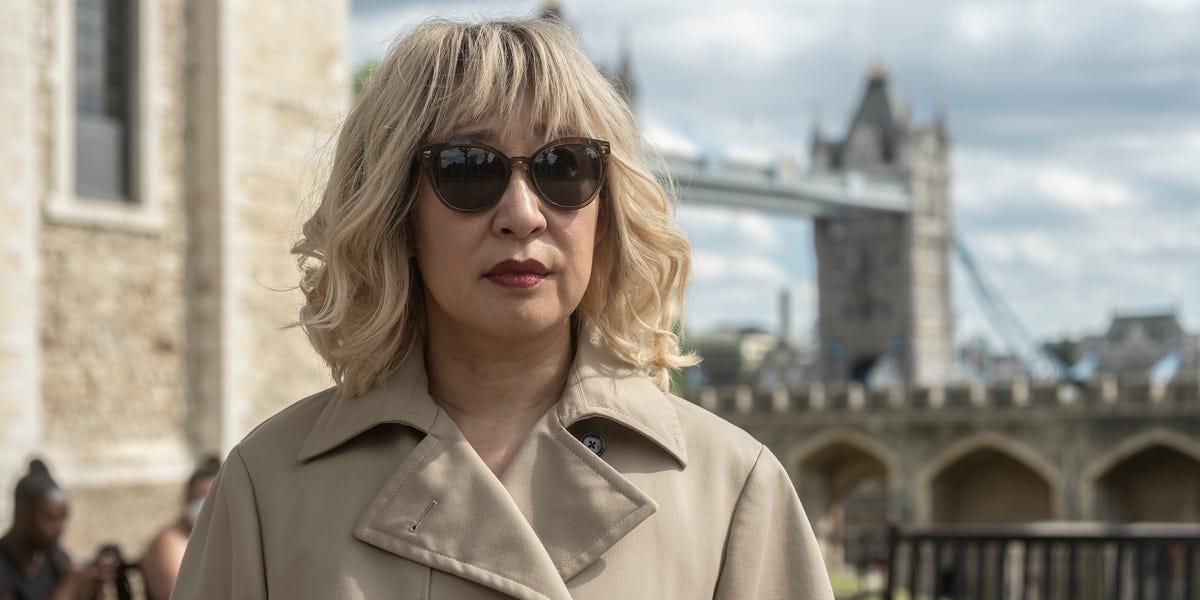 The murderous dynamic between Villanelle (Jodie Comer) and Eve (Sandra Oh) is getting another season. BBC America renewed Killing Eve for a fourth season ahead of the show's season 3 premiere in the spring of 2020. The award-winning thriller was created by Fleabag's Phoebe Waller-Bridge.
News of the return isn't nearly as shocking as some of the twists in the series. Comer previously won an Emmy and BAFTA for her performance, while Oh picked up a Golden Globe. In 2020, the show was nominated for eight Emmy Awards, including Outstanding Drama Series. Deadline also reported that the show's second season was the BBC's most-streamed show of 2019, beating out new seasons of established shows like Peaky Blinders and Fleabag. Below, everything we know about Killing Eve season 4.
When will it be released?
Killing Eve season 4 premieres with two episodes on Sunday, Feb. 27, 2022 at 8 p.m. ET/PT on BBC America. It'll also air on AMC on Mondays, starting on Feb. 28 at 9 p.m. ET/PT. But AMC+ subscribers will be able to stream the season a week early, starting Feb. 20.
This content is imported from YouTube. You may be able to find the same content in another format, or you may be able to find more information, at their web site.
With all three seasons of the show released in April of the respective years, it seemed likely that season 4 would come out in April 2021. However, production hit a snag back in July 2020 when Deadline reported that filming (meant to begin in August) had been postponed indefinitely. "Killing Eve shoots across multiple European locations. Due to the uncertainty of the world as a result of Covid-19, no shooting schedules for Killing Eve season four have been locked in at this point and there are various scenarios in play," a spokesperson for the show confirmed.
In October 2021, though, the show's official Twitter account confirmed season 4 was "in production now."
This content is imported from Twitter. You may be able to find the same content in another format, or you may be able to find more information, at their web site.
What do we know about the show's renewal?
Both Sarah Barnett, AMC Networks Entertainment Group and AMC Studios president, and executive producer Sally Woodward Gentle gave glowing statements about the show's return:
"How could we not have massive confidence in Killing Eve? It has won big in every major award show and is the highest growing show on U.S. television for six years. The reason for this series' emphatic embrace is the brilliant women who breathed it into being: Phoebe Waller-Bridge, Emerald Fennell, Sandra Oh, Jodie Comer, Fiona Shaw and it's fairy godmother, executive producer Sally Woodward Gentle. Season 3 lead writer Suzanne Heathcote takes Eve, Villanelle, and Carolyn to places more thrilling, twisted and surprising than ever. Our addicted fans will not be disappointed." —Barnett
"I am beyond thrilled that we can continue our extraordinary journey. It is testament to everyone involved that we have been picked up so early—the magnificent actors, writers, directors and production team. We are extremely lucky to work with such fierce and dedicated people." —Woodward Gentle
Who's involved?
Oh and Comer will be returning to their award-winning roles in the fourth season.
Barring any other fatal "accidents," characters including M16 agent Carolyn Martens (Fiona Shaw) and Eve's sidekick Kenny (Sean Delaney) will come back.
While Suzanne Heathcote spearheaded Killing Eve season 3, Laura Neal will take over for season 4 as the lead writer. This follows a precedent established by Waller-Bridge, who led the first season before naming Emerald Fennell season 2 head writer.
"After the most incredible year on Killing Eve, I'm so excited the next season is going to be led by such a brilliant talent," Suzanne Heathcote said in a statement. "I cannot wait to see what amazing things Laura's going to do with this world and the characters in it."
Is there a trailer yet?
Not yet, but we do have these first-look photos to go off of so far. Check out Villanelle's, um, religious wardrobe and Eve's new 'do.
What will it be about?
Season 3 ended on a quieter note than those of seasons past. Eve and Villanelle face off on a London bridge, determined to quit each other and their larger-than-life career paths for good. But just when you think the pair will turn their backs on a life of intrigue, Eve stops and gives a knowing look to Villanelle, who offers a similar smile in return.
That coy interaction followed a season filled with action-packed sequences and the reveal that Paul (Steve Pemberton) was in cahoots with the Twelve after all. By the season finale, Carolyn (Shaw) had been involved in the deaths of Paul, Kenny (Delaney), and Villanelle's handler Dasha (Harriet Walter).
According to AMC and BBC America's season 4 synopsis, Eve and Villanelle are now "in very different places" after their bridge encounter. "Eve is on a revenge mission, while Villanelle has found a brand-new community in an attempt to prove she's not a 'monster.' Having killed Paul, Carolyn goes to extraordinary lengths to continue to chase down The Twelve and the person that ordered Kenny's hit. This season follows our extraordinary women, each driven by passion, revenge and obsession, building towards a messy, nuanced and totally glorious series finale."
As for whether or not Eve and Villanelle will ever be able to be a couple in any normal sense, executive producer Sally Woodward Gentle told Entertainment Weekly, "There always has been, really, from season 2 onwards: What does that relationship look like?' And if they were to sit down and have another proper couples counseling, somebody might come out of that going, 'Really? You really think this is going to last?' Maybe we'll do that. I'd love to see a couples counseling between Eve and Villanelle."
As for what she can tease about the new season, Gentle said viewers should be thinking about one question: "What do you do when you have to acknowledge to yourself that there's a darkness that you can't push down anymore?" She also left EW with the sentiment that "Change is possible," perhaps hinting at some lasting change in Villanelle.
Wait, has there been controversy over season four already?
Although very few concrete details are known about the next season, the Killing Eve's team is already in hot water. The show faced controversy over the summer of 2020 when head writer Llewellyn tweeted a now-deleted screenshot of a Zoom call featuring Killing Eve's writers. "15 weeks later, it's the final day of the Killing Eve writers room," she wrote. Social media was quick to point out the all-white writers' room and question the lack of diversity. Variety reported that a scan through the show's IMDB page showed no writers of color have ever written for the show.
This content is imported from Twitter. You may be able to find the same content in another format, or you may be able to find more information, at their web site.
Llewellyn responded to the criticism during the SeriesFest virtual panel Killing Eve: Behind the Lens. "The make-up of the room should be more racially diverse than it is, and we're really aware of that and I take full responsibility for it," she admitted. "You look at that room and it's full of brilliant female writers, we've got a really strong LGBTQ contingent, but it's not good enough, and we need to do better."
The head writer went on to say that there had been "lots of soul-searching" since backlash to the photo and committed to making "concrete change" throughout the entire production. "I think this is an extraordinary moment, and we've got to make a difference. It's not good enough," she concluded.
Previously, Oh, referenced a lack of diversity while speaking to Kerry Washington for a Variety interview. She revealed, "The development of people behind the camera is very slow in the U.K. Sometimes it would be me and 75 white people."
This content is created and maintained by a third party, and imported onto this page to help users provide their email addresses. You may be able to find more information about this and similar content at piano.io