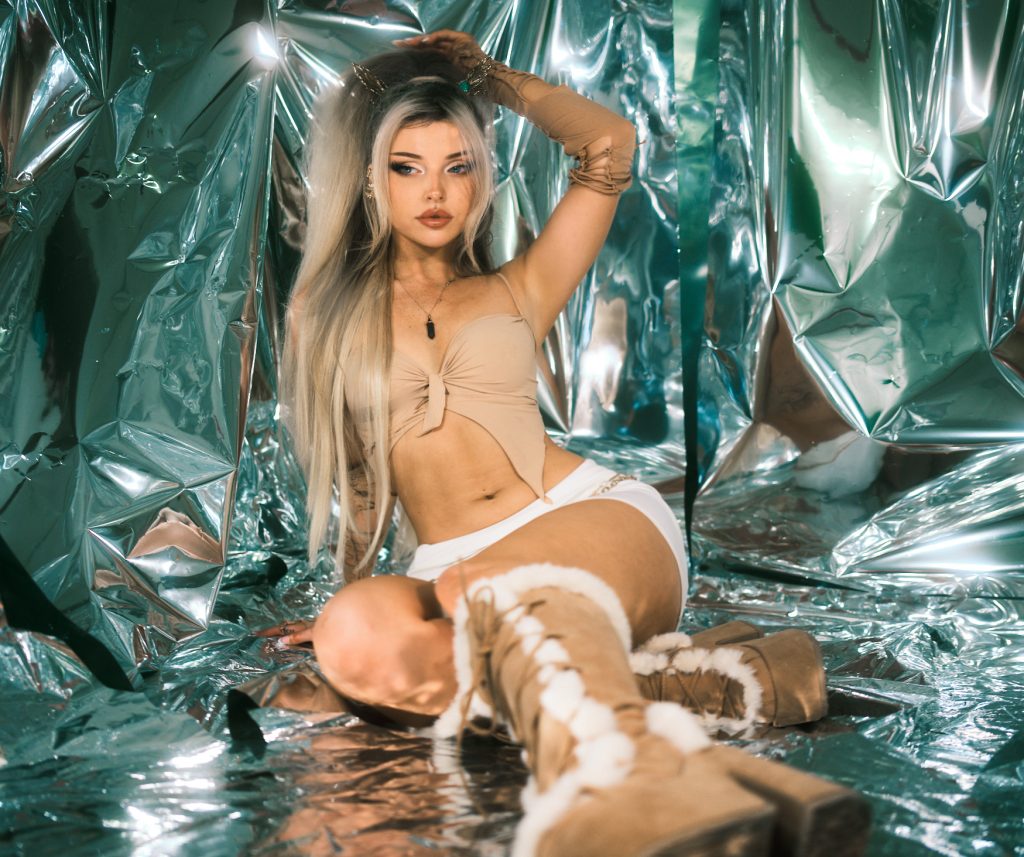 Gifting the world with her incredible debut EP is Larissa Lambert with her awesome "I Love You And It's Getting Worse". What a title, and we're obsessed, you could almost say that our love for her debut album is very real and it's getting worse – we're sure you'd feel the exact same as soon as you hear it. This marks her official debut EP and is the follow-up to the single "I Got You".
Larissa Lambert, a rising singer-songwriter hailing from Ballarat, Australia, captivates audiences with her unique blend of vulnerability, dynamic vocals, and heartfelt songwriting. With a makeshift studio in her kitchen, she has made a name for herself as an independent artist, garnering attention for her soul-stirring covers and original compositions. She got her start as part of the four-piece girl group Paris Inc., who reached fame on YouTube by dropping covers, they later went on to appear on The X Factor Australia in 2014 and 2015, both times making it to the Home Visits rounds before being eliminated, not quite managing to reach the live shows. Larissa Lambert gained widespread recognition with her viral rendition of SWV's "Weak" in 2021, amassing an impressive 89.3 million streams and climbing the Spotify Global charts. Building on her success, she recently released her debut EP, "I Love You And It's Getting Worse", which delves into the complexities of love. Collaborating with acclaimed R&B superstar Jeremih and other exciting artists, Larissa solidifies her position at the forefront of the Australian R&B scene. With her crystallized voice capable of stopping time, Larissa Lambert is poised for a promising career that transcends boundaries and leaves a lasting impact.
Enlisting the likes of renowned producers Open Till L8, Beezo Beats and Panapa, for the EP, as well as collaborating with Jeremih and Alpha P, Larissa Lambert effortlessly showcases who she is as an artist with her debut EP "I Love You And It's Getting Worse". She's easily one of the most exciting R&B artists in the world right now, and as the Y2K nostalgic era returns, R&B is set to take a huge spotlight again, and Larissa Lambert is set to be at the front of this wave.
Stream "I Love You And It's Getting Worse" by Larissa Lambert on Spotify here:
Subtly and gently kicking off this debut EP is the track, "For Me", opening with acoustic guitar chords before Larissa Lambert blows everyone away with her gorgeous silky R&B voice. It's a twisty stripped-back number that allows her to show the world what they're getting into when it comes to this EP. Her undeniable emotional vocals hit hard when paired with the acoustic backing track, fully owning herself lyrically and wanting her love interest to prove that they love her back. "I Got You" follows next bringing an even more acoustic vibe from the get-go. In doing so, her voice takes the entire spotlight, with this track easily coming straight from the heart. The backing track progresses slightly adding passion to her impassioned lyrics about the love she has for someone who is not in her life. Next up is "I Hate A Liar" – don't we all? – which delves right into Larissa Lambert's epic R&B energy, with an addicting beat and her soulful vocals, making this an honest bop that just speaks to us.
The fourth track on the EP is "Heartbreaker" which features Jeremih and continues the R&B vibes from the previous track, although sonically doubling down on them. The perfect team-up, their incredible individual vocals wrap around each other completely naturally whilst also providing us with some of the most amazing harmonies we've ever heard. The stripped-back R&B ballad is one that makes an impact on every listener with incredible lyrics that let us get to know who Larissa Lambert is and we now completely understand that the tracks before, mention her love for someone but this one reveals that they broke her heart, they shattered it – it's this track that pieces everything together. "Girl From Venus" follows next, which has the same stripped-back quality as "I Got You", with her vocals taking a more R&B essence, giving an addicted vibe like no other. Lyrically, this flips from what we heard in the previous track, suggesting that she is the heartbreaker.
Track six on the EP is titled "How You Feel", which has a deep quality to it, adding drum beats to give a slow rhythmic pace allowing Larissa Lambert to drive home every single word on this track. The track progresses deeper as her vocals get super sultry and the lyrics get spicy as she dives right into making love. Following that saucy sexy number is her collaboration with Alpha P on the track "Make Me Better". This is an upbeat R&B song with an addicting catchy chorus and unstoppable harmonies throughout as they continue to delve into sleeping together and how having fun can lead to one person falling for another. The final track on Larissa Lambert's debut EP "I Love You And It's Getting Worse" is "My All", which is a cover of the Mariah Carey track. The track allows Larissa Lambert to show off her vocals, hitting an incredible falsetto that we wish we had heard more of in the previous tracks. Soulful and beautiful, "My All" has always been an absolutely gorgeous track, and Larissa Lambert has certainly honoured it with her incredible cover version.
Stream our favourite track from the EP here:
"I Love You And It's Getting Worse", the debut EP from Larissa Lambert, is available to download and stream, right now, across all platforms, via New Levels.
Let us know what you make of "I Love You And It's Getting Worse" by Larissa Lambert on Twitter @CelebMix.
About Post Author