The filmmaker, writer and actress talks about the long journey to adapt the medieval coming-of-age dramedy Catherine, Called Birdy for the big screen.
Lena Dunham made her directorial debut in 2010 with Tiny Furniture before going on to helm one of the defining TV shows of the last decade. Five years after Girls concluded its six-season run, Dunham is back with two coming-of-age features (the other being Sharp Stick). Here, she talks about adapting Karen Cushman's children's novel she first got the rights to in 2013.
What has it been like juggling Sharp Stick and Catherine, Called Birdy simultaneously?
Lena Dunham: They're both coming-of-age stories about living in a body that's assigned female at birth, what that feels like, what that is, and how it's informed by the time you live in. My husband did the score for Sharp Stick and the soundtrack for Birdy. We thought about what we were doing with both and how they talked to each other. Because I was working on both at the same time there's a lot that they share.
Can you tell me your history with the book?
It came out when I was 10 [and] I read it that year. It was one of those cult books; if you meet a girl who's read Catherine, Called Birdy, she remembers it. Karen Cushman so beautifully shows the way history changes, but it stays the same. I also love she's not writing adventure stories. Birdy isn't a swashbuckling teen who slays a dragon. She's a normal girl experiencing the mundane domestic experience of her time. We injected some sort of plot that didn't necessarily exist in the book because the book is much more just like an accounting of this year in her life — where a lot changes, but a lot stays the same. The film needed a slightly more cinematic shape, but the bones of it, the characters, the voice, that's all Karen.
Is this the first time you've adapted something?
This was my first successful film adaptation — or that felt successful to me — and the one that was closest to my heart. It was ten years pitching it to people, having them go, 'that doesn't sound like what we're after.' The folks at Working Title are so adept at the artistry of a period piece and the artistry of a romantic comedy. Tim Bevan, my producer, was able to see how both of those things took root in the same story and didn't try to make it something that it wasn't. He also taught me a lot about what movies can be, so I feel grateful to him. It was like like going to film school.
It had so many feelings I'd forgotten I'd ever had.
That makes me so happy because the hope is that if you're a teenager watching, you're like, 'Yes! That is what I feel like every day.' If you're an adult watching, you remember that emotional desperation that comes with like those changes in hormones. The thing I love about Birdy is she's melodramatic; she's hyperbolic, and she's too intense. But at the same time, who wouldn't react that way to being married off when you are 14? I reacted that way if I got a meal I didn't like when I was 14. She's a lot, but all her emotions are justified.
I don't think I've ever seen getting your period in this much detail in a Medieval story.
You need to see the blood because that first moment you get your period and see what's come out of you, it's fucked up. You're like, 'This is crazy! This is Cronenberg body horror what I'm experiencing right now.' I needed to feel that. There were no tampons, no pads, and you couldn't go to the grocery store—the logistics of having your period, the logistics of hiding your period. We had an amazing historical consultant Helen Castor who explained to us. Bella did this improv where she first sees the underwear that she's supposed to wear, and she goes, 'Those are mine? They look like my father's.' That first moment you see a tampon, you're like, 'What? That's supposed to go inside me?' I wanted you to know it has always been thus, even if this was almost 1000 years ago.
You also looked at maternal and newborn mortality, and that story is so utterly heartbreaking.
Those are the hardest scenes to film, especially as someone who's dealt with fertility issues and challenges with my body. Billie [Piper] is an amazing actor, and she'd clearly done her research, and she's a mom of three. I would go, 'Do you need anything? She's like, 'No, I think I have this covered.' She would go from being this calm presence on set to screaming her head off.
Casting director Nina Gold has worked with Bella Ramsey before [on Game of Thrones]. Can you talk to me about casting Bella?
We had a meeting with Nina, and she said, 'I think I know who this is.' She showed us a picture of Bella, and I was entranced by her face. I knew from the minute I saw Bella that it was Bella; it could be nobody but Bella. She was the nexus of it, and we cast around her. The next two people I cast were Joe Alwyn and Andrew Scott, both of whom I obsessively wanted to work with. Joe has been a friend for a number of years, and I felt he had both the dreaminess to play Uncle George but also the real deep sense he could show that pathos, sadness and resigned pain that that character has.
Andrew, I've been a fan of for years and years — obviously his work on Fleabag, his work in the theatre. He brought so much to the character that I didn't even know was there, and he took the character from this kind of brutish, almost caricature of a not understanding father to someone who had infinite complexity. Another standout, Sophie Okonedo: I've loved her forever, whether she's appearing for two seconds in a TV show or owning a movie. I mean, she's everything and the eccentricity and play she brought to Ethelfrithal. She's the liberated woman of the moment that you get to see, and Sophie embodied all that, and she's so fucking funny.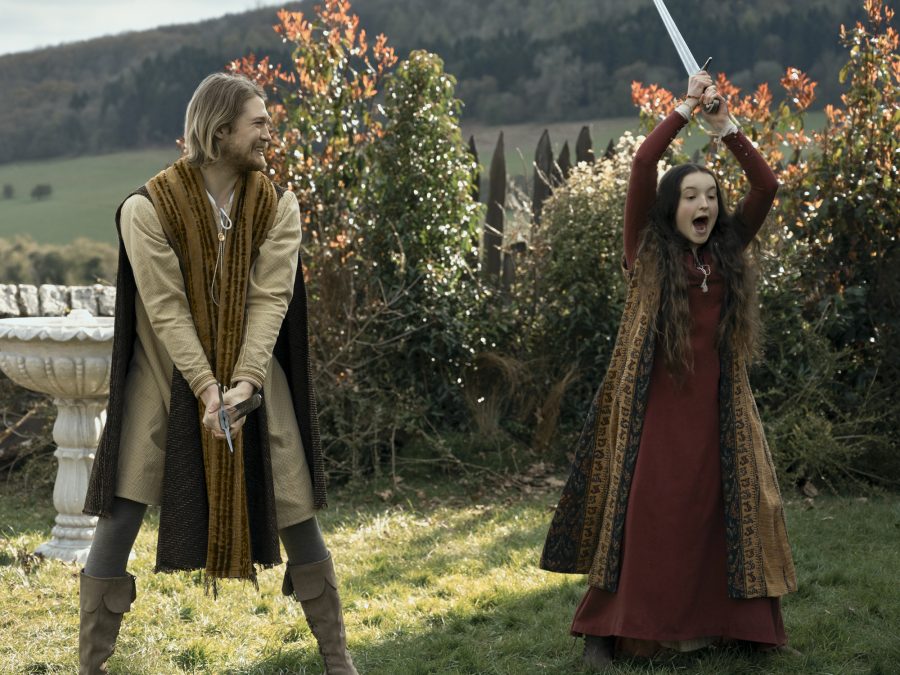 Andrew reminds me a little of Peter Scolari as your dad in Girls. He has that playfulness but can go for the gut punch.
He played the character as vain and a little bit campy, but also clearly in love with his wife and kids — torn about what he needs and an alcoholic — brought all this modern psychology to the character. He makes your stomach twist with how present he can be. Billie's the same, and I never knew on any given take give what they were going to cook up.
Can you talk about your conversations with Julian Day about costume design?
So much of the time, when you see Medieval, it's drab brown because that's how those images have aged to us. They had a very playful relationship to colour, fabrics were being imported, and it was an incredible era for fashion. We wanted it to feel stylised without being a caricature, and I love that he was able to capture certain things. In modern times, Aelis (Isis Hainsworth) would be wearing the cute coordinated top and skirt and Birdy would be wearing Converse, cargo pants or whatever. He manages to capture that but find it in the Medieval language. Andrew Scott's character is in the equivalent of Gucci on Gucci on Gucci, and his wife is doing her own chic Louis Vuitton thing because they're the equivalent of an upper-middle-class family in a suburb desperate to show off their wealth. He hit all those notes but transposed them to another period. He's a genius.
I love that you're focused on the artistry because everybody immersed themselves like they were getting PhDs in Medieval history. These were some of the most fun production meetings I've ever been in because we were both educating ourselves like we were in graduate school and trying to make something visually sumptuous.
Where did you shoot on location?
Before I wrote the script, we did a huge Medieval location scout — 17 Medieval locations in six days. When we went to Stokesay Castle, I knew it was the spot. It needed to not be a castle; it needed to be something that was a step-down that communicated they were upper middle class, but that there was something more they were aspiring to. In the larger courtyard, we built Stonebridge and walking through that town we built was one of the most beautiful spiritual experiences of my life. We also shot at Gloucester Cathedral. We did some days at the house where they shot Atonement, but we had to shoot pieces of it and ignore the pieces that were not historically appropriate to what we were doing.
You mentioned you'd done all this pre-production in 2020; then the world locked down. What was it like to step on set after all that time?
When we were back on set, it was this massive relief. Every day there was the question of will there be a COVID shutdown. It all felt so tentative — it was pre-vaccine. We were all masked up, and everyone was so amazingly respectful and focused on getting us where we needed to go. I feel so lucky. The impetus for writing Sharp Stick was my desperation to be on a set and the fact that I couldn't be, so it was incredible.
There are overlapping themes, and I think what you do well is big arguments between female friends even in this period.
I wanted it to feel like female friendship has been the same through all of this. They're eventually realising their friendship matters more than a guy — that's the shit that gets me going.
Published 23 Sep 2022
About Post Author