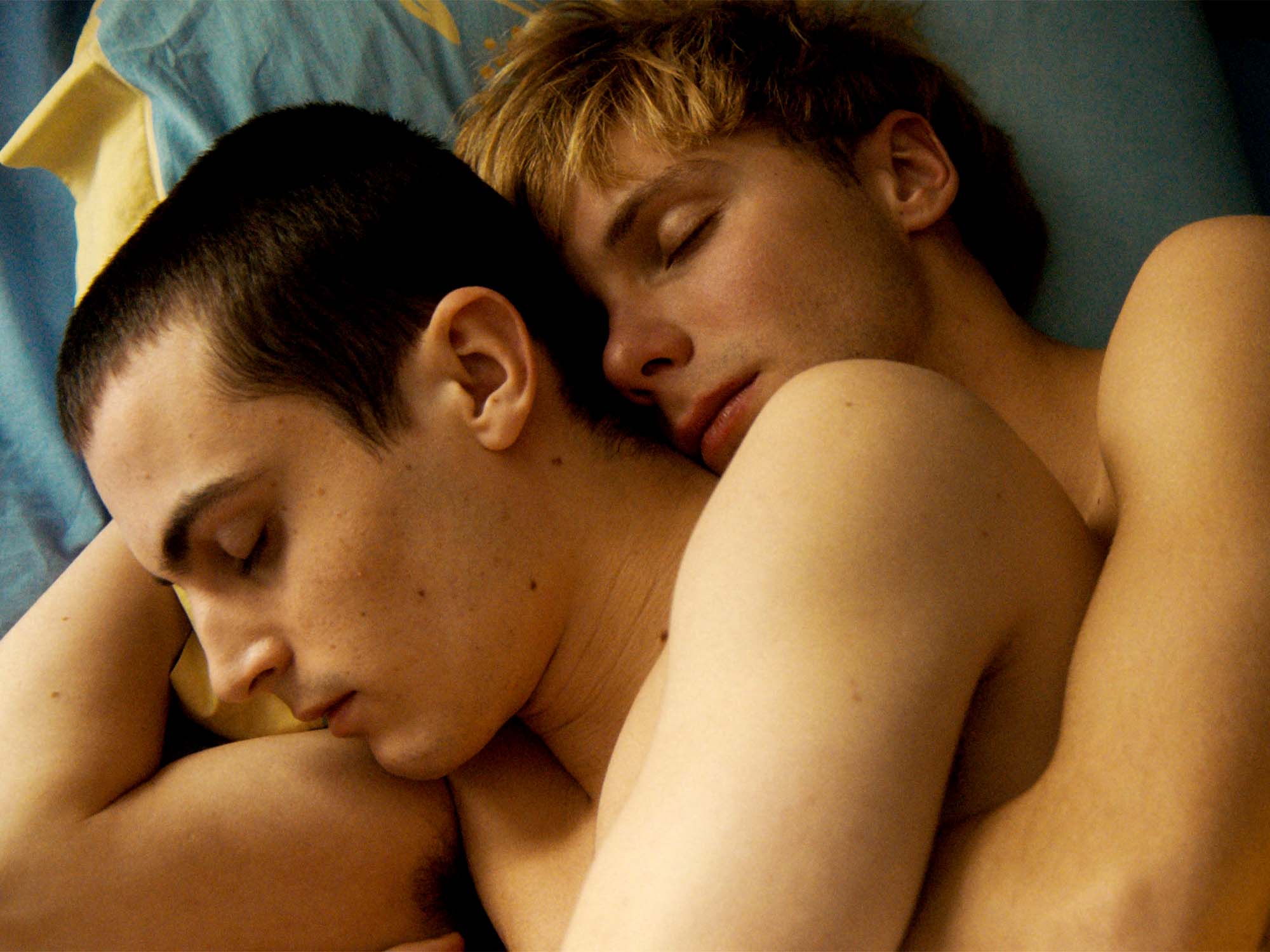 A successful author returns to his hometown, only to unlock memories of a clandestine love affair in Olivier Peyon's adaptation of Phillippe Besson's critically-acclaimed autofiction.
The enemy of romance is heartbreak, but both are reliably sharp tools for a writer as they craft a work of fiction from imaginative scenarios that may contain just inklings of reality. It is better to have love and lost than never loved at all, they say, but Lie With Me poses that a haunting romance may, in fact, never truly be over, and render a lover incapable of love. Olivier Peyon's queer French drama, based on Phillippe Besson's critically acclaimed autobiographical novel, is all about these musings on romance that are at once defining and devastating.
With rounded tortoiseshell glasses (identical to Besson's) and a scarf perpetually wound around his neck, prolific romance writer Stéphane Belcourt (Guillaume De Tonquédec, abandoning his comedic sensibilities here) returns to his hometown of Cognac for the first time in 35 years. He's been invited to promote a local distillery; the historical commune is known for its namesake beverage, which ironically Stéphane can't stomach – the burning seems to slide from his throat to his heart with just one sip. These barrels of traditional cognac are piled high and left to rest for decades, ageing quietly as the world around them continues, just like Stéphane. Revisiting home, memories of his first love come pouring out with irrepressible power.
Lie With Me is told with two parallel narratives; the present day Stéphane as a local celebrity in Cognac, and his youth in 1984 as a 17-year-old adorably dorky student (played by Jérémy Gillet). Through flashbacks, the all-encompassing intensity of young love between Stéphane and Thomas Andrieu (Julien De Saint-Jean), an edgy student that girls fawn over, is unearthed. Their intoxicating affair, clandestine in nature and tainted with shame, is a formative but heartbreaking memory that Peyon anchors with vignettes of mounting headiness in private bedrooms, abandoned gymnasiums and hidden lakes.
After decades, hearing the surname "Andrieu" is a shock to his system that ignites a long-dormant part of Stéphane's heart. It's not Thomas he stumbles upon, but his lover's son, Lucas (Victor Belmondo), who shares the same piercing, dismantling gaze. They're drawn together, united in a shared intrigue about the man that abandoned them both. A cerebral exploration of infatuation with its reverberations begins to take centre stage but initial poeticism borders on sentimentality in the final act with a grand speech that feels all too neat, even for a writer.
Martin Rit's stylish cinematography arrives with romanticism, but the choice to shoot conversations from metres away and set heated arguments in stark shadows disrupts the illumination that Lie With Me otherwise achieves. The film holds similarities to François Ozon's sweltering mid-1980s romance Summer of 85, both novel adaptations that wrestle with gay male romance on the brink of the AIDS crisis and lust over a motorbike-riding lover. Where Ozon commits to tenderly unravelling the emotional enigma of young lovers, Peyon's young characters aren't afforded the same narrative space despite their crackling chemistry and exquisite performances. The heartache of wasted time and missed love is a familiar arena in queer drama and while Lie With Me rets on classic tropes, it still makes for a moving reflection on adolescent love.
Little White Lies is committed to championing great movies and the talented people who make them.
By becoming a member you can support our independent journalism and receive exclusive essays, prints, weekly film recommendations and more.
Published 14 Aug 2023
Anticipation.
Phillippe Besson's novel is evocative work to adapt.
Enjoyment.
This sharp study of a writer's longing is strikingly pensive.
In Retrospect.
A meditation on queer love that strikes familiar tropes.
About Post Author