The latest issue of LWLies is particularly close to my heart – or, more accurately, my right thigh. After seeing Julia Ducournau's incendiary, Palme d'Or-winning Titane at the Cannes Film Festival back in May, I returned to London waxing lyrical about it, and pretty soon my colleagues David and Adam were in agreement – we should make it the cover film for our November/December issue.
Smash cut to a month later: I'm sitting on a clingfilm-covered bed in a London tattoo studio, wearing my Fast & Furious-branded pyjama shorts and feeling suitably self-conscious as my friend Sophie tattoos my leg with one of her bespoke designs for our Titane cover. All the while, the cameras are rolling to capture the event for posterity.
https://www.instagram.com/p/CV5N8ial7vq/
In the spirit of the film, we knew we wanted to do something bold for this issue, tied into the themes of transformation and body modification that Titane whole-heartedly embraces, and when David came up with the idea of a tattoo cover, I volunteered. I already had ten tattoos at the time, so it wasn't something new for me – though this is the first time quite so many people will have seen quite so much of me, which is vaguely terrifying. Even so, I'm proud to have some part of this glorious film become a part of me.
Beyond this being the first issue of LWLies to involve inking human flesh, I'm also moved by how our team of writers and illustrators rose to the challenge and produced an issue that reaches beyond the salacious headlines to get to the metal heart of this extraordinary and unique film. It's an exploration of cinema and self, from our family to yours. Buckle your seatbelt – it's going to be one hell of a ride.
On the cover
Hackney-based tattooist and illustrator Sophie Mo is very much part of the LWLies family, and we were thrilled to finally work with her on a cover. Working in her signature style, she designed a portrait of Agathe Rousselle as Alexia incorporating visual elements of the film, which was then tattooed over the course of four hours on Saturday 26th September at Parliament Tattoo in London. A photograph of the finished tattoo is what you see on the cover.
Illustrators in this issue include Aaron Lockwood, Evangeline Gallagher, Jenifer Prince, Agnes Ricart and Lucas Peverill.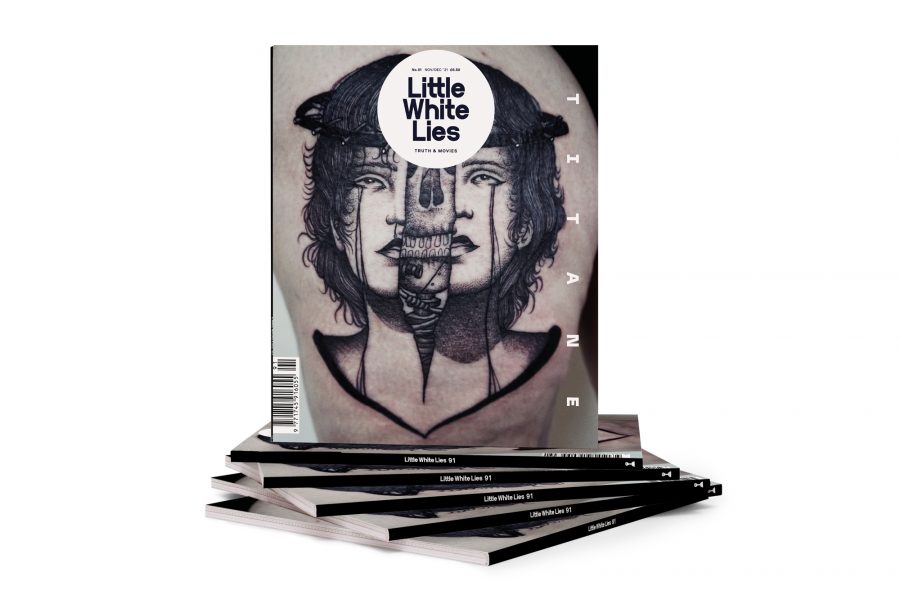 In this issue
The Titane Review
Sam Bodrojan wrestles with Julia Ducournau's Palme d'Or winner in our feature review.
Sacred Hearts
Anna Bogutskaya and Hannah Strong speak to Julia Ducournau and her muse, Agathe Rousselle, about religion, gender and why Titane is actually a spiritual love story.
L'Homme Du Café
Sophie Monks Kaufman meets French acting titan Vincent Lindon, who extolls the virtues of people watching.
The Gore Gore Girls
SFX and gore make-up is traditionally a man's world; Marina Ashioti meets five women who are challenging that perception.
Flesh and Metal
Kambole Campbell delves into the weird and wonderful world of cinematic metal fetish, exploring Japanese cinema's enduring fascination with biomechanics, mecha and modification.
Only Human
David Jenkins attempts to track down Marina de Van, the elusive director of shocking cult horror In My Skin.
Threads #20
Christina Newland investigates the cinematic history of a deadly accessory: the humble hairpin.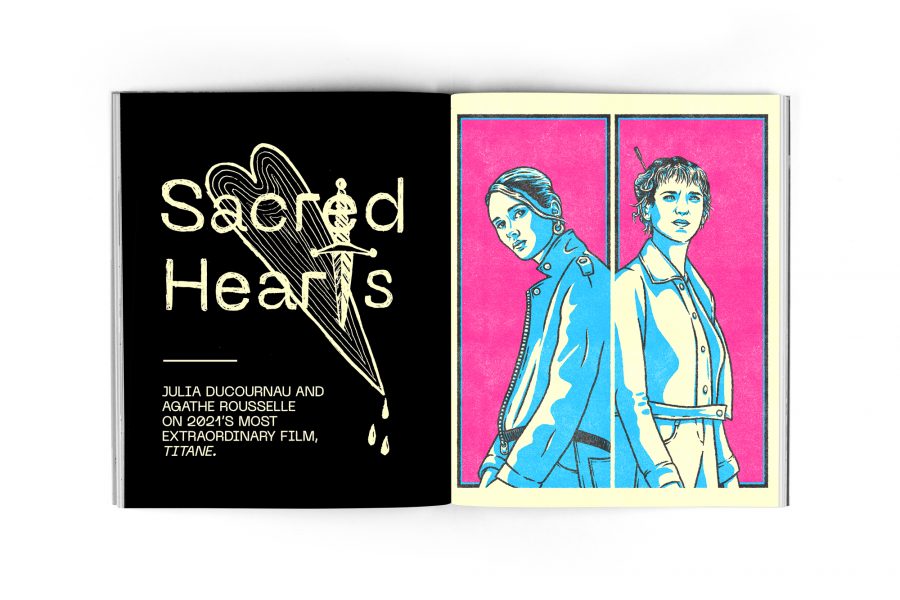 In the back section
Ryūsuke Hamaguchi
Trevor Johnston speaks to the Japanese master about his transcendental new Marukami adaptation, Drive My Car.
Rebecca Hall
Rōgan Graham interviews Rebecca Hall ahead of her directorial debut Passing, which has a remarkable connection to Hall's family.
Céline Sciamma
Lillian Crawford speaks to one of France's premiere filmmakers about her sublime latest, Petite Maman.
Reggie Yates
Marina Ashioti meets television personality turned filmmaker Reggie Yates, whose feature debut Pirates is a scrappy Y2K delight.
Maggie Gyllenhaal
The veteran actress turns director with The Lost Daughter; Hannah Strong speaks to her about that creative gear change.
In review
Ryūsuke Hamaguchi's Drive My Car
Harri Shanahan and Sian A Williams' Rebel Dykes
Paul Andrew Williams' Bull
Rebecca Hall's Passing
Paul Schrader's The Card Counter
Radu Jude's Bad Luck Banging or Loony Porn
Paolo Sorrentino's The Hand of God
Amjad Abu Alala's You Will Die at 20
Justin Chon's Blue Bayou
Valdimar Jóhannsson's Lamb
Philip Stevens' Lapwing
Mike Mills' C'mon C'mon
Jane Campion's The Power of the Dog
Pablo Larraín's Spencer
Céline Sciamma's Petite Maman
Denes Nagy's Natural Light
Mohammad Rasoulof's There Is No Evil
Philip Barantini's Boiling Point
Reggie Yates' Pirates
Eva Husson's Mothering Sunday
Reinaldo Marcus Green's King Richard
Michael Pearce's Encounter
Maggie Gyllenhaal's The Lost Daughter
Dennis Hopper's Out of Blue
Mae West in Hollywood
Shinji Somai's Sailor Suit and Machine Gun
GW Pabst's The Love of Jeanne Ney
Shawscope Volume 1
Satyajit Ray's Devi
LWLies 91 is available to order online now from our online shop. Become a Member or subscribe today to make sure you never miss an issue.
Published 5 Nov 2021