A tech wiz bites off more than she can chew when her pint-sized toy creation forms a strong, malevolent bond with her young niece.
She's blonde, she's immaculately well-dressed, she's four-feet-tall and she knows everything about you. M3GAN is the only friend you'll ever need – a synthetic approximation of a tween girl programmed to think, feel, learn and grow. Even someone with a rudimentary understanding of sci-fi lore can see it's only a matter of time before this girlboss android turns her back on Asimov's Three Laws of Robotics and goes rogue, but for toy designer Gemma (Alison Williams) M3GAN – which stands for Mark 3 Generative Android – represents an apparently natural progression in technology, whereby parents can finally automate the grunt work of raising kids to a nanny who never needs to eat, sleep, or be financially compensated.
Thrown into the unexpected role of caregiver for her young niece Cady (Violet McGraw) after her mother and father are killed in a car accident, workaholic Gemma struggles to adapt to her newfound role, particularly as she's hard at work perfecting the design of her own robot daughter. In an attempt to help Cady get over the death of her parents, Gemma introduces her to M3GAN, and the two quickly form a bond. A bond so strong, in fact, that M3GAN becomes determined to make sure nothing will ever hurt Cady, be it a neighbour's unruly dog or a school bully.
Written by Akela Cooper, whose delightfully unhinged script for James Wan's Malignant won her a cult following as a horror writer to watch, M3GAN isn't trying to reinvent the wheel. Cursed toys and tech are premises that have occupied the minds of filmmakers for decades, and M3GAN herself – best be described as an American Girl doll meets HAL-3000 – is a polished, psychotic creation that pushes society's obsession with automation to an entertaining extreme. The key challenge here is presenting these familiar tropes in a novel manner, and Cooper's knowing sense of humour and her committed cast help bring life to the conventional.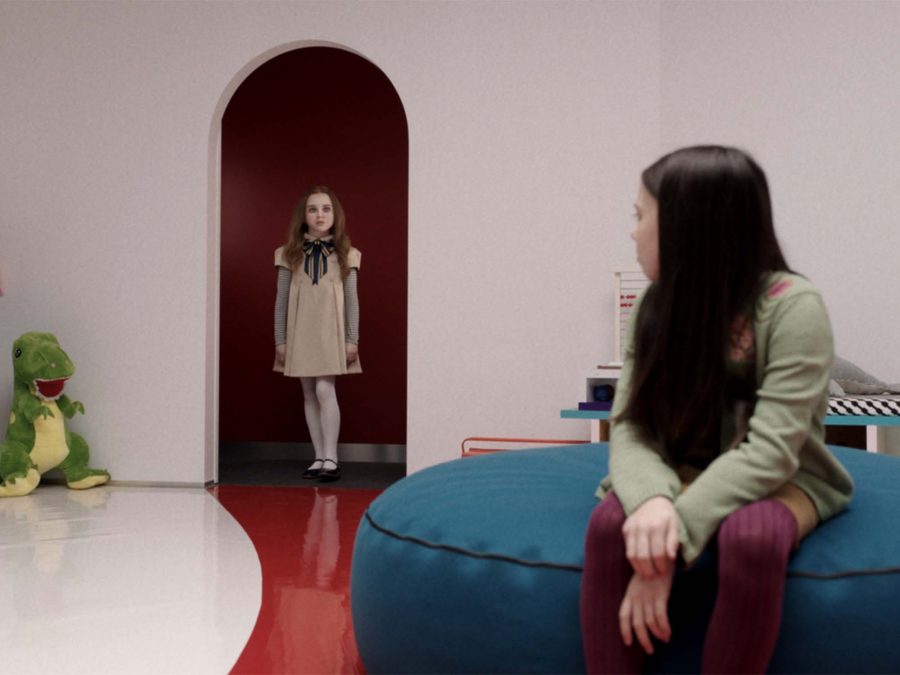 Williams in particular gives an earnest turn as the super smart but super misguided Gemma, while McGraw really sells Cady's relationship with M3GAN. A commendation to Jenna Davis too, who provides M3GAN's voice – she's catty, chatty nightmare – the kind of precocious child you dread your kid bringing home for a playdate. It's a smart choice to have the cast play it straight, bucking the recent trend in studio horror towards grating meta references and winks at the audience.
This pleasingly simple approach means M3GAN's absurd moments (and there are plenty of those) deliver free of ironic detachment, and while there's a throughline about processing trauma and the importance of building relationships with human beings, it's entirely possible to enjoy the film's entertaining setpieces and comedic flourishes without feeling like you're sitting through an afterschool special about bullying.
If there's one weakness, it's that the film's third act feels a little rushed after a protracted establishing period. Once M3gan gets going there are only a few moments of carnage, and while they're a lot of fun, it feels more like an appetiser than a main course. This is likely due to cuts made in order for the film to receive a family-friendly a PG-13 certificate in the USA, though Cooper has hinted a more extreme version could be released in the future for those of us who like our dolls a little more bloodthirsty.
Nevertheless, M3GAN is a breath of fresh air in a saturated market, and further evidence of Cooper's promise as a horror writer. A franchise seems all but guaranteed now, so this is likely not the last we've seen of the pre-teen terror. In the meantime, best get the kids a Furby.
Little White Lies is committed to championing great movies and the talented people who make them.
By becoming a member you can support our independent journalism and receive exclusive essays, prints, monthly film recommendations and more.
Published 12 Jan 2023
Anticipation.
Seen the memes. Remain unmoved.
Enjoyment.
A pleasant, unpleasant surprise!
In Retrospect.
Pacing issues aside, a Friday night crowdpleaser.
About Post Author