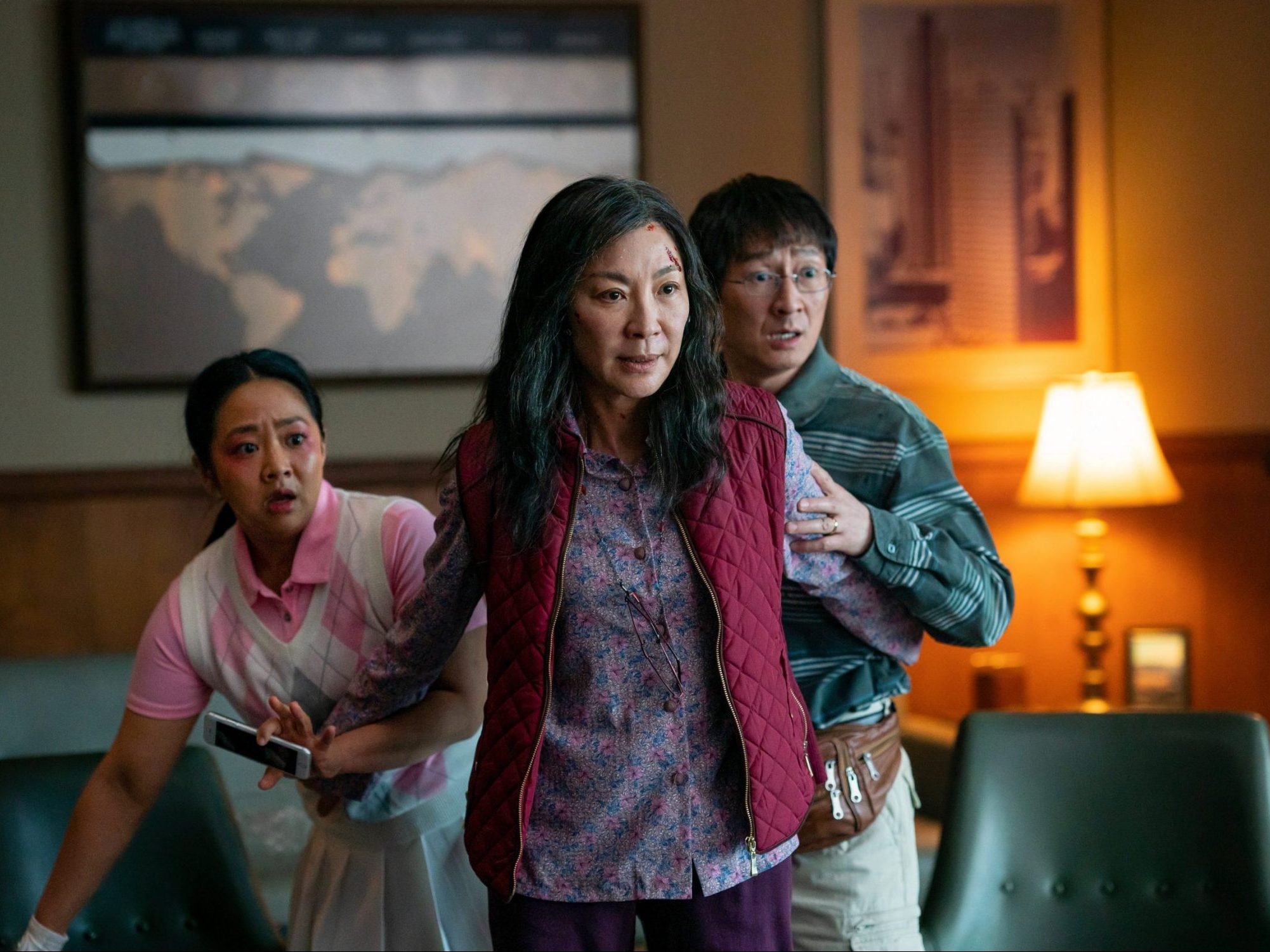 If you thought that the directorial duo known as Daniels – Daniel Kwan and Daniel Scheinert, individually – would follow-up their life-affirming farting corpse action-comedy-romance Swiss Army Man with something more down-the-middle, you've got another thing coming. Or rather, a potentially infinite number of things contained within the splintering dimensions that comprise the realities beyond what we can know and perceive.
Today brings the first trailer for Everything Everywhere All at Once, the sophomore feature from Daniels, and it sure seems to be every bit as bizarre and restlessly creative as the film on which they made their joint name. And this one has Michelle Yeoh, an asset whose presence instantly puts any given work of art up one full letter grade.
She portrays Mrs. Wang, a woman yanked from a mundane meeting concerning her dire finances and into an inter-universal conflict the likes of which she can scarcely imagine. As the snippets of dialogue explain, she possesses the unique ability to tap into her many alternate selves populating the multiverse, meaning she can access their memories and more importantly, their abilities – expert hibachi preparation, sign-spinning, old-school wuxia martial arts prowess, et cetera.
As she sets out to vanquish the ghouls marauding through our plane of existence (one of whom takes over the body of Jamie Lee Curtis), a mission that involves a man's head exploding into confetti as well as a large quantity of stick-on googly eyes, she learns the importance of the bonds she shares with her family. She'll also remind us why Michelle Yeoh used to be the biggest name in kung fu cinema, showing us that she's still capable of fending off several adversaries at once as she approaches sixty years of age.
The film will get a world premiere in March as the opening night selection at South by Southwest, with a theatrical release to follow soon afterward. Though a couple weeks of this year still remain, we can officially begin looking forward to the movies of 2022.
Everything Everywhere All at Once will come to cinemas in the US on 25 March. A date for the UK has yet to be set.
Published 14 Dec 2021