By LINDA DYETT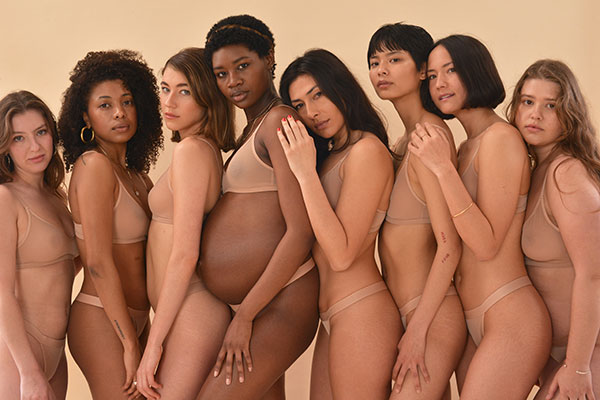 For several decades now, I've been writing about fashion—a passion of mine—every aspect of it, from design and fabrication to merchandising, retailing, and etailing. And always I look for the restless leading edge—the clothes (including underwear) that turn away from predictable, cookie cutter styles and capture–or better yet intuit and inform–the mood and needs of the changing times.
That's what Negative Underwear, the brand with the unusual name, is all about. It was quick to sense the emergence of what's come to be known as body positivity. That, and giving body positivity a spare but sexy allure, are its forte.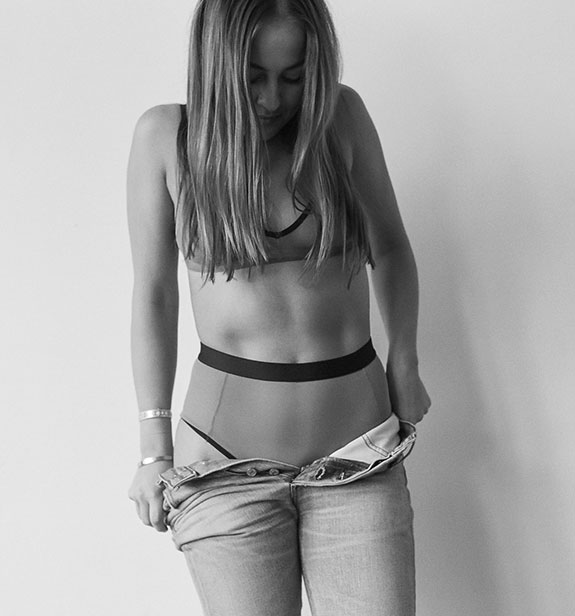 Back in 2014, when this women-run business got started, the major bra choices (to name a key underpinning) were Stepford-esque–padded and molded. (Yes, as usual, the industry was calling the shots on how our breasts should look. And since breasts tend to be relatively pliable, the industry could get away with it.)
"There was one major player–Victoria's Secret, with Fleur de Mal and Gigi di Montparnasse at the high end," said Marissa Vosper, one of Negative Underwear's co-founders. "Women were shopping by default at Victoria's Secret, but were embarrassed to be seen carrying its shopping bags.
What was missing was well-designed, minimalist, functional innerwear. Or as Vosper put it, "No one was in the Isabel Marant-Helmut Lang space. Nothing felt useful, chic, or cool."
So she and Lauren Schwab, who'd been friends since their undergraduate days at the University of Pennsylvania, decided to ditch their starter careers in finance and brand marketing and shake things up. Fashion lovers, both of them, they sensed a growing need in women not just for comfort, but for authenticity in the way their bodies are shaped.
As Vosper put it, the issue is "owning your own femininity."
They took night school classes at FIT, and entirely with their own funds began Negative Underwear. (The name references the space surrounding an object. For these two, it's about "taking away what doesn't need to be there, getting rid of unncesssaries, with less is more as a guiding force.")
From the outset, with their first designs—bras, briefs, and a thong—it's been Schwab who's focused on product design, development, production, planning, and finance, while Vosper does brand design, web and customer experience, partnerships, and marketing. Plus, they hired a tech designer and an assistant tech designer. These four get it all done.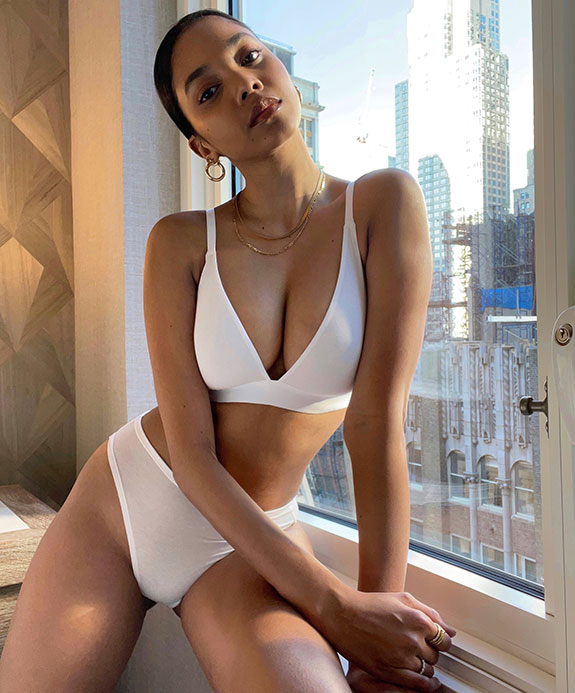 In other words, they're a niche brand—mostly ecommerce, with a Nordstrom partnership, both brick-and-mortar and online. They pulled back from the stores when the pandemic began, but intend resuming this fall.
Negative Underwear's customers number over 100,000, in a wide age range, many posting glowing reviews. The brand has been written up in the New York Times, Wall Street Journal, Vogue, New York magazine, Elle, InStyle, Real Simple, Refinery29, and FastCo. And its growth tripled in size not only in 2020, when we were all necessarily shopping online, but already in 2019, as bralettes hit the mainstream.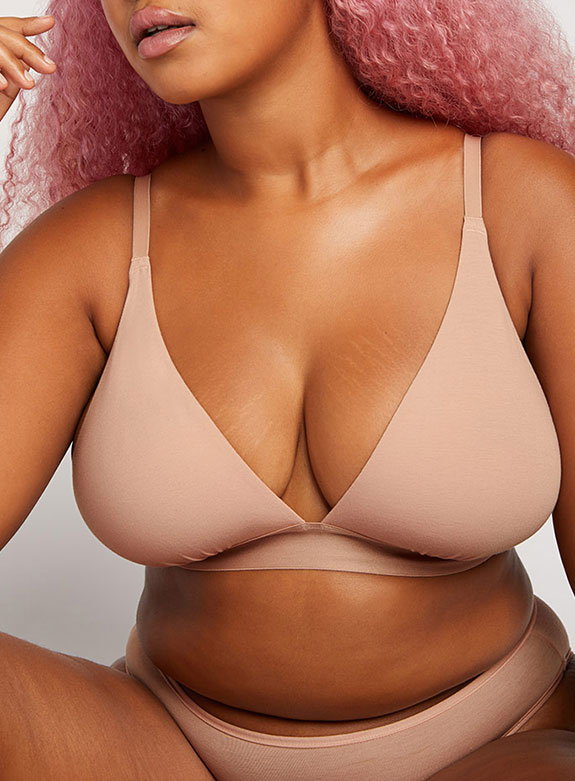 The brand has been successful all along, never needing outside funding, confidently offering its wares in 3-packs and 5-packs, tapping into the zeitgeist by not allowing photoshopping for its visuals, selling matching ensembles (so hot right now), and offering bras up to G cups, and nursing bras too. Today, the product range goes well beyond bras and panties to T-shirts, camisoles, slips, bodysuits, robes, et al. Everything is absolutely frill-free and available mostly in basic, muted colors. But the recent successful introduction of a vivid coral suggested to the ever-responsive Vosper and Schwab that they should offer other bright shades, as well.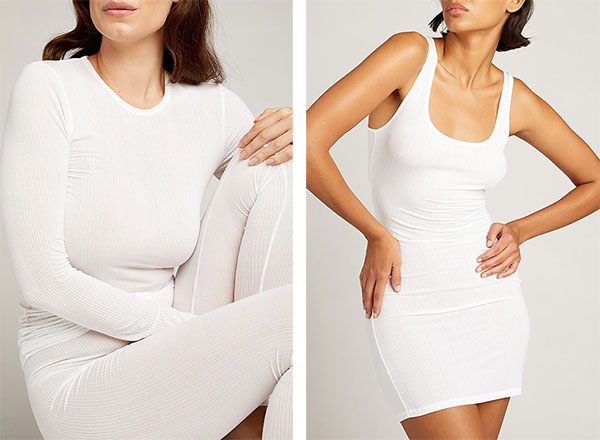 Sinuous Yardage
For me, Negative Underwear excels in two areas. The first is fabrics. The choices—seven in all– are lush, soft, drapey, stretchy, and remarkably strong. No wonder Schwab and Vosper name their collections after the fabrics they're made of. The following two are standouts:
SIEVE is a nylon-Spandex power micromesh from Belgium that the two discovered at an Interfiliere fair. It was so "soft yet powerful," said Schwab, that they snapped it up. Its secret? Unlike most fabrics, with their gridded weave, Sieve, a tulle, is designed in a honeycomb pattern that allows for multi-way stretchability. It's available in the bestselling Non-Wire and Triangle bras as well as the pull-on Bra Top, a wired and a lined bra, a thong, abbreviated briefs, and high-waist briefs.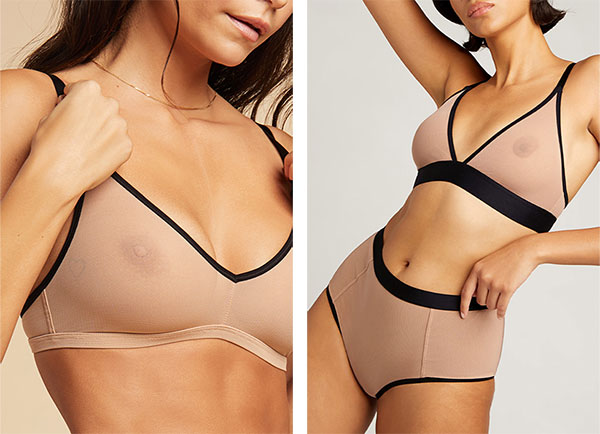 I'm frankly fixated on WHIPPED, which almost feels like beckoning skin. Out of Austria, it's a soft micro-modal-Lycra with drop-needle stitchery that creates a textural stripe effect. Initially, it was available only as a tank top, high-rise panties, and the sporty, pull-on Bra Top. But once customers made it clear that they wanted to envelop themselves in this fabric, along came the Whipped Triangle Bra, boy shorts, and a long-sleeve T, and more recently, a clingy slip, a wrap, boxers, a cardi, a bodysuit, long underwear, and a mini-T-shirt. Here is sinuous loungewear as savvy as streetwear.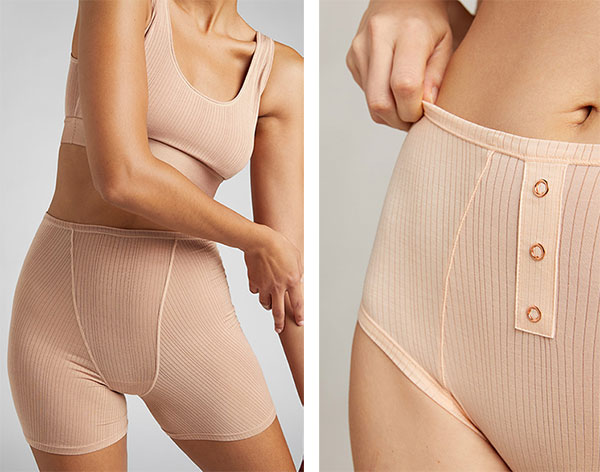 Wire-Free
Negative Underwear especially excels in its bra designs. The bestselling Sieve Non-Wire and Whipped Triangle bras, in particular, give flexible support, allowing the breasts to maintain their natural shape. This results in a softer, lower-slung torso silhouette that suits the athleisure- sneaker-ridden early 2020s. And when worn beneath vintage clothes from the 1940s–'90s, the Sieve and the Whipped give these styles the same contemporary edge they get from being worn with sneakers.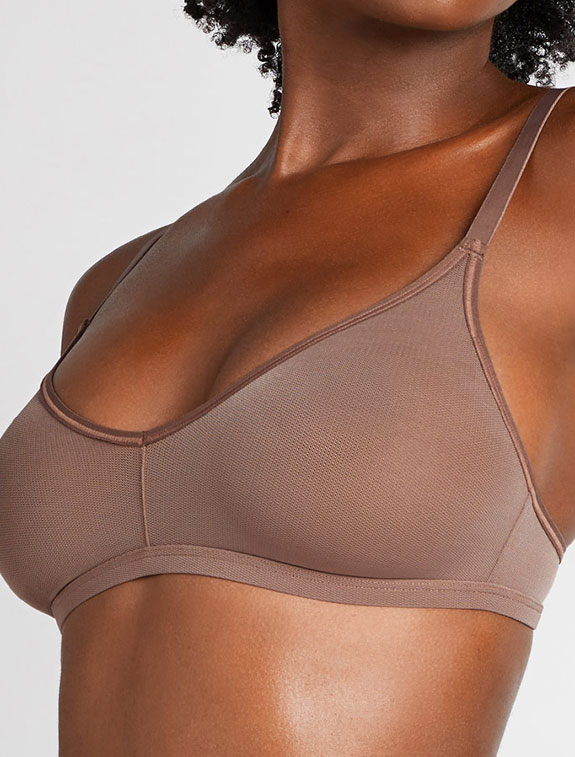 My first Negative Underwear purchase was the Sieve Non-Wire Bra. Whenever I think of it, I'm reminded of the time a couple of years ago when I was walking along Christopher Street in Greenwich Village. On my way to a big-deal business meeting, I suddenly stopped short—I'll
never forget this—consumed with terror right in front of I Sodi, the Italian restaurant. So preoccupied had I been preparing for the meeting that I forgot to put on a bra. Or so I thought. Then I remembered: I was wearing my brand-new Sieve. With its completely seamless, gently
curved cups, it was so ridiculously comfortable, it felt like absolutely nothing on beneath my sweater.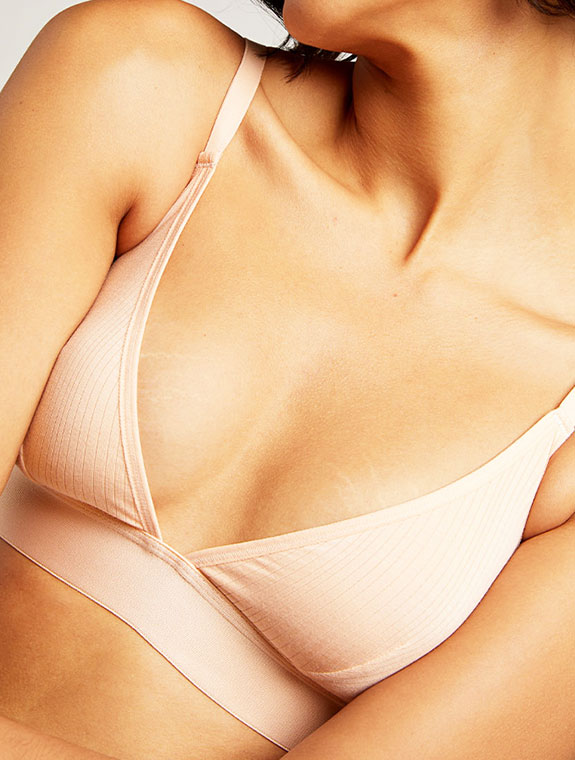 The V-neckline Whipped Triangle, a worthy Sieve Non-Wire alternative, has a deep under-band, making it a bit more supportive, with just the right amount of uplift. I love the long, lean line of the V, which looks unspeakably divine, revealing a bit of cleavage under sheer tops. (By the way, Triangle, the name of this bra, is a perfect example of the negative space concept referenced in the brand name.)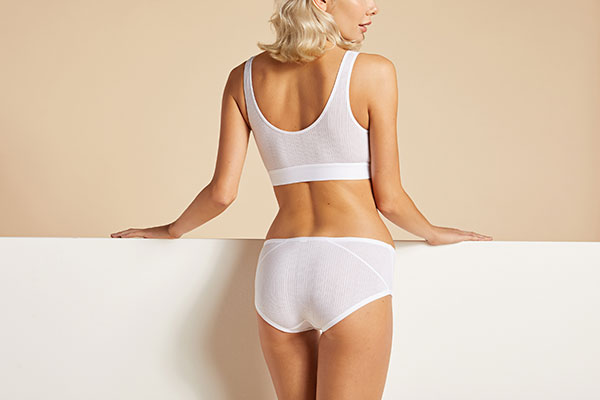 New on the agenda is the sporty pull-on Bra Top, available in a variety of fabrics. I haven't tried it yet, but am told it readily handles yoga and non-aerobic workouts. It also looks enticing—which most sports bras never do.
Of course, if anyone was going to put a new spin on sports bras, it was bound to be Negative Underwear. But how will Vosper and Schwab respond, as the Covid crisis eases up, to the emerging dress-up era, complete with makeup, perfume, and stiletto heels? I'm staying tuned to
this duo. They're likely to have some creative revamps up their minimalist sleeves.
---
Based in New York, Linda Dyett is a long-time writer and editor. Her articles have appeared in the New York Times, Washington Post, Monocle, L'Officiel, New York magazine (and its Strategist website), Afar, and many other publications and websites. She served as an editor at Lear's, Self, and Glamour, and is currently overseeing the nycitywoman.com website. As for the areas she's covered over the years, they've included books, architecture, industrial and product design, medicine, wine, travel, and shopping. But her major interest is in skin—and everything that touches it. That includes clothing (not least lingerie, about which she's passionate), beauty and dermatology products, and jewelry. And she's also done publicity writing for a wide range of businesses, large and small. She's reachable at ldyett@gmail.com
About Post Author