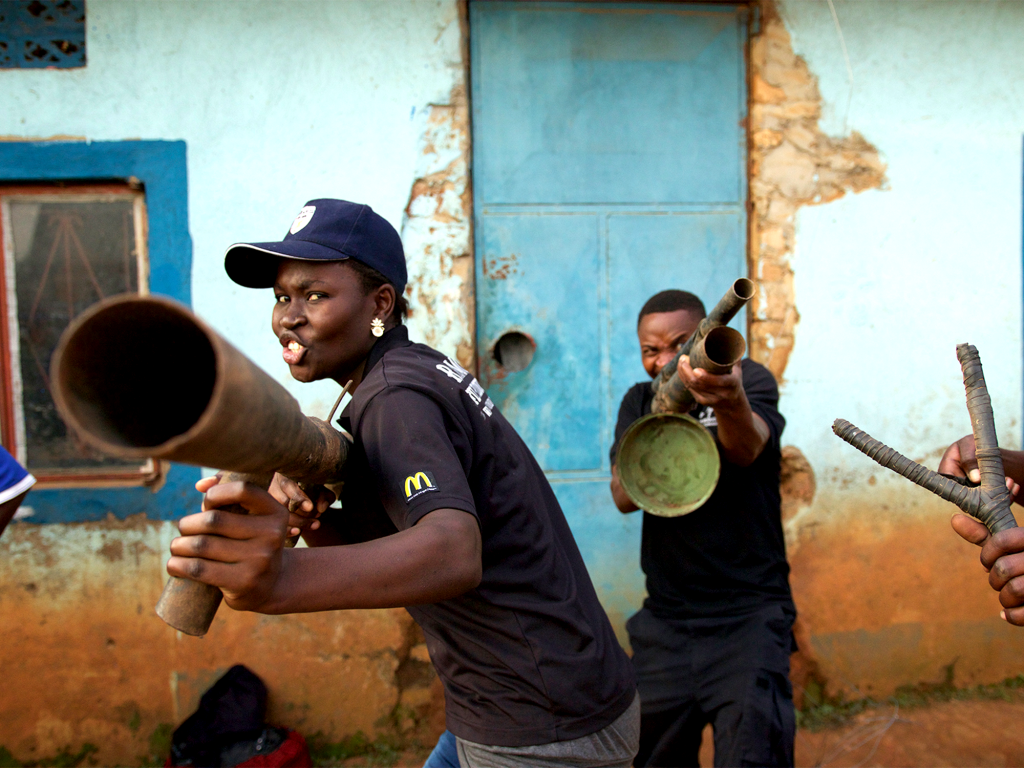 This entertaining documentary celebrates the low-budget action movies of "Uganda's Quentin Tarantino", Isaac Nabwana.
In the slums of Wakaliga within the Ugandan capital of Kampala lies a cradle of grassroots action cinema and the first makeshift brick in the foundations of the Ugandan film industry: Ramon Film Productions, also known as Wakaliwood. It all rests on the shoulders of Isaac Nabwana, a self taught director, writer, producer, cinematographer, editor and community builder whose sheer, unstoppable ambition has led him to make dozens of audacious action films with extremely limited resources at his disposal, all to achieve a dream of making the action movies that he grew up with, "like Hollywood, but better".
Cathryne Czubek's documentary is powered by the passion and resourcefulness of Nabwana and his equally passionate and energetic crew (made up of friends, family, neighbours) whose unwavering dedication to making community-specific exploitation cinema is nothing short of inspirational. What drives them is a desire to see the image of their people projected onto the silver screen by all means necessary.
Indeed, if one man's trash is another man's treasure, then discarded scraps are gold to Nabwana and Wakaliwood, whose technical equipment is forged of mud bricks and poles cobbled and welded together, while productions rely on handmade props, self-taught martial arts performers, amateur computer graphics, and budgets well below $200.
The documentary also spends a considerable chunk of its runtime profiling film programmer/producer Alan Hofmanis, a New Yorker who, upon being dumped by a former girlfriend and after being swept away by Nabwana's 2010 film Who Killed Captain Alex? (the trailer of which became a viral YouTube sensation) gives up his life in the States to travel to Uganda and become a disciple on the divine mission to spread the Wakaliwood gospel to the rest of the world. Hofmanis ends up a key member of the Wakaliwood team, and though he remains well-intentioned throughout, the doc's reliance on his internal struggles means we end up subjected to the trivial grievances of someone with a bad case of main character syndrome.
He throws a tantrum when Nabwana – who was making films long before Hofmanis showed up – doesn't consult him about certain choices, in what ultimately plays out like a soft-scripted, crudely shoehorned, and rather uninteresting conflict. Narrative manipulation aside, splitting the documentary between the two men serves more as a structural means to an end that culminates in Hofmanis' achievement in screening the Wakaliwood film Crazy World as the closing film of Midnight Madness at the 2019 Toronto International Festival.
"What really unites us is movies", says Nabwana, yet in a world order where capital reigns king and perpetually rears its ugly head over cinema as industry, we can't be too mad at the importance the doc places on Hofmanis' achievements in marketing and securing distribution deals for Nabwana and his crew. Ultimately, Once Upon a Time in Uganda would have benefitted from diving much deeper into the making of the studio's many iconic productions, but by mirroring Wakaliwood's lively, exuberant energy, still comes together as a thoroughly entertaining crowdpleaser.
Little White Lies is committed to championing great movies and the talented people who make them.
By becoming a member you can support our independent journalism and receive exclusive essays, prints, weekly film recommendations and more.
Published 6 Sep 2023
Anticipation.
Will this doc on the making of epic Ugandan action movies match the greatness of its subject matter?
Enjoyment.
Long live ass-kicking DIY filmmaking.
In Retrospect.
Comes together as an effusive love letter to the Wakaliwood king, despite not always keeping the focus on the more germane perspective.
About Post Author