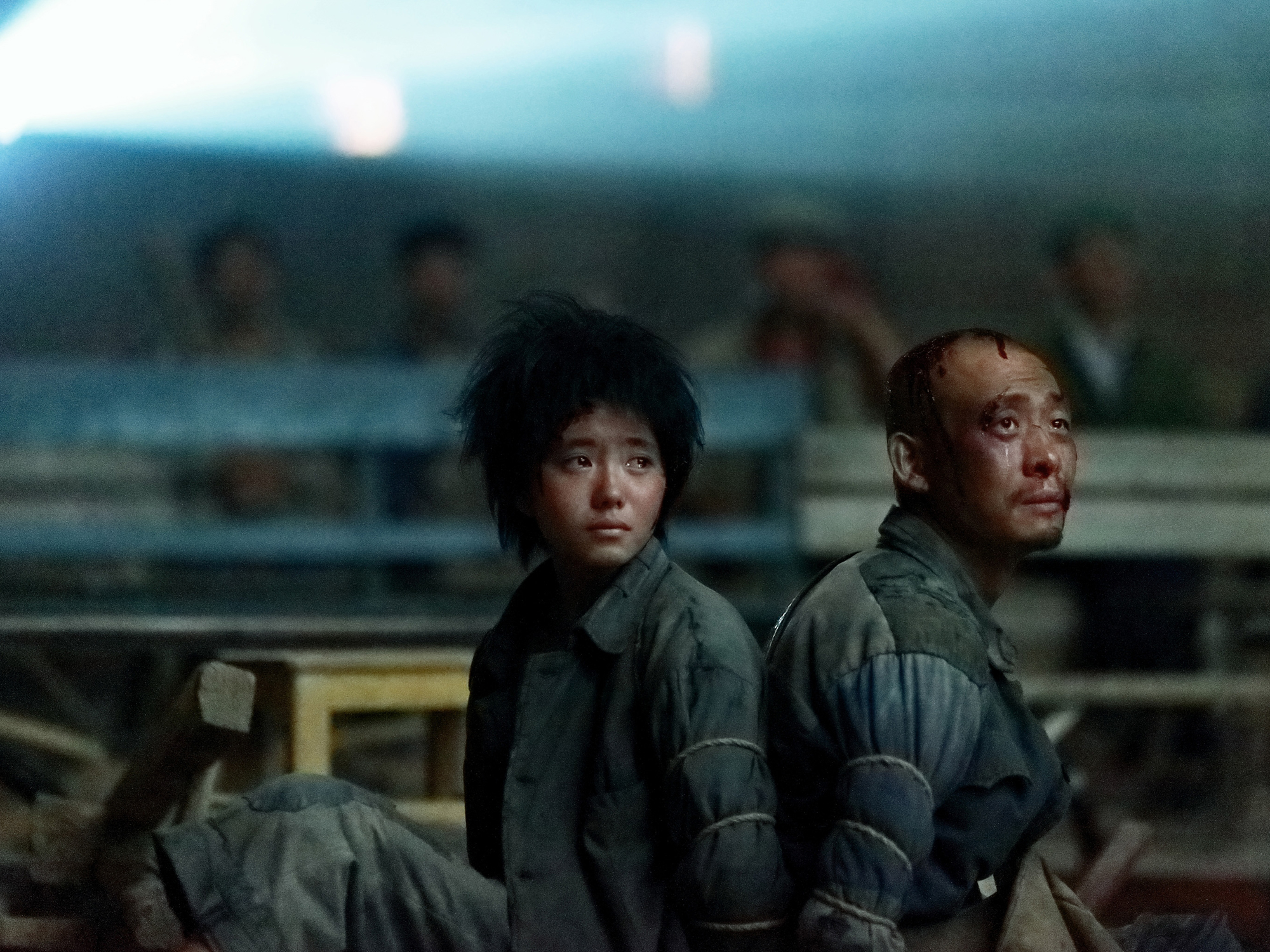 A return to form for China's Zhang Yimou with this tale of a village attempting to restore a damaged movie reel.
Among the ranks of films described by their makers as "love letters to cinema," few take that approach as literally as Zhang Yimou's One Second. Much of the plot revolves around a village coming together to repair a film reel that was unwound and trawled through mud while being delivered to them. When townsfolk gather around the dirtied nest of celluloid laid out on a canvas, they look like they're mourning a dead body. Zhang pays meticulous attention to the process of untangling and cleaning the strip; resident projectionist "Mr Movie" (Fan Wei) drills the townsfolk in how to properly handle it.
The movie in question is 1964's Heroic Sons and Daughters, about an army officer who meets his child whom he gave up 18 years before, who by chance became the adopted sister of his now-fallen comrade. Just watching One Second, you won't be able to glean the film-within-the-film's plot, but that context lends greater significance to its own story.
No one in town is more eager to see the film fixed and screened than an enigmatic unnamed outsider (Zhang Yi), who is eventually revealed to be a fugitive from a nearby prison farm. He's received word that his own estranged daughter appears somewhere in the newsreel that will play before the feature, and he escaped the farm solely to see her again. Also after the film strip is local gamine "Orphan Liu" (Liu Haocun), who wants to use some of it to make a lampshade, and whose pursuit of it continually puts her at odds with the fugitive.
That the three leads are all anonymous or pseudonymous adds to the story's fable-like vibe and the interpretation of each of them as an archetype. Mr. Movie represents pure reverence for film, taking pride in his skills as a projectionist. The fugitive hungers for the information the news can offer, even if it is scant and couched in propaganda. Liu has a practical need that celluloid's physical form can fulfil. Her pragmatism contrasts with Mr Movie's romanticism and the fugitive's yearning. It's also the flip side of the mournful anecdote about Georges Méliès' films being melted down and turned into boot heels in Martin Scorsese's Hugo. This movie is similarly about impoverished characters navigating their relationships to art, but is more hard-nosed than sentimental.
Still, it's clear that Zhang sympathises most with Mr Movie's outlook. When the time comes to screen Heroic Sons and Daughters, he finds ways to invigorate the hoary idea of the "magic" of the "moviegoing experience." Before the show starts, the fugitive stands behind the screen as patrons playfully cast shadow puppets on it – a wondrous evocation of both the community in a shared moment of joy and his melancholy separateness from them.
One Second arrives more than two years after it was originally supposed to premiere at the 2019 Berlin Film Festival. In the time since it was pulled at the last minute, it's undergone reedits and at least some reshoots, apparently to satisfy content demands from the Chinese government. The film now stands only one minute shorter than its listed running time in Berlin, and currently, no one outside its production and the bureaucracy knows just what had to be changed and why. It's a testament to Zhang and editor Yuan Du's skill that, whatever the extent of the cuts/additions, the result flows smoothly.
The possibilities are myriad, given that the film is set during the politically sensitive (to put it mildly) Cultural Revolution. One could read still critique amidst the story's romanticism – like how the townspeople sing along to the movie's propaganda songs, or how a troop of cops placidly watch it again after roughing up some prisoners. Whatever the behind-the-scenes obtuseness, the result remains a clear-eyed but loving tribute to film, just as Zhang always intended.
Published 19 Sep 2021