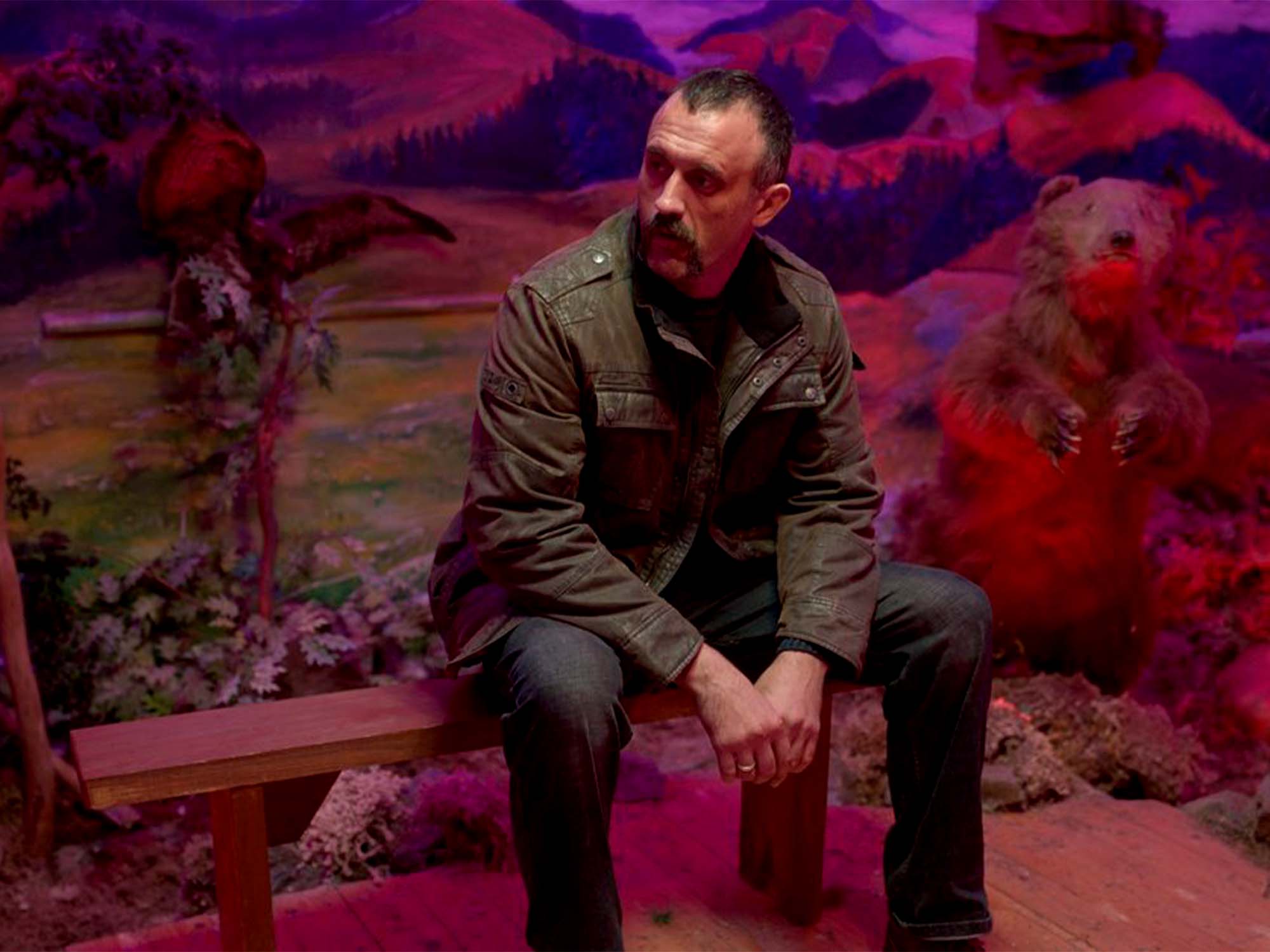 An in-your-face and vibrant gangster comedy set on the Ukraine-Romania border about a man who powers through life and directly into disaster.
This is a cautionary tale set in the rural wilds of Ukraine about how a surfeit of self-belief can very easily come back and bite you on the ass. With great physical power, diamond-hard fists, and a formidable handlebar moustache come a sense of natural dominance – a feeling that you can walk between the raindrops. Oleksandr Yatsentyuk plays Leonid, aka Pamfir (which translates as "stone"), a man who possesses such traits and, through the course of this story which is packed with hair-trigger violence and intense stand-offs, is made to learn of his own essential fallibility.
Pamfir pays his way by smuggling contraband across the border, and local politico-cum-kingpin Mr Oreste (Petro Chychuk) takes a dim view of these activities. Some might say a psychotically violent dim view. We join our hero from what appears to have been a place of estrangement, where he reconnects with his doting wife and now-grown son, and acts as if his absence has been no big thing. He also happens to be a crackshot water diviner and well digger, so gainful, legal employment is there for the taking.
And then things very quickly go south, as Pamfir has to renege on his decision to play it straight when his errant son Nazar (Stanislav Potiak) torches the local church as a practical joke, and the prodigal father feels duty bound to offer remuneration. But then heading back to the Old Ways isn't as easy as it once was now that Oreste and his armed goons have tightened their chokehold on the town. What's more, everyone is exited about the local carnival where they'll have a chance to kit themselves out in terrifying bone masks and straw outfits. What could possibly go wrong?
Dmytro Sukholytkyy-Sobchuk's feisty and dynamic film presents the action through a lens that whisks around its subjects, comprising of long but carefully choreographed takes where we witness one event, and then smoothly snake off to see another. There's a bleakness to proceedings that's become something of an understandable trademark for films from the region, yet this one is cut through with a seam of mordant humour, and the dismal prospects for the characters are flecked with the possibility that happiness is attainable.
Though there is no direct reference to the current siege, you can feel things bubbling in the background. This tale of a tough loner forced to test his mettle certainly has political resonance beyond its intimate telling here.
Little White Lies is committed to championing great movies and the talented people who make them.
By becoming a member you can support our independent journalism and receive exclusive essays, prints, monthly film recommendations and more.
Published 4 May 2023
Anticipation.
Enjoyment.
In Retrospect.
About Post Author