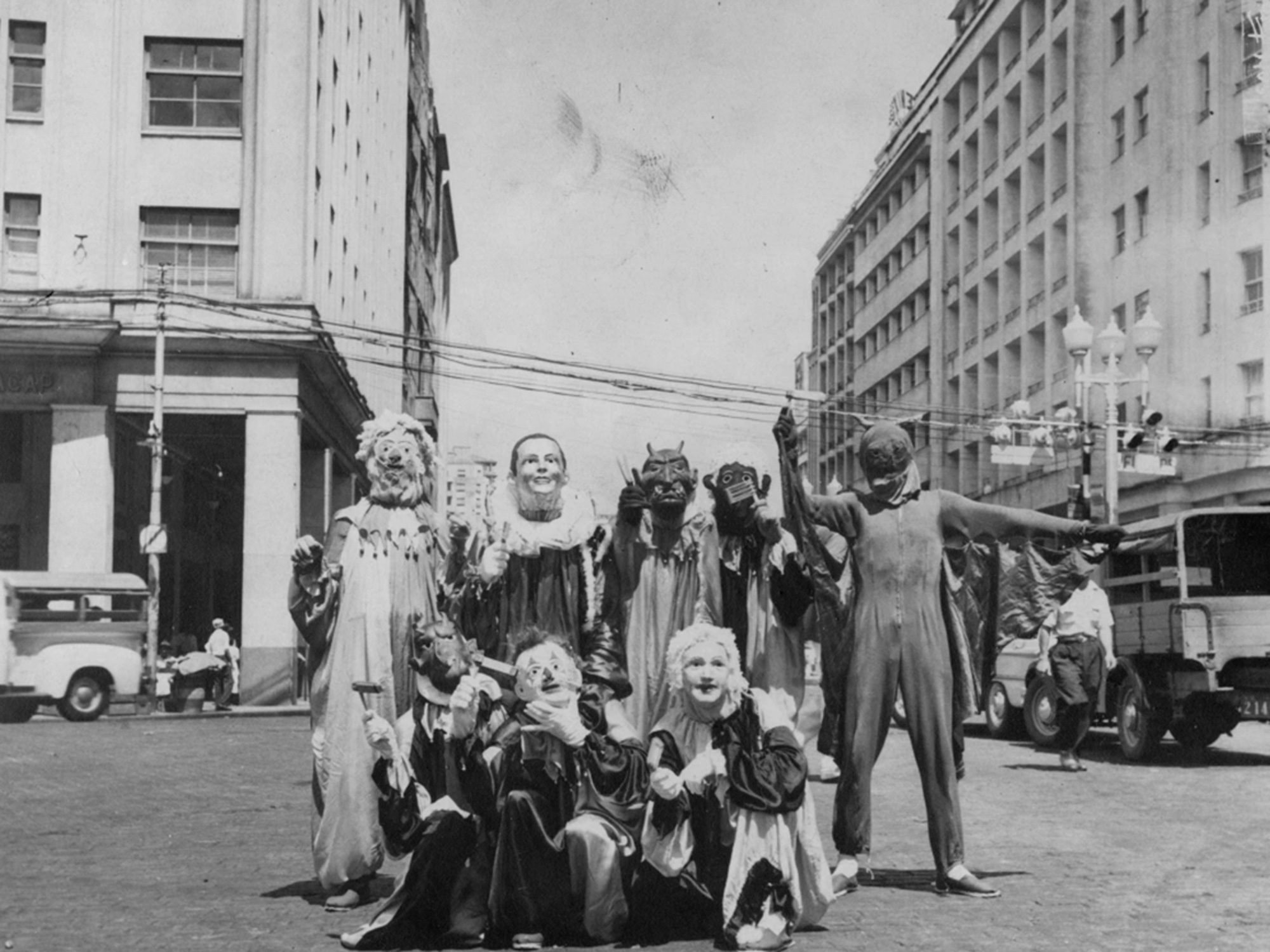 Brazil's Kleber Mendonça Filho returns with this extremely charming personal survey of the grand picture palaces of Recife.
As Baltimore is to John Waters, or Rome is to Federico Fellini, or Oregon is to Kelly Reichardt, that's what the sunny Brazilian state of Recife is to filmmaker Kleber Mendonça Filho, as proven in this completely charming cine-jaunt though the community's cinemas and the director's own family home. It's a place he describes as smelling like fruit and piss, and it was one of the main "characters" in films such as 2008's Neighbouring Sounds and 2016's Aquarius.
The title alludes to a photograph that Mendonça Filho one took inside his living room which contained a blurred figure who most certainly wasn't standing in front of the camera when he clicked the shutter. Yet it also refers to the idea of ghostly structures, of places that once were teeming hubs of activity and excitement, and are now little more than over-sized tombstones littered on the landscape – a feast for the encroaching termite armies or, even worse, commercial developers.
In comparing and contrasting contemporary streets and buildings with various depictions in photographs and on film, Pictures of Ghosts offers a personally-skewed document of vibrant social history, one which attempts to deal with a fluctuating urban topography through the lens of time.
The first of three chapters deals with the family apartment the filmmaker lived in for close-to 40 years, a small but characterful abode which underwent a number of facelifts in order to roll with the ever-changing environment. It acted as both living space and film set, a place where he and his friends would make movies armed with only a camcorder, boundless imagination and, apparently, plentiful access to gunshot squibs.
The second chapter offers a tour of local picture palaces, the majority of which remain as crumbling ruins or have been recycled as grim-looking appliance stores or mega churches. We meet Alexandre, projectionist at the long-since-shuttered Trianon cinema, and star of one of Mendonça Filho's formative documentaries. He talks of his distaste for The Godfather, and is unworried by the fact that his first boss was most likely a Nazi, as the cinema was initially planned and designed as one of Joseph Goebbels' UFA propaganda outposts.
It's worth noting that this film has none of the palpable anger of his previous one, 2019's Bacurau, and the dismal cultural wasteland of the Bolsonaro years are only evoked very subtly, if at all. Mendonça Filho feels justified in his melancholy for these spaces that still mean so much to him, and that did much to shape him as a person, and as a filmmaker. In fact, despite its critique of urban desiccation and shifts away from the collective joys of the cinema, the overriding sense the film delivers is affirmative and hopeful, or at least a gratefulness that these amazing venues even existed in the first place.
The film's final chapter is a little more oblique, looking at the places that some of these fallen cinemas have become, while also including a delightful staged vignette inside an Uber that further engages with the film's title. Yet this final reel helps to calcify the film's overarching plea for collective remembrance, but also a plea for artists to value and engage with what their hometowns have to give them, and to use these places as inspiration for making great art. Which is exactly what Mendonça Filho has done here.
Published 20 May 2023
About Post Author