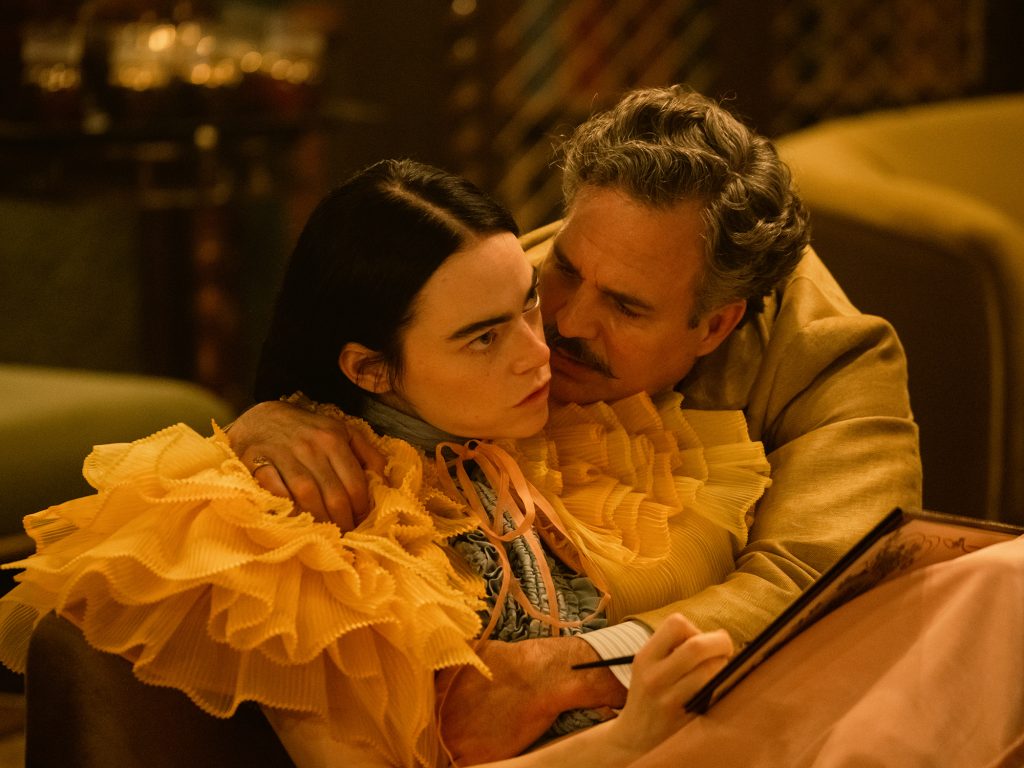 Yorgos Lanthimos reteams with his Favourite muse Emma Stone and screenwriter Tony McNamara for a lavish, lewd romp through a steampunk vision of Europe in this cheeky, surprisingly heartwarming adaptation of Alasdair Gray's cult novel.
The bright but poverty-stricken Max McCandless (Ramy Youssef) wants nothing more than to become a doctor and make something of himself. In a strange, steampunk vision of Victorian London, he studies under the eccentric Doctor Godwin Baxter (Willem Dafoe), a Scotsman with a scarred face and peculiar teaching methods. When Baxter informs McCandless he has a special project with which he needs some assistance, he jumps at the opportunity to earn some extra money.
That project is Bella Baxter (Emma Stone), Godwin's ward, who is part daughter, part experiment. A young woman fished from the Thames after a mysterious suicide attempt, Godwin informs McCandless he has transplanted the brain of her unborn baby into Bella's body with an airy casualness. McCandless can't decide if he's horrified or intrigued: Bella is beautiful, mischievous, and developing at an accelerated rate. As her gross motor and language skills develop, she becomes curious about the world beyond their London townhouse and wishes to see more of it. Bella, we quickly realise, is a woman who before all else, knows her own mind.
Reuniting with The Favourite screenwriter Tony McNamara, Yorgos Lanthimos has found perhaps the perfect voice to compliment his surreal eye. Together they realise Alasdair Gray's cult 1992 novel of the same name, about a young woman's (literal and figurative) voyage of self-discovery. When Godwin realises it would be futile to keep Bella locked away, he initially proposes she marry McCandless, but before this plan can come to fruition, Bella opts to run away with the dashing, devious lawyer Duncan Wedderburn (Mark Ruffalo) and sets sail on a steamer ship to central Europe.
It's a story that falls between Frankenstein and Pygmalion, as Bella reckons with her own personhood, and becomes increasingly aware of the people and politics that surround her. She is delighted by the discovery of pastel de nata in Lisbon and devastated to realise the extent of poverty in Alexandria. Most prominent, however, is her voyage of sexual discovery, as she realises the possibilities and price that come with her womanhood. Wedderburn – the conniving rake played with panache by Ruffalo – can only hold on for dear life as Bella moves through their surroundings like a dervish, thrillingly engaged with the world around her and unbound by societal convention.
The partnership between Lanthimos and Stone paid dividends in The Favourite, and Poor Things is an evolution of their clear understanding of one another. Stone's talent for physical comedy and ability to deliver wordy, ludicrous dialogue with complete sincerity imbues Bella with an innocence that quickly evolves into resoluteness. This transformation is reflected by Holly Waddington's lavish costume design, a feast of puff sleeves, ruffles and eye-catching colours, that develop according to Bella's growing understanding of herself and the world around her.
This is a sweeter film than we have come to expect from Lanthimos – a love story, not only about a strange surrogate father and his outspoken created daughter brought to life by morally dubious methods, but between a woman and the world around her, as she challenges the misogynistic attitudes of the day and takes to task the idea that a woman should be subservient to a man in any fashion. It's a tour de force performance from Stone, gamely matched by Ruffalo, and complimented by the dreamy, madcap world Lanthimos and his talented collaborators have created.
Published 1 Sep 2023
About Post Author